Webinars
Free Webinar: 6 Hot E-learning Trends Transforming The Online Training World
Have you been invited to review Free Webinar: 6 Hot E-learning Trends Transforming The Online Training World?
That's great! Login with your email and password to proceed, or click here if you do not have an account yet.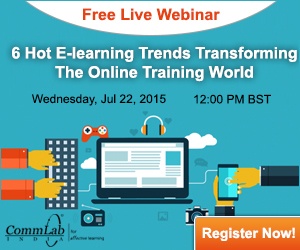 Location
Online Event

Website: http://www.commlabindia.com/resources/webinar/trends-in-elearning-design-and-development.php
Organizer: YakaRaju G
Free Webinar: 6 Hot E-learning Trends Transforming The Online Training World
E-learning - a training methodology that has ushered in a new era in the world of learning and development. The online medium is enabling companies to equip their people with the needed knowledge and skills in a highly efficient and cost-effective manner. According to a report released by IBM, companies who utilize eLearning tools and strategies have the potential to boost productivity by up to 50%. For every $1 spent, it's estimated that they can receive $30 worth of productivity.
Various revolutionary developments such as mobile learning, responsive eLearning courses that break the shackles of device incompatibility and learning through online collaboration have altered the corporate training landscape. The radical innovations in technology can be used to meet the dynamic, ever-changing learning needs of organizations, and it is important that companies are aware of the latest eLearning trends.
Join us in the live webinar 6 Hot E-learning Trends Transforming the Online Training World to find out all you need to make the best use of the novel developments in the field of online training. Experts, who have helped many prestigious firms harness the power of eLearning, will provide valuable insights into 6 developments that are changing the way training is delivered. They will also answer the following questions.
Why are increasing numbers of companies updating their legacy eLearning courses?
What are the most popular eLearning development tools?
Why is eLearning outsourcing to India growing by leaps and bounds?
Does responsive eLearning have the potential to shape the future of online training?
What are the various ways in which the online medium can be used to impart first-rate customer training?
Timings: Date: Wednesday, Jul 22, 2015, Time: 12:00 PM BST