E-learning Events
eLearning Organizations
Free Webinar: Best of mLearning DemoFest Webinar 2014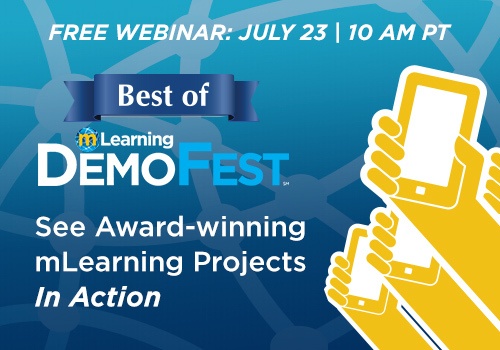 See Award-winning mLearning in the Best of mLearning DemoFest Free Webinar
This year at mLearnCon 2014 Conference & Expo, dozens of conference participants showed off their latest mobile learning and performance support projects during mLearning DemoFest. Attendees had the opportunity to see dozens of mLearning projects in action, while participants shared information about the tools, technologies, and processes used to build them.
Meet some of this year's winners during next week's free Best of mLearning Demofest Webinar from The eLearning Guild, July 23 at 10:00 AM PT. Learn about their award-winning mobile learning solutions and get some great ideas to apply to your own work!
Learn more or register now at: http://bit.ly/bestofmf14
You do not have to be a member of The eLearning Guild to attend this webinar, so please share this link with your friends and colleagues.
Explore More Ideas on mLearning with New Conference Videos from mLearnCon 2014!
Video recordings of 13 of the most-popular concurrent session and keynote presentations are now available in The eLearning Guild's Conference Archive. Watch the video recordings today and learn from some of the most-popular sessions from the biggest and most exciting mLearnCon yet!
How to Access these Videos
Simply create a free eLearning Guild Associate account and get access to the concurrent session recordings from the event. Upgrade to the Member level and for $99 you'll also get access to the keynote presentations—in addition to other valuable professional development benefits—for a full 12 months.
Learn more about Guild membership at: http://bit.ly/mlcvideo