Free Webinar: Tools and Techniques for Creating Mobile Learning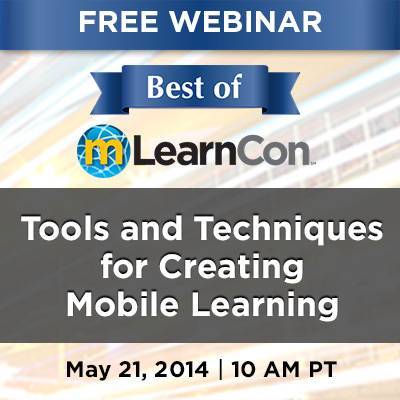 mLearnCon Free Webinar from The eLearning Guild this Wednesday, May 21 at 10:00 AM PT
Qualcomm was one of the early adopters of mobile technologies for learning. Join Qualcomm senior director of mobile learning Geoff Stead in the Best of mLearnCon Webinar from The eLearning Guild this Wednesday, May 21 at 10:00 AM PT as he shares some of the mobile strategies, tools, and technologies that helped Qualcomm reach all 28,000 staff.
In this free webinar, Geoff will demonstrate Qualcomm's latest in-house mobile-learning apps and discuss their mLearning development tools and approaches. Participants in this session will experience the mobile learning available to Qualcomm staff; be able to ask Geoff specific questions; and learn tips, tricks, and best practices for your mLearning projects.
Join Geoff Stead and The eLearning Guild this Wednesday and learn:
About Qualcomm's journey with various mobile technologies

Different approaches to mLearning development

Tools and technologies that work well for mLearning

Tips, tricks, and best practices for mLearning development
Learn more or register now at: http://bit.ly/bestofmlc1405
This event is open to the public, so please share this link with your colleagues!