Online Instructional Designer job at Plymouth State University in Plymouth, New Hampshire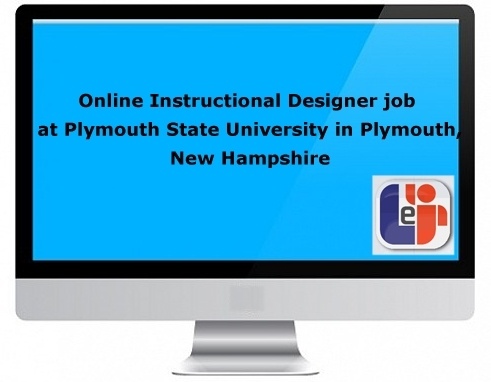 Plymouth State University in Plymouth, New Hampshire seeks an Online Instructional Designer to work with the Learning Technologies and Online Education (LTOE) department. This individual will work under the supervision of the Director of LTOE to train and assist faculty in instructional design components for the development, assessment, and successful delivery of online, hybrid, and traditional courses which use Moodle, Mahara, and other instructional technology tools and applications. Acceptable Minimum Qualifications:
Bachelor's degree and five years of related professional work experience in instructional technology.
Ability to work in a team environment.
Ability to prioritize tasks and work independently.
Ability to design and develop engaging and interactive online courses by drawing on a strong working knowledge of instructional design theories, methodologies, and best practices.
Experience assessing course development quality using an established rubric (e.g. Quality Matters).
Able to manage multiple projects, meet project deadlines, communicate well with all constituents, and work well in a team environment, as well as independently on projects.
Teaching/training experience working with adult learners.
Strong customer service orientation.
Strong analytical, verbal, written and interpersonal communication skills; including those needed to create and maintain positive customer-service interactions.
Additional Desirable Qualifications:
Master's degree in Instructional Design or related field.
Strong communication skills and the ability to work collaboratively with diverse constituents.
Thorough knowledge of Moodle and Mahara.
Enthusiasm for researching and experimenting with emerging teaching and learning technologies.
Knowledge of issues affecting information resources and technology in the academic world.
Experience in higher education.
Project management experience.
Supervisory experience.
To Apply Click Online Instructional Designer job at Plymouth State University in Plymouth