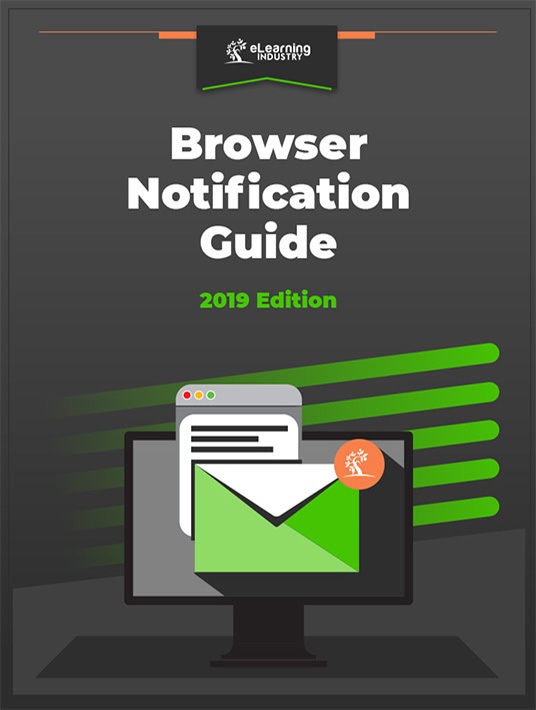 Browser Notifications Guide For eLearning Companies
Have you ever wondered about the outcomes of marketing your eLearning company by using browser notifications? What is the best way to create engaging texts to boost your browser notification campaign? Are you aware of the hottest browser notification best practices which can help you increase conversion rates? Download our eBook to find the answers to these questions and much more...
Update your details to download a copy of the eBook
Key Chapters
Introduction To Browser Notifications

6 Benefits Of Browser Push Notifications For eLearning Companies

5 Browser Notification Best Practices To Increase Conversion Rates

How To Write Persuasive Messages To Enhance Your eLearning Push Notifications Strategy?

8 Types Of Browser Notification Messages That Work For eLearning Companies

6 Metrics To Track Browser Notifications Performance As An eLearning Marketer

Performance Stats For Different Push Notification Types For eLearning Marketers

7 Landing Page Optimization Tips For Higher Conversion Rates

How To Effectively Plan Your Push Notification Marketing Strategy?

Browser Notifications Outsourcing For eLearning Companies: 3 Things To Consider And How To Get Started?
This is the best guide to assist you in finding all about the greatest tips and best practices to run a browser notification campaign that converts. Discover metrics and performance stats that will optimize your browser notification campaign as well as explore why outsourcing your browser notification campaign would be the most effective option for your company.
Push notification marketing has been growing and gaining popularity for a while now. A technique that was once limited only to smartphone applications is now coming up as a whole new marketing channel. You can use this eLearning marketing strategy to encourage users to perform specific actions, like sales form submissions, increasing conversions, promoting new product features etc.