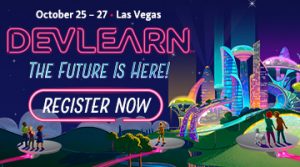 Where

The Mirage Hotel & Casino
Las Vegas, NV, USA

This is also used to calculate the Event's timezone. VIEW ON MAP

When

Oct 25 2017 @ 7:00 am (UTC -7)

Oct 27 2017 @ 12:30 pm (UTC -7)

More Info
The Future Is Here!
DevLearn 2017 Conference & Expo puts you at the forefront of what's happening in the learning industry.
With 250+ learning activities, you can discover the cutting-edge technologies and approaches of today and prepare yourself for what's coming by joining the conversations that are shaping what's next. You'll gain the tools and knowledge you need to put the evolving landscape of learning technologies into the context of your own organization, for today and tomorrow.
Embark on a journey with peers and industry leaders from around the world, and explore the tools and techniques that are shaping the future of learning.
University of California, Irvine Division of Continuing Education