Lead eLearning Designer / Lead Instructional Designer position at Hertfordshire, UK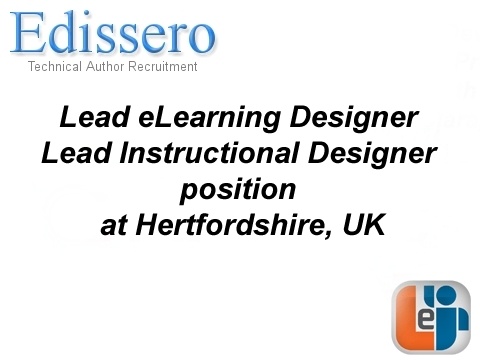 Lead eLearning Designer / Lead Instructional Designer, Hertfordshire, UKEdissero specialises in the permanent and contract recruitment of technical authors, eLearning instructional designers and other information development roles.Our award-winning software client has an exciting opportunity for a hands-on Lead eLearning / Lead Instructional Designer to be a key contributor to their new Software–as-a-Service (SaaS) products. This is a rare opportunity to shape and drive the eLearning/instructional design function.You will have:
Extensive experience in multimedia/interactive eLearning/instructional design courseware development.
Knowledge of SaaS (eLearning content for SaaS products ideal).
Experience creating movies (ideally using Captivate or similar).
Experience setting-up and maintaining a Learning Management System (LMS).
Experience working with development, UI/UX designers, technical authors.
Strong writing and communication skills.
An interest in creating eLearning to run on PC, tablet and ultimately mobile applications as well.
Desirable skills and experience:
Working in an Agile/Scrum environment.
Degree educated and/or certifications in eLearning, instructional design, social media, web/creative design, education or related.
Key responsibilities:
Overall responsibility for the team's eLearning/instructional design deliverables.
Define, create and publish eLearning content for SaaS products.
Define and drive the company's eLearning strategy, contributing new ideas and best practice.
Manage a U.S. based instructional designer.
Determine curriculum needs and plan training development roadmap.
Future set-up and maintenance of the company's chosen LMS.
Manage reviews and feedback.
Salary: Up to circa. £45K p.a. + a good bonus and a good benefits package.If this role sounds of interest, please contact Louise Taylor at Edissero on +44 1483 422111 to find out more or please email your CV to Louise Taylor