Senior Instructional Designer/Architect position at Alexandria, VA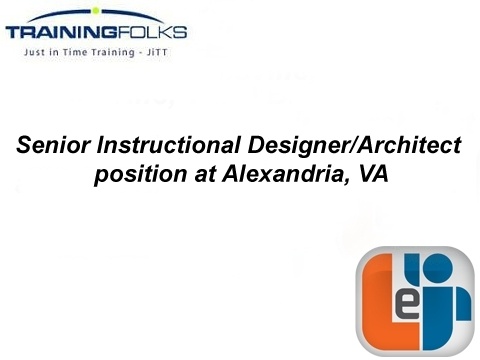 TrainingFolks is seeking a Sr. Instructional Designer/Architect to fulfill our client's learning initiatives. This role is based in Alexandria, VA and is part of a team of 9 instructional designers! The Senior Instructional Designer/Architect is responsible for:
Quickly grasp and communicate a wide variety of technical and soft skills content
Conceptualize and communicate complex, blended performance improvement solutions to clients and internal teams
Oversee and ensure the design and development of effective training and performance support solutions
Provide substantive support for proposal development including: review client requirements, define technical approach, develop solution concepts, identify and describe relevant past performances, provide projections of level of effort and schedule
The ideal Senior Instructional Designer/Architect shall possess:
U.S. citizenship
Master's degree in instructional design, education, communication, English, or other relevant discipline
At least 10 years of experience in a professional services environment, including at least 6 years of instructional design in multiple training modalities
At least 5 years of experience providing performance/learning consulting and solutions to external clients
At least 3 years of experience leading a team of at least three instructional designers in creating a unified, single solution
At least 3 years of analyzing and recommending optimum medium and mode of performance solutions for the desired outcomes, audience, and project constraints
Knowledge of Flash is a valuable asset
Experience with SCORM compliance is an asset
Location:
Duration:
Can be a permanent or long-term contract opportunity
Full time hours
Overall compensation for this role is positioned as 'competitive' and will vary depending on your level of experience, and number of years you have applied your skills. If you are interested in this role please send to [email protected]:
Cover Letter
Resume in Word format
3 References
Certifications
Rate/salary expectations
In the subject line of your submission please mention – "#593: Sr. Instructional Designer/Architect". We thank all applicants for their interest in exploring opportunities with TrainingFolks, however, only those selected for an interview will be contacted.
About TrainingFolks: TrainingFolks is a global provider of custom learning solutions, consulting and contingent workforce services. Combining award winning adult learning experience, with a proven engagement methodology that includes a talented network of learning professionals, TrainingFolks collaborates with our clients to implement change. Founded in 1997, TrainingFolks' mission is to build a higher performing workforce. We address our clients' issues of urgency, capacity and capability.