Top L&D Strategies For Healthcare Organizations
Over the last two months, I've been speaking with L&D leaders across the healthcare sector to find out more about the challenges they're facing—and the learning strategies they're using to face these challenges. These conversations have taught me a lot.
Right now, hospitals, training bodies, and other healthcare organizations are grappling with labor shortages, stresses on employee mental health, and the difficulties of shifting to remote consultations. Fortunately, healthcare leaders everywhere—including L&D leaders—have the strategies they need to overcome these challenges.
The 5 Biggest Organizational Healthcare Challenges—And How L&D Leaders Can Overcome Them
Our healthcare series highlighted a wide range of challenges healthcare organizations are facing right now, namely:
The shift to remote consultations
A scarcity in the labor market
The diversity paradox and how it impacts organizational performance
Stresses on mental health and well-being
The need to consolidate growth at the systems level
As daunting as these organizational challenges might be, L&D leaders are designing and developing some fantastic learning strategies to overcome them. From boosting diversity through learning to supporting employee well-being, here's a snapshot of 5 inspiring L&D strategies to help healthcare organizations drive greater learning outcomes.
Need a few more expert insights? Find out how L&D leaders at Harry's, Robert Half, Disneyland Paris and more are turning L&D into a driver of company culture.
1. Making The Shift To Remote Consultations With Value-Based Care
Looking to deliver the value-based care patients need in the healthcare industry, Christopher Lind, VP and Chief Learning Officer at ChenMed, explains his approach to shifting to a remote consultation context through great L&D.
"I'm always bringing a performance lens to those business conversations, such as how we can shift to virtual or remote patient care," says Christopher. "What is the component that people play, and what kind of behaviors could we tweak, change, or add that are going to help us get there?"
A lot of times, these kinds of conversations are only focused on the metrics or financial numbers of the organization. But as Christopher explains, L&D teams have a key role to play in this shift to remote consultations.
"Value-based care is about getting in front of issues before they happen and preventing the need to bill for services further down the line," he says. "To me, the role we play is coming in and saying, okay, what are people doing, or what should they be doing? How are we going to contribute to driving the right metrics or numbers?"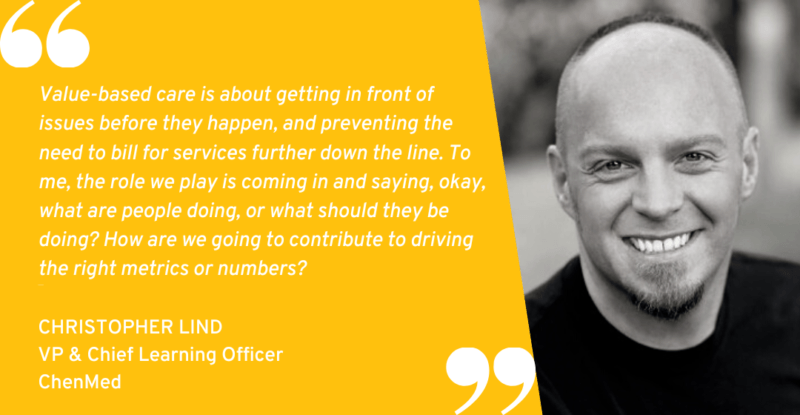 For Christopher, the approach makes it easier to identify the particular problem his team has set out to solve, and to show exactly how they're measuring their success. "Everyone appreciates that perspective of us helping them translate the behaviors we're talking about into a people challenge and finding ways to solve these challenges."
Keen to explore more of Christopher's methodology? Read all about ChenMed's three-step approach to delivering value-based care.
2. Solving Labor Scarcity With A Dedicated Nursing Residency Program
When developing his home health peer-to-peer residency program to address labor scarcity, Adam Shandler, Director of Learning & Development and Talent Acquisition at Visiting Nurse Association Health Group, says his first step was to start small.
"Prior to Rutgers introducing us to an out-of-hospital residency program, we really didn't have the appetite for such a program," says Adam. The problem? New nurses needed to be trained by experienced nurses who already have a caseload, and VNA Health Group wasn't going to be able to sustain the business by taking the experienced nurses out of regular field duty.
"But we started small, "Adam says. "We started with six residents from five or six different schools. As a result of hiring five or six, we only needed to pull five or six experienced nurses out of regular duty to partner with these nurses and train them. We found that it gave us the right balance."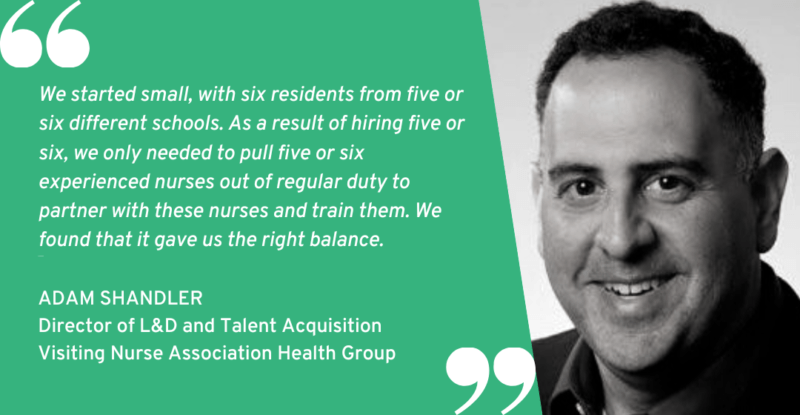 As Adam explains, the program was a success. "I'm very happy to say that around four out of those six that we hired are still with the VNA Health Group," he says. "They are now independent home health nurses, and they have their own caseloads." And Adam has high hopes of expanding the program.
Inspired by Adam's approach? Read more about NVA Health Group's targeted peer-to-peer nursing program to welcome new hires.
3. Overcoming The Diversity-Innovation Paradox With Subject Matter Expertise
Working to promote diverse leadership growth within her organization, Sarah Larson, Learning & Organizational Development Partner at the Stanford University School of Medicine, says identifying foundational power skills with a Subject Matter Expert is key.
When researching the Diversity-Innovation Paradox, Sarah and the L&D team found that gaining input from those in the lower levels of the organization, or those starting their career, was critical in developing leaders and giving people the right set of foundational skills.
"So, we partnered with our Associate Dean, Kevin Moody," says Sarah. "He led in the military, he's led in other institutions, and now he's leading HR for the School of Medicine." With his subject matter expertise, Kevin was able to give the L&D team some great ideas, including self-awareness.
"We had one pilot with 20 participants and we offered them a class on self-awareness," explains Sarah. "We were consistently getting feedback from our staff members. Now, we're consistently making sure that they are getting what they need to be set up to lead in the future."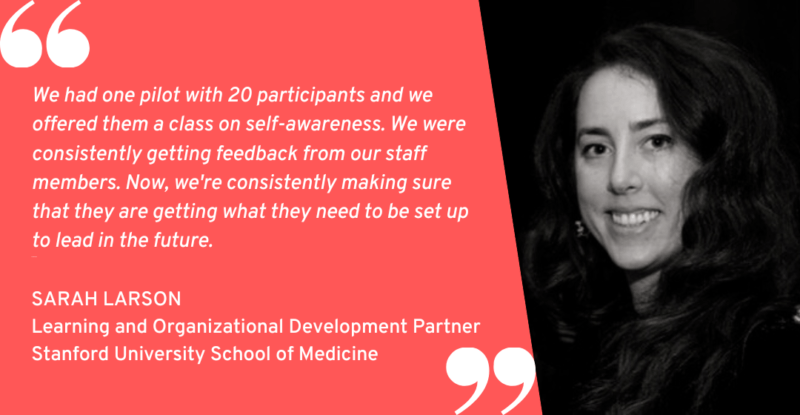 Sarah's approach is proving to be a success. "Some of the results we have been able to pull from our evaluation process is that of those who we piloted, 25% have been promoted, had a pay increase, or have had a title change."
Intrigued? Read more about Sarah and the L&D team's successful Stanford Medicine's three-step leadership development program.
4. Boosting Resilience Through Offering Greater Mental Health Support
Speaking with Judy Zola, Director of Learning & Development at Boston Children's Hospital, she explained how she focused her learning strategy on well-being to help frontline health workers cope with increased stress levels.
As Judy explains, the pressures of COVID-19 and other events in 2020 were heavily affecting their employees. "So, we set up something called a reflection round," she says, "for when we feel like there is a need for our employees to be able to speak their mind and to talk about what's going on for them."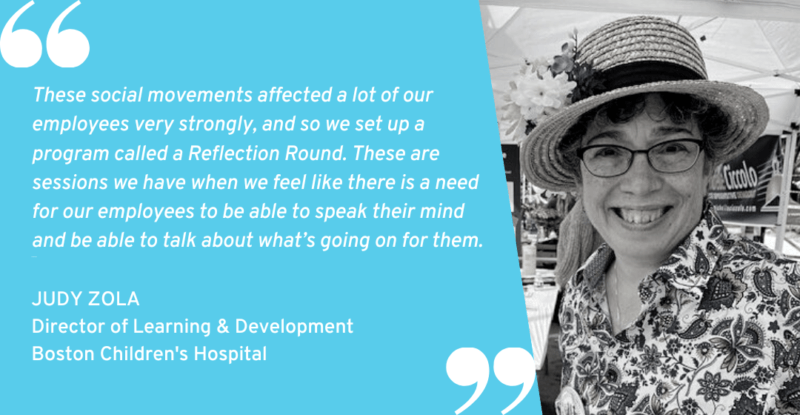 These reflection rounds were led by teams from HR, L&D, the Office of Health Equity and Inclusion, and volunteers. The sessions allowed anyone to talk about how they are feeling, what they're seeing on the news, or what they have personally experienced. From there, it became about what the organization was going to do to help its people.
"So, it really was the start of our efforts around equity, diversity, and inclusion," says Sarah. The reflection rounds have helped the L&D team have an impact on stress by being involved in helping create action plans and helping managers focus on how they can help their teams feel better.
Learn more about Judy's focus on well-being: how Boston Children's Hospital combats burnout with learning opportunities.
5. Consolidating System-Level Growth With Experience-Based Learning
Speaking to Hillary Miller, Chief Learning Officer at Penn State Health, I was excited to hear about her strategy for building experienced-based learning programs to onboard new hires into a growing system of healthcare organizations.
Starting her role, Hillary began a listening tour to understand the perspectives of key stakeholders, which evolved into identifying the theme of the areas they need to tackle.
"So, I went with 'entry' as my theme," says Hillary. "All of those organizational experience-type activities that really give us a good solid foundation around what we do to help people into our organization—why do they want to come work for us?"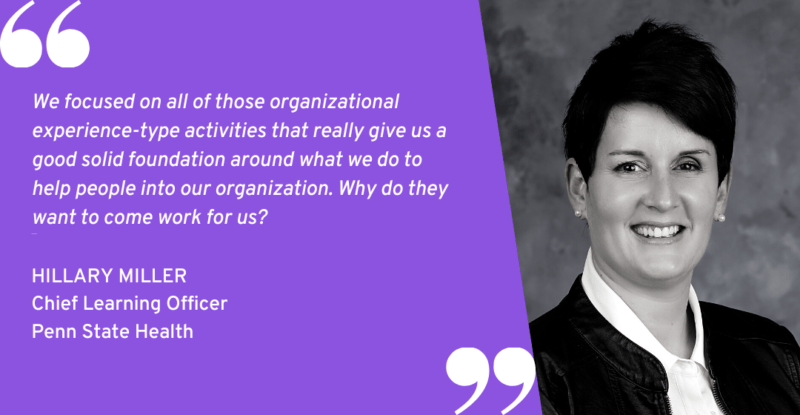 As Hillary explains, that means scanning Penn State's existing learning efforts and pinpointing what really matters to them at a systems level. "And that has a lot of different components," she says. "What's our culture? What are we saying our competencies are that matter, and how does that translate into a learning program for new hires?"
By identifying their theme, the L&D team designed two new hire experience activities with two different audiences: new individual contributors and new leaders trying to understand the organization's culture. "So, those entry programs really set the stage for other Learning and Development activities that we're going to offer in the future," says Hillary.
Keen to know more about shaping experience-based learning to match what matters? Learn more about Judy's approach here—Penn State Health's four steps to put experience at the heart of new hire learning.
Conclusion
Thanks again to Christopher, Adam, Sarah, Judy, and Hillary for sharing their experiences, knowledge, and insights with us! The stories and approaches they have shared during our healthcare series show just how important learning is in making positive and measurable impacts for organizations across the globe.
Want more peer insights on transforming workplace learning? Sign up to become a member of the L&D Collective, and check out our other #CLOConnect interviews with top L&D leaders on driving growth and scaling culture through collaborative learning.
360Learning
360Learning is the LMS for collaborative learning. We enable companies to upskill from within by turning their experts into champions for employee, customer, and partner growth.
Originally published at 360learning.com.