EPUB3: Why Corporates Should Adopt This Format 
The IBM information development community, particularly, has experienced a smooth transition to the new format, primarily because our existing DITA-based content management solutions support it. There are many enhancements and offerings that EPUB3 provides suits best to lingering needs of corporates for document standardization.
Readability.
EPUB3 provides more readability than PDF and its re-flowable nature adapts itself to different displays and sizes of various devices like mobile phones, tablets etc.
Layout.
PDF files are static in nature, while EPUB3 format is dynamic and vast backed up with emerging technologies like HTML5 and CSS3.
Global Language Support.
EPUB 3 provides global language support and other accessibility features. Books written in various languages are supported as EPUB3 has capability to handle the flow of the text RTL or LTR.
Low Cost.
When it comes to publishing a standard book that is compatible with all readers at a really low cost, EPUB3 is the solution.
Open Format.
EPUB3 being an open format can be used by anyone.
More control over content.
Accessibility.
More accessible to impaired readers than PDF.
Supports Live Links.
Being and HTML5 based format, EPUB3 supports containing links within the text referring to internal sections of the book, pages, or links outside the book.
Flexible and adaptive.
Manipulability.
Off-the-shelf ZIP, Web, and XML tools can be used to create and manipulate EPUB3. Compared to HTML, EPUB3 provides significantly more structure and predictability.
More engaging and interactive content.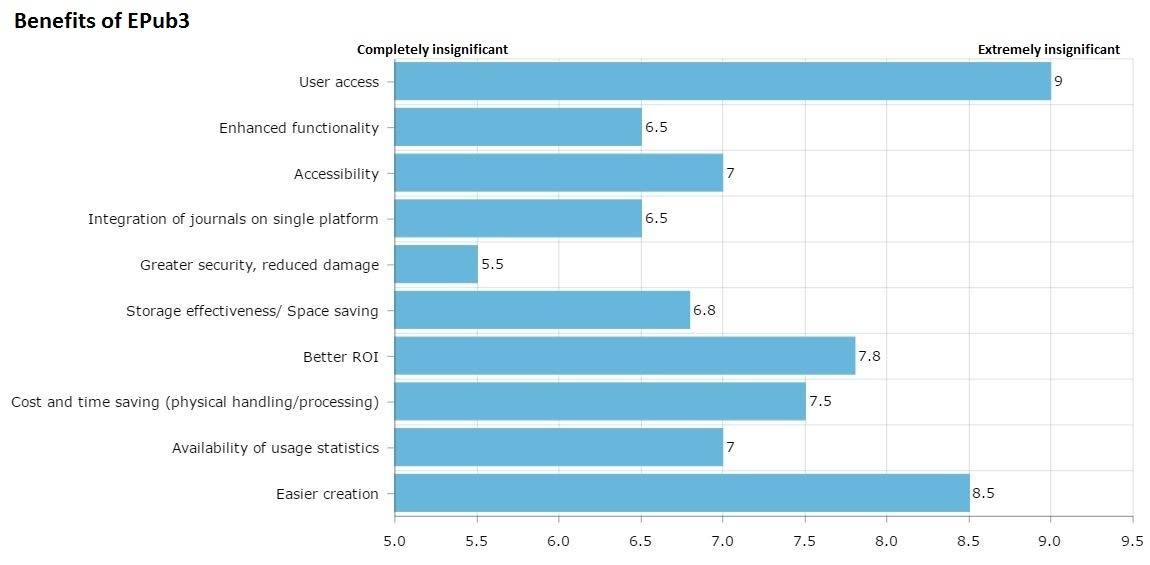 The above mentioned points are very straightforward and subjective to need, but these points still do not suffice the decision of adopting EPUB3 as a standard for corporates as documents like PDF or Word formats may still continue to exist to solve purposes or challenges that corporates face in day to day activity. The activities may be like creating a sales brochure, creating an analysis report, creating learning material for training, publishing white papers and press releases, creating blogs, and documenting strategies. The point is that there should be other influencing, irreplaceable factors that should incline corporates for adoption of ePub. Why would a CEO of the company care to adopt a new standard? What should he expect as ROI? What extra benefit does the organization gain with this change? Let's try to find out the answer in following areas.
1. Go Digital First
EPUB3 empowers the professionals to go digital first. The majority set of contents are currently being made with primarily a printed outcome in mind. To make a digital version of these content, most manuscripts need to be re-processed, which usually results in customary built eBooks. This need for a customized authoring workflow for every electronic version of a book makes it impossible to build eBooks in a cost-effective way; this is named as the print-first approach, the vendor/professional lock-in situation of the e-reader market, and the high cost of updating and/or maintaining the content. This challenge can be overcome by a digital-first approach using Open Web standards by separating content, structure, and layout. Using this new workflow, both digital and print content can be built without significant additional costs. A content producer can directly create write-ups with full support of embedding widgets, images, multimedia with the help of authoring tools which are very intuitive in nature, therefore reducing the cost of creating a print document and get that converted into a form of eBook or HTML. A good PDF creation may require a lot of skill and process before it is finally released, a lot of to and fro with other stakeholders to review and validate is required, which eventually turns into creating multiple copies of the content, extra time, and storage consumption, and a dedicated set of resources are always occupied in these iterations who can be more productive in any other organizational tasks.
2. Improved Traceability And Analytics
Tracing and Analytics is the primary need in today's era. Corporates have a lot of learning material and training material for internal as well as external employees. There are situations where corporates end up publishing number of documents like research papers and brochures and make them available on websites for download and people to read. The challenge here is that despite of that much effort in creating and publishing the documents, they don't get to know what are people's view and feedback over the content. How many people have downloaded the content and how many have actually read it.
The training material may have its own legacy and style. Since EPUB3 is in compliance with HTML5, it's easy to integrate Analytics into the pages with the help of JavaScript and other libraries. The training material, white papers, and brochures can be converted to EPUB3 format and can be made available on any EPUB3 reader with Analytics and tracing in placed. This will help corporates to analyze the content, the interest of the reader, and every minute detail like time spent of reader on a particular page, paragraph, and section required to make further decisions and improve the content moving forward. This reduces a lot of effort in questioning professionals, and based on the feedback, re-thinking on the enhancement of content. The EPUB3 produced may also contain surveys and polls in the form of interactivities that helps corporates to get the views and insights of what reader thinks of that content. Therefore, a lot of process involved in manual to and fro to enhance and analyze the content reduces to a negligible amount.
3. Storage And Cost Effective
The overall process of creating any content, its distribution, and enabling its consumption is very costly. The most significant area for cost savings of EPUB over print is in physical handling and processing – binding, labeling, transport, and repair. Storage and archiving always represents an issue as well as a cost factor for corporates. This is another area where companies expect significant cost advantages from digital content, assuming that companies handle online archiving. Other processes where EPUB has significant cost advantages are circulation and shelf maintenance.
4. Improved Metadata And Search Ability
Corporates can leverage the HTML5 SEO capabilities inside an EPUB3. The content distributed online or on readers will be more searchable and visible than the content produced in PDF, Word, PPT, which is only available to get downloaded and lacks searched optimization capabilities.
5. Engaging Apps And Websites
Custom apps can certainly be developed without utilizing standards. But designing them around EPUB3 is a smart move. Take an example one of the first popular book-as-apps, iPhone: The Missing Manual (O'Reilly Media). Under the covers, this App Store-distributed title is a thin veneer over an ePub-based reading system that utilizes the Webkit browser engine built in to iOS. This architecture frees the editorial and production teams to focus on the content and the mobile app developers to spend their (scarce and expensive) cycles on delivering a differentiated and engaging experience.
6. DRM Protection
In case corporates deal in the area where they sell the content or interactivities, EPUB3 standard adheres to DRM DRM (Digital Rights Management) features. DRM is essentially a security that is placed on a digital file that keeps the file tied to the account of the person who purchased it. Various kinds of DRM are used to lock down multimedia, interactivities and eBooks, but they all do essentially the same thing. In the EPub market, DRM is either applied as a wrapper around the actual EPub file, or as part of the package of the EPub file itself. The DRM keeps someone from being able to open the file unless their device or software has the correct key.
Amazon applies its own DRM to Kindle eBooks, and they completely control the DRM system.
Apple applies its FairPlay DRM to files that are purchased from the iBookstore.
Adobe's DRM system, called Adobe Digital Editions Protection Technology (ADEPT), uses a program called Adobe Content Server 4 (ACS4) to manage the DRM of eBook files from a server.
7. More Control
EPUB3 is based on HTML5: This automatically brings many benefits, but foremost among them is HTML5's capabilities for rich media (audio and video) and interactivity (via JavaScript). Open standard HTML5 is already supported by all modern browsers and is rapidly replacing proprietary alternatives such as Flash Player, Microsoft Silverlight/XAML, and forms/scripting within PDFs (which were never widely supported beyond Adobe's own Reader software). By adopting EPUB3 (and thereby HTML5), professionals will automatically get the benefits of further improvements in the pipeline of browser technology's rapid-pace evolution. That beats being stuck with expensive native-app codebases, or worse, sole-source proprietary technology neglected -or abandoned- by its vendor. There is more control over what is to be published and in what way, corporates may not have to depend upon publishers to make, modify, enhance, and distribute their content. The professionals can themselves create a lot of interactive content and get them distributed to vast area of devices and platforms without any extra effort.
EPUB3 is poised to grease the wheels of content creation and distribution: Broadening reach, increasing reader engagement, and lowering costs. Delivering business acceleration is the only real value a standard provides.
Other Companies And EPUB3 Adoption
The EPUB3 created by a content producer is an ideal input for standalone eBooks and its well documented, structured component is ideal to be used as online and in mobile apps.
The power of this format and its goodness is now not limited to publishers only, but technology companies can also extensively benefit through it. EPUB3 can help them get files from most of their clients that are predictable, consistent, standard, well documented, and well organized. This is the same reason why companies like Apple, Google, Adobe, and Barnes & Noble were all so actively involved in the development of the EPUB 3 standard, in collaboration with a broad range of publishers and technology companies. But, what about Amazon Kindle? The new generation of Kindles i.e. led by Kindle Fire and using a specification called Kindle Format 8 (KF8) is not EPUB3 compliant. Amazon has a strategy of controlling its ecosystem and keeps its software and formats as proprietary. But Amazon even advertises that one of the inputs for KF8 is EPub. The Kindle Direct Publishing though publishes the content in .mobi format for Kindle devices, but as an input they consider ePub as an input along with PDF or Word document.
Harper Collins in a press release long back in 2014 announced the completion of transition to EPUB3. They announced that HarperCollins and RSI Content Solutions will contribute the EPUB 3 transformation to the DITA for Publishers open-source community so that others may benefit.
"Implementing EPUB 3 enables us to support industry standards while increasing accessibility for the disabled community", said Leslie Hulse, vice president of business development. "We look forward to the enhanced benefits this new format will provide readers."
"Working with RSuite allowed us to upgrade to an XML-based digital workflow that facilitates more automated eBook production", said Leslie Padgett, senior director, global digital operations. "We are excited to contribute the work we've done on the transformation to the DITA for Publishers project so the community can benefit from our team's good work."
HarperCollins Publishers is the second largest consumer book publisher in the world, with operations in 18 countries. Their decision when looked back from today proved to be a fruitful and worth investing.
Elsevier, on 22 April, 2014 declared that it embraces EPUB3 format, ensuring more enriched and interactive experience for readers.
"Elsevier's adoption of EPUB3 is a very important milestone in the advancement of the next-generation portable document standard based on HTML5 and the Open Web Platform", said Bill McCoy, Executive Director, International Digital Publishing Forum (IDPF). "The IDPF looks forward to working with Elsevier and the STM publishing ecosystem to ensure that EPUB continues to evolve to meet critical needs in communicating scientific and technical content with accessibility for all, on any device."
"EPUB3 is a giant leap ahead of EPUB2, the most widely used current format", said Adriaan Roosen, Executive Vice President, Global Operations, Elsevier. "This move will ensure that Elsevier eBooks will be prepared to meet reader demands for more interactivity in the future."
BISG (Book Industry Study Group) in 2012 announced in a press release about EPUB3 endorsement.
"BISG Policy Statement POL-1201: Endorsement of EPUB 3 encourages all member companies and other industry stakeholders to work toward adopting the full range of functionality within EPUB 3 as soon as practical. It is understood that a period of transition is necessary for full implementation of the EPUB 3"
So, in all, EPUB3 has gained a lot of official endorsement, not only by publishers, but also by majority of reading system vendors, developers, and technology companies as well.
References: