How To Create Effective Online Courses: Web Writing Tricks
Do you know that the online course industry reached a worth of $200 billion last year? For eLearning professionals, this training technology can be a powerful lead generator and revenue engine. Creating engaging online courses is challenging, but effort and strategy do wonders for those willing to succeed. Here go 7 web writing tricks to help you master the craft of online courses creation and presentation.
1. Consider Psychology
Marketers influence consumer behavior by applying psychological aspects to business campaigns. The psychology behind colors, fonts, shapes, and words can be both good and bad for professionals influencing human emotions and affecting their actions helps you stand out as well as change the impact of your message negatively.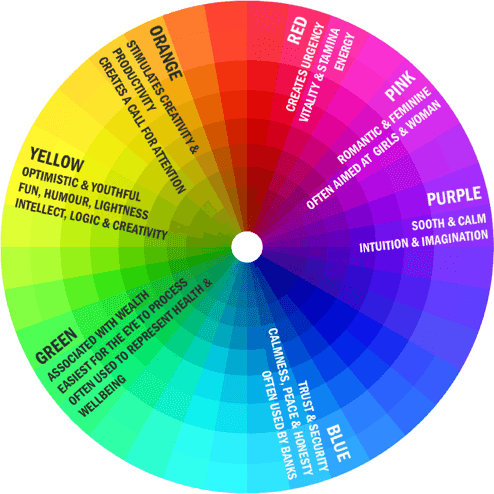 Source: Attercopia.co.uk
To understand if your future online course attracts learners or elbows them aside, consider the psychology of web design and the decision-making when creating your training. Thus, the case study by WishPond reports a 14.5% increase in conversions after changing the CTA button color; and Leslie Ye from HubSpot explains the psychology behind choices and ways how to make choosing easier.
2. Include All Necessary Elements
A professionally designed eLearning course has a defined structure. To create effective online training, make sure you include all necessary elements to it:
Clear introduction.
Describe the course and its goals; explain why learners should complete it.
User-friendly interface.
Invite learners to start the course; navigate them through modules; provide support and communication.
Comprehensive content.
Represent relevant information; divide it logically throughout the course; use clear language.
Visual elements.
Include graphics, video, attention-grabbing pictures; create compelling call-to-actions; consider interactive features to keep learners interested.
Relevant feedback.
Provide instructors to check progress during the entire course.
Definite web writing tricks can make each of above element more efficient. Read on to learn more.
3. Write Compelling Content For The Course
The content of your online course should have a strong information scent but avoid any signs of plagiarism. Don't overload it with calls-to-action, be sure you use paraphrasing right, and make content straightforward to communicate the idea.
Pay attention to headlines, as this is the first thing people read about your online course. Your headline should be useful (learners should know what they will get), clear (they should understand your point), and urgent (learners should feel they will miss something if not choose your course).
In other words, explain the course value with your headline.
The content of your online course is crucial because it presents the information you give to learners. Make it relevant and do your best to support this relevancy throughout the entire training.
Also, divide the content into clear and logical parts with the help of visual components and a balance of color and white space.
4. Consider Language And Visual Elements
The study from the Wharton University of Pennsylvania specifies two factors eliciting positive emotions from consumers: personalization and visual content. And while you achieve the latter through video, infographics, charts, and eye-grabbing images, the former needs concrete language patterns to enhance emotions and affect attitude.
What are writing tricks that help your course look effective?
Power words to influence learners. The most common of them are you, easy, save, results, and guarantee: these words are persuasive because they appeal to our fears and desires.
Short words and sentences. Visitors need 5 seconds to decide if they want to stay and continue reading, so don't overload them with texts.
Simple language. As Cameron Craig says, "if a 'mere mortal' can't understand our language, then we've failed".
The right balance between words and images. Learn how to find it.
5. Choose A Successful CTA
First and foremost, follow the rule "one page – one CTA". Don't overload your online course with calls-to-action, as it will lead to nothing but learners confusion. Focus on getting them use your content, and entice them to work on a particular activity per page.
Your CTA should encourage learners to complete a module. For that, include thought-provoking questions, interactive graphics, or any other interesting activities at the beginning of each section. Make the priorities clear by highlighting them with active verbs and bright colors. (Again, consider the color psychology.)
6. Emphasize The Value Of Your Course
Surveys say that people are 85% more likely to buy a product after watching a video. Move beyond and make video content the integral part of your course to emphasize its value. Lili Balfour, a financial advisor and author of six courses on Udemy, consider it the most difficult aspect.
"The most difficult aspect is the video editing", she says. Having tried video editing software, Camtasia in particular, Balfour describes it as user-friendly but time-consuming and suggests going into professional studios to get good lighting, audio, and editing.
7. Make Learners Want To Attend Your Course
Your online course should answer one simple question from a learner: "What's in it for me?". Give them compelling reasons to attend your course from the beginning and motivate them to continue.
Remember: you need a marketing campaign to build the audience for a course. No matter how well-written and well-designed it is it won't sell itself, so make sure to lay the groundwork for it. Lili Balfour suggests blogging and YouTube videos. "It's like a book. You can't just write a book and expect people to find out about it. You have to do a book tour and generate press."
With all above-mentioned tricks in mind, why not start with a small online course to practice and see how it helps your business? Follow the example of Guillermo Ziegler who created a mini-course to start building his email list, which allowed him to add more than 1700 new subscribers since opening.
Test It Out
It's your turn now.
Did you create online courses? What was the most challenging aspect to present? Share your experience in comments.