Creating An Impactful Compliance Culture
Over the past year, the professional world's approach to compliance training has found itself front and center in Learning and Development circles. Reports of workplace harassment and misconduct skyrocketed, leaving those of us in the field of professional development taking a close look at where compliance training was failing. There is no doubt that the companies implicated in these harassment allegations had policies and training designed to address workplace misconduct, but the pervasive amount of harassment in the news today points toward the harsh truth that the common approach to compliance training has failed many victims.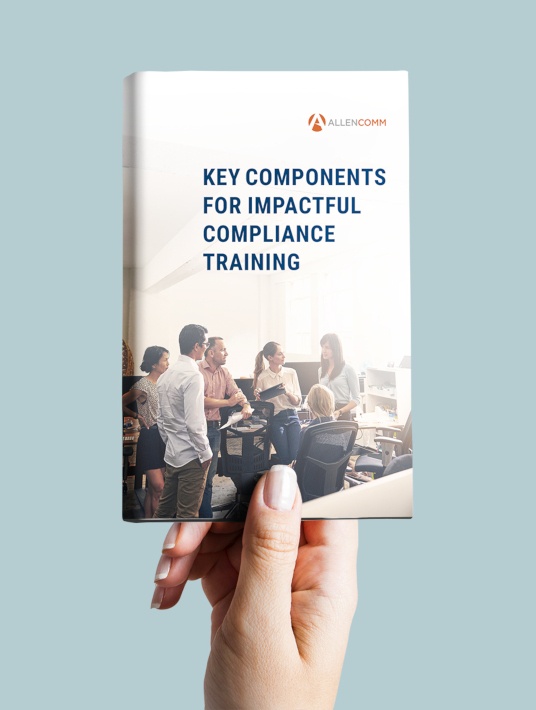 eBook Release
Key Components For Impactful Compliance Training
Discover the top elements of effective compliance training and how to get started creating your own.
As we began to look at the problem[1], it became clear that effective compliance training is a delicate process, and its success depends on several different factors. Most prominent among those factors is the workplace culture itself—cultures that hold executives or high-performing employees at a different standard than everyone else turn out to be the ones that are most often implicated in harassment allegations.
Companies already need to dedicate a vast amount of thought to planning and executing a compliance program that does what it promises, but nothing of lasting importance can be accomplished if a culture is built on a foundation of favoritism, managerial immunity, and looking the other way.
Here is how you can create a healthy compliance culture within your organization.
3 Building Blocks For Creating A Healthy Compliance Culture
While compliance training can prepare your employees for on-the-job experience, and decrease the likelihood of accidents, it can do more than simply communicate proper safety procedures and mandated checklists. Consider looking at compliance more holistically. It has greater reach and influence on the employees within your organization than you may realize.
Compliance training is a great, unique opportunity to tell the story of your organization. It's a way to show your employees how you'll handle difficult situations and how you interact with accountability.
It can widely communicate your organization's genuine values and, as a result, influence, or even define your company's culture.
Culture matters. Culture influences productivity[2], creativity[3], and profitability[4] within an organization. Culture can influence whether your employees remain engaged on the job, and can influence their loyalty to your organization.
Based on your current compliance training, what could your employees believe about your culture and company values? If your training heavily emphasizes safety procedures for hours, and then breezes over anti-harassment, an employee may believe your company values physical safety more than personal safety. This could lead them to feel unsafe, or unsure of what to do if harassment happens.
If your training briefly discusses consequences for certain ethical indiscretions, and accountability isn't discussed again or enforced after the training, this can communicate that employees or leaders aren't genuinely responsible for their actions.
There are 3 main building blocks for creating a healthy compliance culture:
1. Communication
When an employee approaches your course, there's a good chance that they're bringing their own personal bias toward compliance training along with them. If this bias is the result of a negative experience with a previous employer, then they will most likely see compliance training as nothing more than a way for the organization to protect its bottom line by avoiding expensive lawsuits.
A compliance culture changes this narrative to be more employee-focused instead of company-focused. Compliance training should affirm their value to your organization. Before launching into any sequence steps your employee should follow policies on appropriate workplace interactions, they should be reminded that the process is to help them and/or keep them safe on the job. Freedom to communicate issues or problems is a matter of workplace safety just as much as guidelines to prevent physical injury.
2. Predictability
Humans, by nature, like a certain amount of predictability[5]. There's a level of comfort in established patterns like "If I do x, then y will happen." While most won't admit it, rules and subsequent enforcement of those rules provides comfort to employees. In terms of procedural predictability, employees are comforted knowing how each step in a process can positively impact the outcome.
A compliance culture is predicable. If a policy is discussed in training, it will be enforced. Even if a leader is responsible for an infraction, the consequences will follow—every time, without fail. This creates an environment of trust and comfort.
3. Support
A training course shouldn't be the end-all be-all to the compliance process. Chances are employees won't remember all the details of each procedure, and policies will be updated and will change over time.
A compliance culture provides a user-friendly way for employees to access the information they've learned in the training. This information can be documents or quick reference cards containing helpful information. Secondly, employees should have access to support from an actual person if they need it. This can be communicated in the training, and contact information should be included within the course.
This holistic approach to compliance training provides an opportunity for your organization to create or continue the compliance culture that reflects your values.
Successful Compliance Training
Even if your company culture is conducive to implementing compliance training, the process can feel like trying to hit a moving target. With a little planning, however, it's possible to roll out compliance training that both fits within your company culture and engages your employees with its content. There are several things to consider during these planning stages, but the majority of them fall within the following categories:
Who Needs To Know About Compliance?
Much of compliance training is mandated—people in certain jobs need safety training related to their jobs; most employees need to know about HR issues such as preventing discrimination or sexual harassment; and ethics training is especially important in certain positions. Once you've got your mandatory bases covered, think about creative ways to expand compliance training. After all, ethics or HR training isn't just for managers, and safety training isn't just for people who work with machinery.
What Should Be In Compliance Training?
Once again, regulations determine a lot of the content of compliance training. However, be sure to prioritize learning on the most important takeaways instead of trying to cover every possible situation with a deluge of information that can drown your learners.
When Do Employees Need To Know About Compliance?
Since compliance training usually happens during onboarding, employees are presented with a lot of information so it's easy for compliance training to get lost in the shuffle. Instead of trying to teach new hires everything they need to know about compliance, focus on awareness. They should know the key issues of compliance, and where they can go for more information when they need it.
It's also beneficial to make compliance training a continuous process, rather than a one-off. Consider creating short, entertaining compliance modules—either online or instructor-led—that you can give periodically as refreshers.
Where Will Employees Apply What They Learn In Compliance Training?
When you create a compliance training program—whether you build the whole thing from scratch or use off-the-shelf products as an integral part of your training—build in job-specific scenarios, role plays[6], and assessments. Make the training as specific as possible. Follow up later with refreshers and retraining. If possible, do the training on the job, rather than in the training room.
Final Word
The heart and soul of compliance training are comprised of a desire to create a safe and happy workplace. It's true that a professional environment in which employees feel like their safety and well-being are a priority to the management often yields higher productivity[7] and decreased turnover, an element that impacts both company morale and bottom line. Employers that take the time to evaluate their company culture and develop compliance training that best suits the needs of their employees is a company that genuinely cares about its people.
References:
AllenComm
The experts at AllenComm solve business problems with beautiful custom learning solutions. We bring creativity into instructional design. We change behaviors and influence choices. We build better training.