eLearning Trends And Predictions For 2017
This eBook eLearning Trends and Predictions 2017 is designed to be a ready reckoner as you plan further investment on training in 2017 and are on the lookout for ways to enhance employee performance.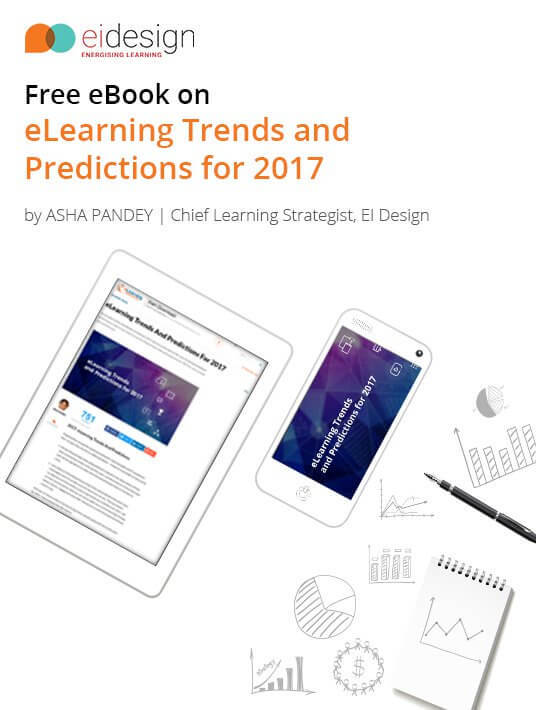 eBook Release
Download the eBook eLearning Trends And Predictions For 2017
Τhis eBook will provide several insights that you can use to uplift your current learning strategy.
As the Chief Learning Strategist for EI Design, I have practical experience of architecting eLearning and mLearning solutions (including performance support) for customers globally for over 15 years. I also head our Learning Innovation Lab initiative and closely track the changing landscape of tools, technologies, learners' expectations, and business needs.
I have combined my practical experiences and pointers from our on-going research and exploration to create this eBook.
What You Can Expect From The eBook
My list of eLearning trends and predictions is based on my observations of how ideas evolved into trends in the last few years and ideas that are simmering today with all the ingredients to make them the hottest thing in town in the days to come.
I also believe that looking at eLearning trends and predictions becomes more meaningful when it provides you with inputs you can use. This was exactly my objective, and this eBook on eLearning Trends And Predictions For 2017 will provide several pointers that you can use to uplift your current learning strategy (better learner engagement and other measures to create the impact businesses need to see).
About The eBook
The information in the eBook eLearning Trends and Predictions 2017 has been banded this into 3 parts:
What will continue to offer value (what has worked and delivered value in the recent past).
Where we will see increased focus.
What to watch out for in 2017.
Each trend and prediction is prefaced by an apt quote that sums up its relevance or value proposition. Along with each trend, I have added stats that give you good reasons why you should adopt this. I am sure this would make an interesting read.
What Will Continue To Offer Value
mLearning or mobile learning
Microlearning and learning paths
Mobile apps for learning
Gamification
Videos and interactive videos
Collaborative and social learning
Performance Support Tools (PSTs)
Where We Will See Increased Focus
Learning portals.
LMS, LCMS refresh.
Measuring learning effectiveness or learnability of online courses.
Learner analytics.
Watch Out For
Personalized and adaptive learning.
Content curation for learning.
Usage of Virtual Reality (VR) and Augmented Reality (AR) for learning.
Wearable technology for corporate learning.
I hope this eBook eLearning Trends and Predictions 2017 will give you ideas you can use and enhance your learning strategy in 2017. If you have any specific queries or would like to see the impact of any specific trend or prediction, do contact me at [email protected].