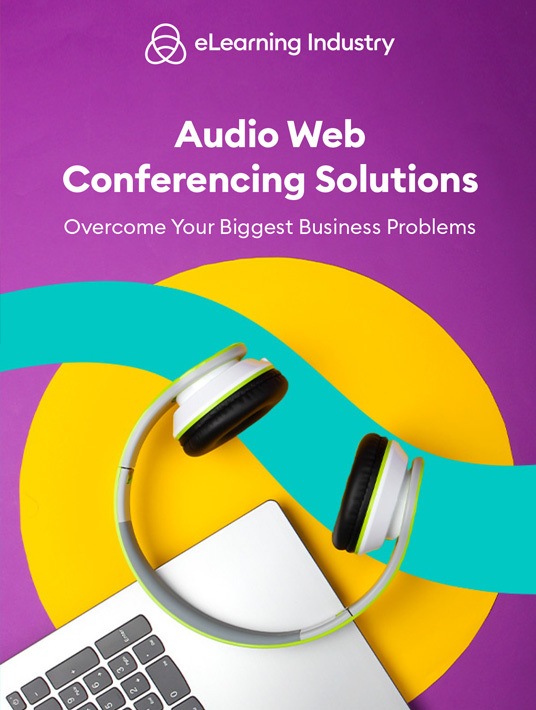 eBook
Audio Web Conferencing Solutions: Overcome Your Biggest Business Problems
eBook
Audio Web Conferencing Solutions: Overcome Your Biggest Business Problems
by eLearning Industry / Published: Dec 18 2020
What it's about
Most organizations avoid new software purchases because they don't want to deal with the headache. It's not just the cost factor. Vetting vendors and drafting RFPs is usually time-consuming and stressful. Our eBook takes the headache out of buying new audio web conferencing solutions for your business. It features tips to choose the right tool for your L&D priorities, qualify software companies, and submit RFPs that get results. Download your copy today to bring your team together and move your L&D online.
Key chapters
Getting Started With Audio Web Conferencing Solutions

Where do you even begin? This chapter helps you kick-start your search and gather all the necessary info.

The Importance Of Investing In Audio Conferencing Software

Is audio conferencing really worth the investment? Here are some of the top reasons why organizations implement these tools to address pain points.

8 Features That Only Good Audio Web Conferencing Software Solutions Have

What sets top notch web conferencing tools apart from the rest? Let's review some of they key features to look for.

8 Audio Conferencing Software Perks For Your Profit Margin

How do audio conferencing solutions impact your bottom line? This section dives into the profitable perks of ownership.

7 Ways Your Training Organization Can Leverage Audio Conference Systems

How can your L&D department use audio conferencing tools to enrich online training?

8 Ways To Use An Audio Conferencing System You Could Never Imagine

Looking for innovative ways to include audio conferencing in your strategy? This chapter highlights 8 creative uses for web conferencing systems.

7 Tips To Choose The Right Audio Web Conferencing Tool For Your L&D Priorities

You need a tool that rises to your L&D challenges. Here are 7 insider secrets to find the best tool for online training.

How To Gather All Relevant Info Before Contacting Any Audio Conferencing Provider

Before you reach out to vendors, read this section to analyze your needs and conduct market research.

8 Tips To Remember When Creating An RFP For Audio Conferencing Providers

A request for proposal can help you get accurate estimates. But what should you include for maximum responses.

7 Insider Secrets To Vet Audio Conferencing Providers

Qualify vendors and verify social proof with the help of these 7 top tips.
---
Recommend this read to your friends and #shareknowledge!
Get your copy now
---
Join other professionals like you, who have downloaded the eBook!
Other resources by eLearning Industry