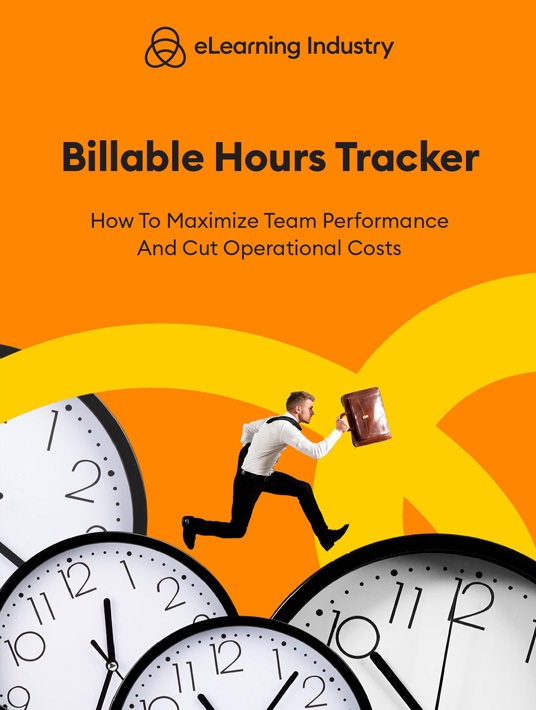 eBook
Billable Hours Tracker: How To Maximize Team Performance And Cut Operational Costs
eBook
Billable Hours Tracker: How To Maximize Team Performance And Cut Operational Costs
by eLearning Industry Inc. / Published: Jan 18 2021
What it's about
The right time tracking software can help you simplify client invoicing and make the most of in-house resources, but what should you look for in your new app? Which businesses actually benefit from these versatile tools, and how do you set a realistic budget? Fortunately, this billable hours tracker eBook has all the information you need to make a wise investment. First and foremost, it can help you determine if tracking systems are the ideal solution for your organization. Then we dive into tips to use your new platform to perfect product pricing and improve customer relations. Get your copy today!
Key chapters
What Is A Billable Hours Tracking App And How Does It Improve Your Profit Margins?

What's the role of billable time tracking software in your organization? This chapter highlights the functions and how it can benefit your bottom line.

8 Reasons To Invest In A Billable Time Tracking System

Is a billable time tracking tool really worth the investment? Let's look at 8 notable perks of billable hours trackers.

Which Industries Benefit From A Time Tracking App?

From insurance to sales, here are 5 industries that should consider a time tracking app for their team.

8 Billable Time Tracking Software Features That Deliver Maximum ROI

Which features should you look for? This section covers the crucial selling points that every organization must consider.

How Does A Billable Hours System Help You Determine Product Cost?

Did you know that billable hours tracking apps can help you fine tune your pricing? Here are some tips to improve your profit margin with time tracking software.

Can A Time Tracking App Improve Customer Relations?

How can time tracking systems help you improve CX? This chapter can help you build a better rapport and expand your customer base.

Bonus: 11 Tips To Set A Realistic Billable Hours Software Budget

How much will you spend for new billable hours tracking systems? We wrap it up with a few tips to set a realistic budget.
---
Recommend this read to your friends and #shareknowledge!
Get your copy now
---
Join other professionals like you, who have downloaded the eBook!
Other resources by eLearning Industry Inc.