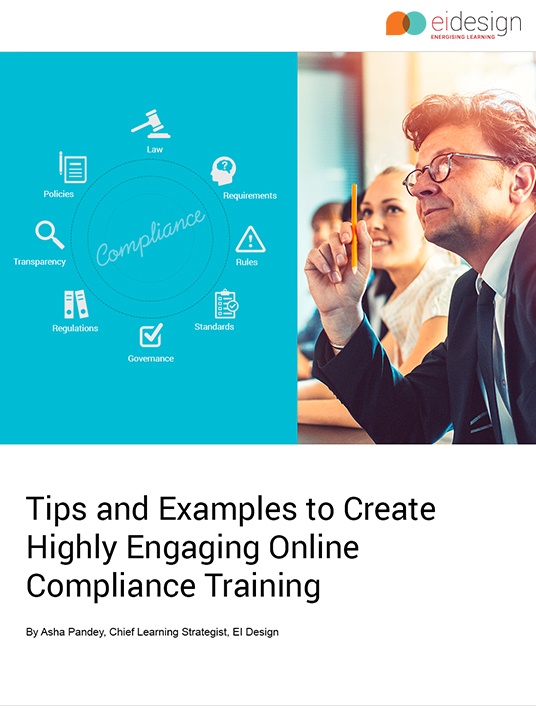 eBook
Tips And Examples To Create Highly Engaging Online Compliance Training
eBook
Tips And Examples To Create Highly Engaging Online Compliance Training
by EI Design / Published: Nov 03 2017
What it's about
This eBook provides (through tips, best practices, and 10 examples) practical insights on how you can create highly engaging Compliance courses by adopting innovative learning strategies and thereby enhance the impact of learning.
Key chapters
Section 1: The challenge

This section begins with a quick look at the current dynamics. Though Compliance training is very significant, Compliance courses tend to be rather boring. While they do get completed and attested by learners, they aren't truly engaging. In light of this, the desired mandate is often elusive.

Section 2: Tips and best practices

This section outlines the tips and best practices we have used at EI Design to create meaningful and effective Compliance training. It also provides a series of best practices that are easy to apply and will directly impact the engagement quotient of Compliance courses.

Section 3: Strategies

This section looks at various Instructional strategies that you can adopt to create engaging Compliance training. It covers related questions on how some of the currently trending online training techniques like Gamification and Microlearning can be used for Compliance training. It also touches upon the most significant aspect of strategies that can be used to trigger the required behavioral change in learners.

Section 4: Examples

This rich section features 10 examples that will give you a clear idea of the possible strategies you can use in your organization and see a boost in learner engagement and training impact. The examples feature not only strategies for the courses, but also the usage of Performance Support Tools (PSTs) or job-aids at two levels to support the Compliance training:
1. To create awareness on a Compliance subject.
2. To reinforce the messaging and promote the right behavior.
Use of PSTs or job-aids is quite common for other corporate trainings and can be used as effectively to create learning paths for Compliance mandate too.
---
Recommend this read to your friends and #shareknowledge!
Get your copy now
---
Join other professionals like you, who have downloaded the eBook!
Other resources by EI Design