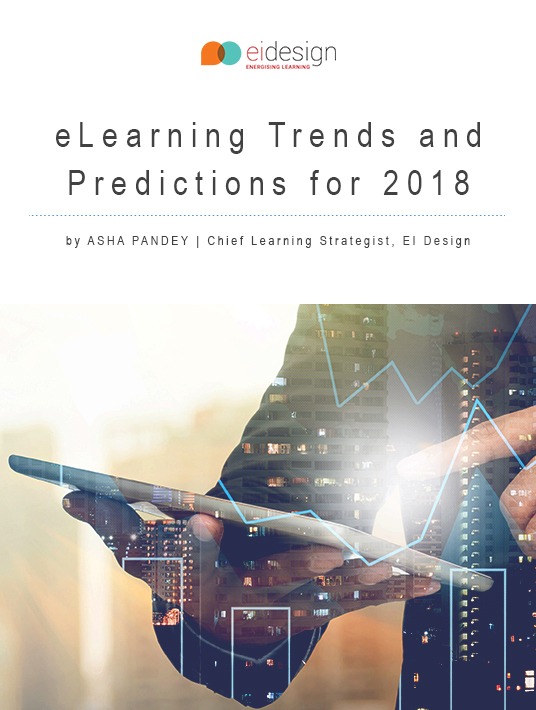 eBook
eLearning Trends And Predictions For 2018
eBook
eLearning Trends And Predictions For 2018
by EI Design / Published: Jan 11 2018
What it's about
Get a comprehensive view of the hottest eLearning trends and predictions on approaches that are likely to have an impact on the industry in 2018.
Key chapters
Section 1: What will continue to offer value?

Most entries in this section have been there for a while. However, they will see changes in 2018 while continuing to offer value. I have highlighted what I believe will change or if we will see a wider usage of each trend.

1. mLearning
2. Digitization of ILT (to blended or fully online)
3. Microlearning
4. Performance Support Tools
5. Gamification
6. Social Learning
7. Mobile Apps or Apps for learning
8. Video-based learning (Videos and Interactive Videos)
9. Next gen-LMS/LCMS
10. Rapid eLearning tools
11. Informal learning

Section 2: Coming of age-Increase in adoption

This section features trend that was part of my 2017 trends and predictions and I have seen a clear shift towards higher adoption during the last year and this will continue to be the case.

1. Learning portals
2. Personalization
3. Curation

Section 3: Emerging or Maturing-Watch out for

This section has a combination of trends that are emerging (Artificial Intelligence or AI in learning) as well as some trends that were identified for the watch in the past 2-3 years but are clearly maturing now.

1. Artificial Intelligence (AI) in learning.
2. AR/VR for immersive learning.
3. Big Data-Reporting, Analytics and its usage in the determination of ROI Learner Analytics.
4. Learner Analytics to enhance Learning experiences.
---
Recommend this read to your friends and #shareknowledge!
Get your copy now
---
Join other professionals like you, who have downloaded the eBook!
Other resources by EI Design