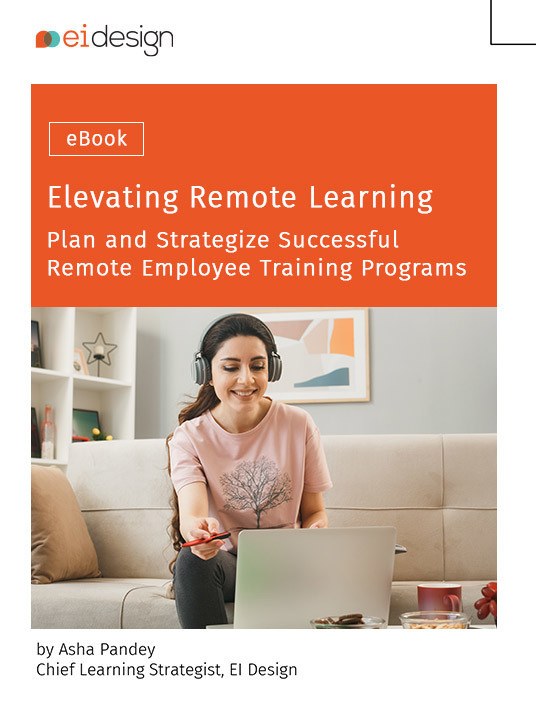 eBook
Elevating Remote Learning: Plan And Strategize Successful Remote Employee Training Programs
eBook
Elevating Remote Learning: Plan And Strategize Successful Remote Employee Training Programs
by EI Design / Published: Jun 24 2021
What it's about
In this eBook series, we share our experience and learnings from the last 2 years, having helped organizations and L&D teams around the world successfully adopt remote workforce training. The strategies and insights covered will help you elevate your remote employee training programs by driving employee performance and seeing improved business outcomes. This comprehensive 3-part series covers: planning and strategizing remote training programs, creating immersive learning experiences for your learners, and supporting formal training with informal learning opportunities.
Key chapters
eBook 1: How to Plan and Strategize Successful Remote Employee Training Programs in 2021

2021 is the year to create a sustainable, long-term approach for your L&D strategy that is effectively aligned to the new normal. This eBook offers insights you can use as you plan and strategize training and development programs for your remote workforce in 2021.

eBook 2: How to Engage Your Learners in the Remote Workplace Through Immersive Learning Strategies

Immersive learning approaches not only help you engage your remote learners but also create learning experiences that are sticky and ensure that higher-level goals like application of learning or change in thinking and behavior are met. This eBook will show you how to deliver immersive learning experiences to engage learners in the remote workplace.

eBook 3: How to Drive Continuous Learning Outside the Formal Training Environment

A large percentage of L&D investments in training is spent on Formal Training. However, employees continue to learn on their own (Informal Learning) and they hardly turn toward Formal Training for learning opportunities. This eBook explains how you can create a connected learning solution that supports Formal Training with Informal Learning opportunities.
---
Recommend this read to your friends and #shareknowledge!
Get your copy now
---
Join other professionals like you, who have downloaded the eBook!
Other resources by EI Design