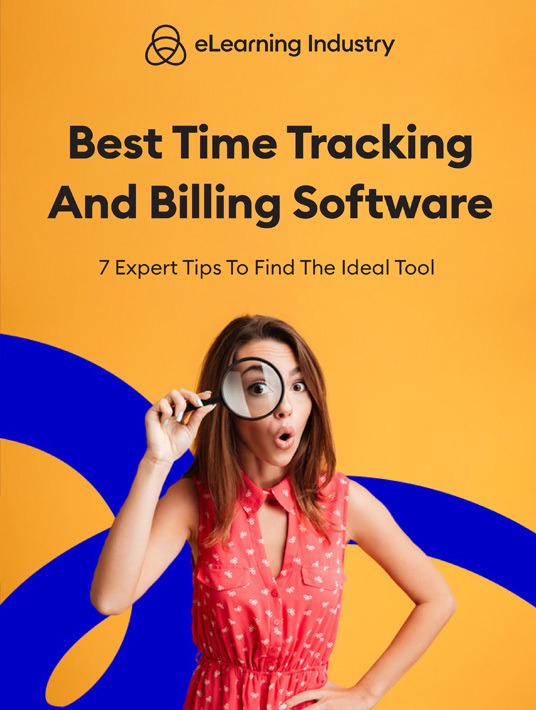 eBook
Best Time Tracking And Billing Software: 7 Expert Tips To Find The Ideal Tool
eBook
Best Time Tracking And Billing Software: 7 Expert Tips To Find The Ideal Tool
by eLearning Industry / Published: Dec 15 2020
What it's about
Are time tracking and billing apps worth the investment? Can it really address your telecommuting team's pain points? If so, what are the main functions and selling points you should add to your software shopping list? The best time tracking and billing software benefits every member of your organization, not just the HR department. In fact, many organizations use it to streamline client billing and improve customer relations. Not to mention, give employees better oversight of their workday, project milestones, and job performance. This eBook shares everything you need to know about time billing software for businesses big and small. Including the top benefits and how the right solution can help you skyrocket your ROI.
Key chapters
Which Businesses Can Benefit From Time Billing Software?

Can every organization reap the rewards of time tracking and billing software? Let's look at some of the perks of software ownership.

Are You Certain It Is The Right Time To Start Looking For Time Tracking Solutions?

This chapter can help you determine if time tracking tools are a wise investment or if you should wait to start your search.

How To Skyrocket Your ROI With Time Billing Apps

How do time tracking apps contribute to your bottom line? Here are just a few ways that billing software widens your profit margin.

Which Features Do The Best Tracking Software Have In Common?

What sets a top notch time tracking tool apart from the rest? Let's review some of the key selling points to look for.

Are There Plenty Of Time Tracking And Billing Systems For Accountants To Choose From?

How can accountants find the right time tracking and billing solutions? This chapter features 5 insider tips to narrow your options.

7 Tips To Make The Right Hourly Timer And Billing System Selection

Avoid buyer's regret. These top tips can help you speed up the selection process without cutting corners.

9 Things To Consider When Looking To Find The Best Time Billing Systems

Let's wrap things up with 9 crucial evaluation criteria every business should consider.
---
Recommend this read to your friends and #shareknowledge!
Get your copy now
---
Join other professionals like you, who have downloaded the eBook!
Other resources by eLearning Industry