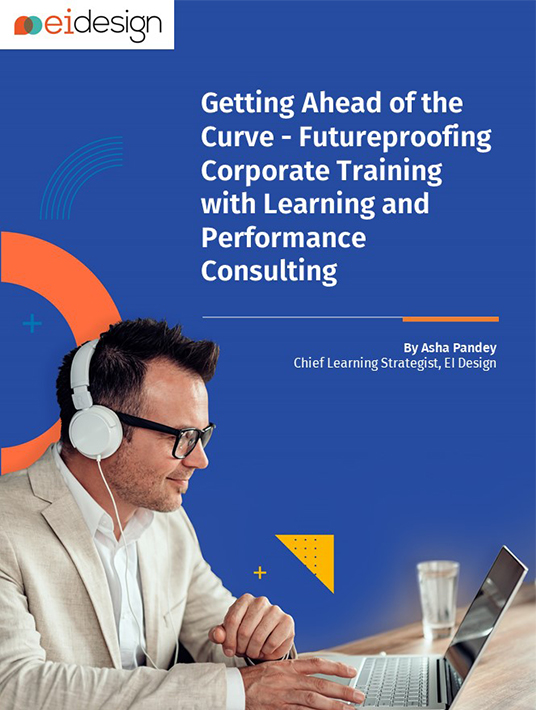 eBook
Getting Ahead Of The Curve: Futureproofing Corporate Training With Learning And Performance Consulting
eBook
Getting Ahead Of The Curve: Futureproofing Corporate Training With Learning And Performance Consulting
by EI Design / Published: Dec 10 2020
What it's about
My eBook, Getting Ahead Of The Curve: Futureproofing Corporate Training With Learning And Performance Consulting, provides insights on why you should capitalize on Learning and Performance Consulting to plan the course of a successful Virtual Training Transformation.
Key chapters
Learning During The Pandemic And The Changed Expectations from the L&D Teams

This section discusses the workplace variables induced by the pandemic and the amplified need for digital learning from remote learners – what remote learners look for and what L&D teams must deliver. It describes the changed expectancies from L&D teams and what they must provide due to the altered workplace dynamics. It offers suggestions on how L&D teams must rethink their strategy to present training remotely – with a contrast of the traditional contribution areas (L&D) versus the expectations in the altered dynamics (L&D 2.0).

Adopting Approaches To Address The New Normal

This section details the new and enhanced goal sheet for the L&D teams. Given the altered workplace dynamics, the L&D teams need to embrace approaches to tackle the new normal - It lists out key areas that surface with regard to the altered workplace dynamics that L&D need to watch out for in 2021.

Leveraging Learning And Performance Consulting To Futureproof Training

Improving employee performance is a constant effort in each organization. At present, more than ever, there is a pressing need to ensure that the investments in training help organizations achieve the desired business results. This section emphasizes the evident need to invest on Learning and Performance Consulting services to deal with this challenge. It also portrays the various mechanisms of the Learning and Performance Ecosystem, which proposes specialized strategies to support L&D teams to handle the requirements and expectations of the learners and business.
---
Recommend this read to your friends and #shareknowledge!
Get your copy now
---
Join other professionals like you, who have downloaded the eBook!
Other resources by EI Design