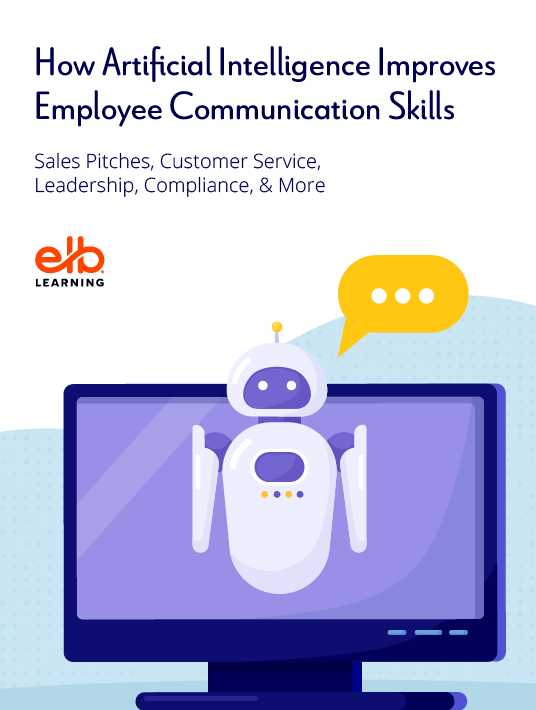 eBook
How Artificial Intelligence Improves Employee Communication Skills
eBook
How Artificial Intelligence Improves Employee Communication Skills
by ELB Learning / Published: Jul 27 2023
What it's about
When organizations combine AI with audio/video-based practice, employees get upskilled in record time. Find out how organizations implement these winning training techniques to improve communication skills—even when their mentors are busy!
Key chapters
The Rise of AI with the Power of Audio-Video-Based Learning

With its ability to analyze data, interpret speech patterns, and provide real-time insights, AI can transform communication dynamics.

Take Video-Based Learning to the Next Level

As part of a course or training solo, practicing is essential for perfecting skill development, enhancing performance, building confidence, and achieving goals.

How AI is Accelerating & Augmenting the Learning Process

Providing automated grading, language translation, transcription, and instant feedback is possible with AI. Metrics within Rehearsal save mentors' time.

Using Coaching in Combination with AI Dramatically Improves Performance

Traditional learning can be costly, time-consuming, and difficult to scale. Leveraging AI-based training offers quick, personalized feedback.

Surmounting Common Training Challenges with AI

On-demand feedback is crucial for learners to target areas of improvement, whereas traditional learning is a slower process.

Powerful. Personalized. Proven.

These common uses and case studies prove that audio/video-based platforms like Rehearsal powered by AI are effective.
---
Recommend this read to your friends and #shareknowledge!
Get your copy now
---
Join other professionals like you, who have downloaded the eBook!
Other resources by ELB Learning