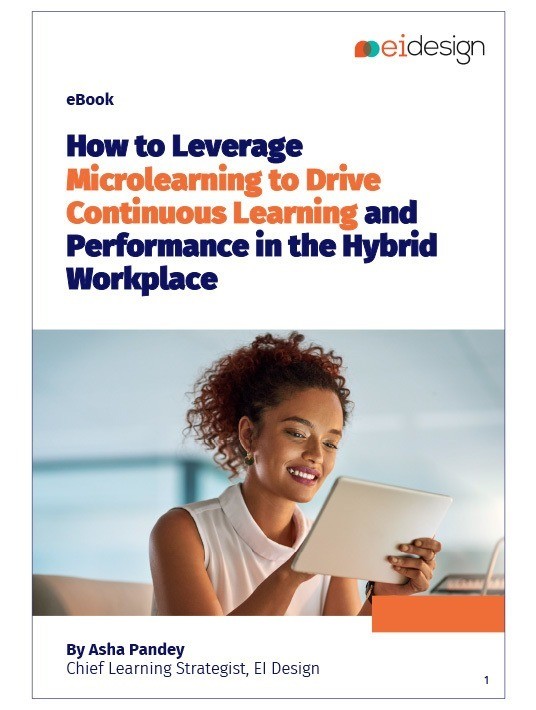 eBook
How To Leverage Microlearning To Drive Continuous Learning And Performance In The Hybrid Workplace
eBook
How To Leverage Microlearning To Drive Continuous Learning And Performance In The Hybrid Workplace
by EI Design / Published: Mar 24 2022
What it's about
This eBook shares strategies on how microlearning can drive continuous learning, offset hybrid workplace challenges, and improve learning acquisition, practice, and application. This results in the desired performance gain and value for the business.
Key chapters
How to Build Employee Learning Habits and Drive Continuous Learning with Microlearning?

Creating a culture of learning is an important part of L&D mandates in the changed workplace. However, accomplishing it is a tall order. In this section, we share insights on how Microlearning can be leveraged to build learning habits and foster a culture of continuous learning in the remote workplace.

What Microlearning Strategies Help Promote Learning in the Flow of Work?

In a dynamically changed work-world, employees don't have a lot of time to invest in formal training. Learning in the flow of work offers a win-win solution for both the employees and the organization. In this section, we share 3 Microlearning strategies that you can leverage to foster learning – within the learner's workflow.

How Do You Offset the Forgetting Curve in Training Programs with Microlearning?

People tend to forget the vast majority of what they learn - especially when the new information and skills aren't immediately applied. As a result, while organizations continue to invest in training, they do not see the required impact. In this section, we show you how to drive continuous learning, offset the Forgetting Curve, and create a Retention Curve with Microlearning.

How Can Microlearning Boost Learner Engagement and Performance?

Despite creating engaging learning content that is easily accessible, learner engagement continues to be a challenging issue L&D teams deal with. In this section, through 5 examples, we illustrate the value Microlearning can bring in and how Microlearning can simultaneously engage learners and boost performance.
---
Recommend this read to your friends and #shareknowledge!
Get your copy now
---
Join other professionals like you, who have downloaded the eBook!
Other resources by EI Design