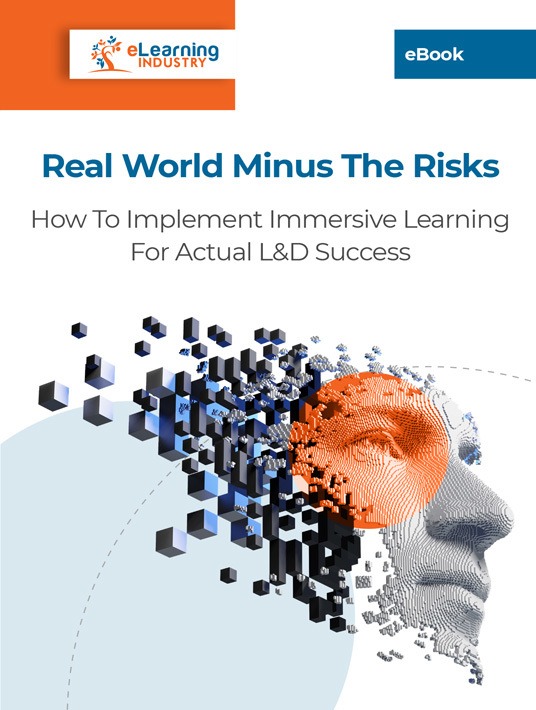 eBook
Real World Minus The Risks: How To Implement Immersive Learning For Actual L&D Success
eBook
Real World Minus The Risks: How To Implement Immersive Learning For Actual L&D Success
by eLearning Industry / Published: Mar 25 2020
What it's about
Are you wondering how you can implement immersive learning for successful L&D? This eBook gives you insightful information on how to achieve that, including all the tips you should follow, myths to consider, and innovative ways of use.
Key chapters
Maximizing Mixed Reality: 8 Benefits Of Immersive Learning For Employee Online Training

Mixed Reality training blends the best of both worlds to prevent costly mistakes and build practical skills. What benefits can it bring to your employee online training program?

What Is Immersive Learning: 7 Fundamentals Of Interactive eLearning Activities

Are there any elements that enhance the immersion? In this article, I highlight the 7 fundamentals of successful interactive eLearning activities.

7 Immersive Learning Implementation Errors And Tips To Avoid Them

Discover how to foster immersion and encourage calculated risk-taking for your remote workforce.

7 Tips To Choose The Best VR Training Companies For Immersive Learning

This article features 7 tips to find the right eLearning outsourcing partner for interactive online training.

7 Immersive Learning Activities To Add To Your Remote Online Training Library

Are you ready to expand your JIT repository? This article features 7 immersive learning activities to upload to your remote online training library for busy staffers and external partners.

AR Vs. VR: 7 Tips To Choose The Best Immersive Learning Approach

Contrary to popular belief, AR and VR are both Mixed Reality approaches. In this article, find 7 tips to choose the best online training strategy for your immersive learning program.

7 Ways To Use Immersive Learning To Encourage Calculated Risk-Taking

Is the risk worth the reward or should they play it safe on the job? Give your employees the chance to find out for themselves with immersive learning resources.

7 Secrets To Create The Perfect Immersive Learning Environment For Busy Employees

How do you get employees to stop, reflect on personal performance, and continually develop key skills?

8 Compliance Issues Solved With Immersive Learning And Simulation Training

Compliance audits aren't the only reason to train your team. On-the-job injuries, low employee retention, and a tarnished brand reputation are also noteworthy risks.

7 Immersive Learning Misconceptions And Myths You Should Dispel Today

There seem to be a lot of rumors and misconceptions surrounding Mixed Reality training. Get to debunk the myths and understand why immersive learning is a great addition to your L&D strategy.

BYOD And Immersive Learning: 7 Tips To Cut AR Training Costs

Interactive learning activities don't have to drain your L&D budget. Find out the 7 tips to cut costs with BYOD and still achieve your immersive learning objectives.

7 Tips To Use Online Directories For VR Training Companies

Do you think VR training is out of your price bracket? Hiring an eLearning outsourcing partner can help you reduce costs and speed up the development timeline.

7 Innovative Ways To Use Immersive Learning For Meaningful Online Training Experiences

This article explores the many ways to use immersive learning for meaningful training experiences that leave a lasting impression.
---
Recommend this read to your friends and #shareknowledge!
Get your copy now
---
Join other professionals like you, who have downloaded the eBook!
Other resources by eLearning Industry