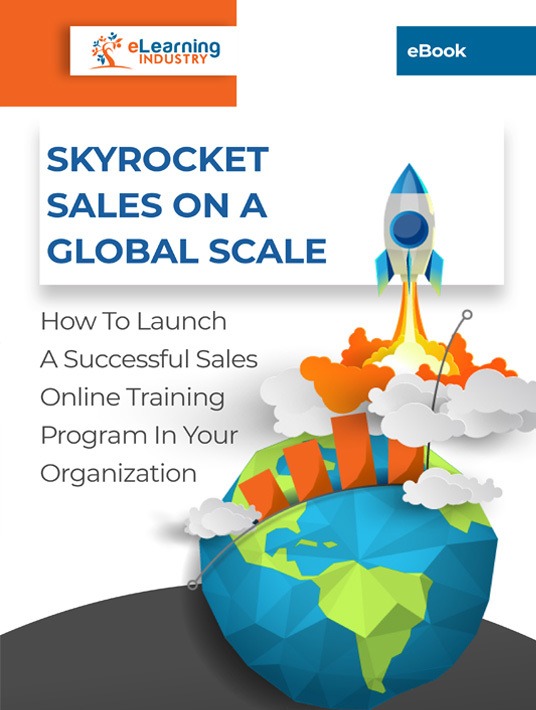 eBook
Skyrocket Sales On A Global Scale: How To Launch A Successful Sales Online Training Program In Your Organization
eBook
Skyrocket Sales On A Global Scale: How To Launch A Successful Sales Online Training Program In Your Organization
by eLearning Industry / Published: Mar 04 2020
What it's about
As a general rule, your sales team should be well-rounded. Is a new sales online training course worth the investment? Get to know how to launch, enhance and retain successful programs in your organization—all in this eBook.
Key chapters
7 Profit-Boosting Perks Of Launching A Sales Online Training Course

In this article, 7 profit-boosting perks of launching sales services online training in your organization, are being highlighted.

8 Top Sales Online Training Topics To Cover In Your Onboarding Program

Are your new hires ready to pitch products and provide the best Customer Experience?

8 Reasons To Outsource Sales Online Training Programs To eLearning Content Providers

Is outsourcing a wise investment or should you develop sales online training in-house to cut costs?

6 Super-Charged Sales Online Training Techniques To Widen Your Profit Margin

Sales online training should help you widen your profit margin, not force you to spend more than you have to keep employees in-the-know.

7 Sales Online Training Activities Employees Expect When They Login To An LMS

You have certain expectations for your sales team that cover everything from hitting monthly targets to upholding compliance. But what do they expect when they log into your online training LMS?

8 Sales Online Training Process Stages For SMBs That Are Going Global

How are you going to onboard new team members quickly and cost-effectively?

7 Retail Sales Online Training Mistakes That Take A Bite Out Of Your Budget

Successful retail businesses build a strong rapport with their customer base and value their in-house talent. Avoid those mistakes which can put your brand reputation and the health of your bottom line at risk.

6 Simple Tips To Personalize Sales Online Training Programs For External Partners

This article features simple tips to personalize extended enterprise sales online training.

7 Cost-Effective COI Compliance Sales Online Training Techniques

How can you prep your sales team for ethical dilemmas without going over the L&D budget?

8 Crucial Skills To Enhance In Your Sales Online Training Programs

What do product promotion, customer service, and on-the-job collaboration have in common? Strong sales skills that allow employees to build a rapport with clients and become a valued member of the team.

7 Ways To Find A Sales Online Training eLearning Content Provider

How do you find the perfect outsourcing partner for your organization?

7 Elements That Are Probably Missing From Your Current Sales Online Training Strategy

You think you've covered all your bases when it comes to prepping your sales staff and building vital skills. But there may be some elements missing from your current sales online training strategy.
---
Recommend this read to your friends and #shareknowledge!
Get your copy now
---
Join other professionals like you, who have downloaded the eBook!
Other resources by eLearning Industry