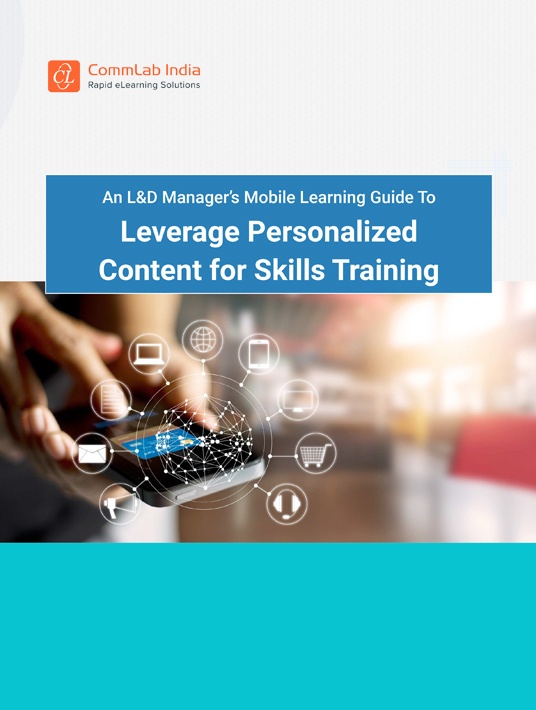 eBook
An L&D Manager's Mobile Learning Guide To Leverage Personalized Content For Skills Training
eBook
An L&D Manager's Mobile Learning Guide To Leverage Personalized Content For Skills Training
by CommLab India Rapid eLearning Solutions / Published: Jan 19 2021
What it's about
Mobile technology is affecting how we live, work, and learn. L&D leaders can no longer ignore mobile learning's potential for corporate learning. Explore how you can utilize mobile learning for skills training.
Key chapters
4 Reasons L&D Leaders Need To Take Part In The Mobile Learning Revolution

You need to actively take part in the mobile learning revolution – for the sake of your learners and organization. Explore why and how.

5 Benefits Of Personalized Content And How To Leverage It In Your Mobile Learning Strategy

Explore the features of personalized learning and how mobile learning can deliver personalized learning experiences.

Win The L&D Bet With These 5 Mobile Learning Trends On Skills Training

Does mobile learning work for skills training? If yes, how? Explore this and mobile learning trends for skills training.

5 Ways Mobile Learning Apps Can Help Your Workforce's Skills Training

Web apps? Native or hybrid? What will work? Explore the types of mobile apps and how they can be used for skills training.

Mobile Learning Formula: 5 Steps To Create Effective Personalized Learning Paths

From pre-assessments to performance support, explore a 5-step plan to create effective personalized learning paths and where mobile learning can help.

Skills Training Made Easy: 3 Mobile Learning Examples And Use Cases

Explore success stories of how top-performing organizations have used mobile learning for software training, objection-handling training, and onboarding.

Mobile Learning Solutions To Overcome Challenges Of Skills Training & Maximize Training ROI

Can mobile learning solutions overcome the challenges in skills training and maximize training ROI? Let's find out.
---
Recommend this read to your friends and #shareknowledge!
Get your copy now
---
Join other professionals like you, who have downloaded the eBook!
Other resources by CommLab India Rapid eLearning Solutions