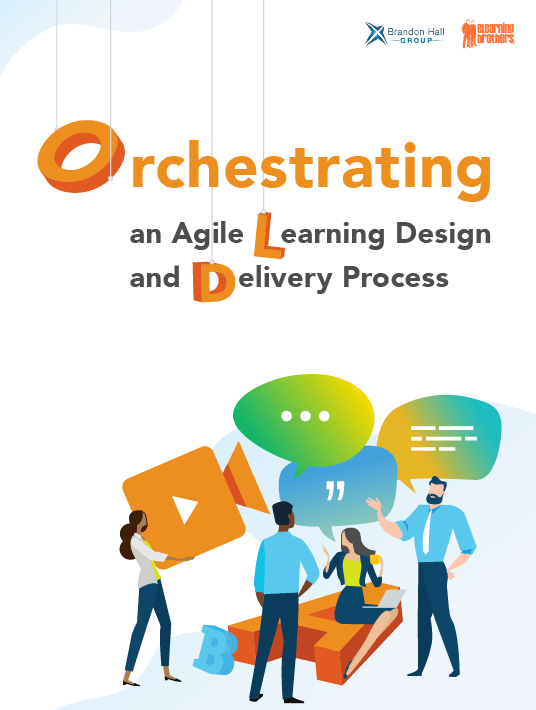 eBook
Orchestrating An Agile Learning Design And Delivery Process
eBook
Orchestrating An Agile Learning Design And Delivery Process
by eLearning Brothers / Published: Jan 13 2022
What it's about
When learners want content on-demand in modern formats, the old-school, long-winded instructional design process falls short. Find out why an agile, collaborative learning culture is making ID more efficient and effective, and how to facilitate it.
Key chapters
The Current Situation of Instructional Design & Influence of Software Development

Instructional Design teams need the right strategies and tools to keep pace with the learning demands of today's business climate.

What is Agile Software Development?

The Agile mindset of software development can be applied to the learning design process; the scope and requirements unfold and are identified incrementally, and not planned in advance.

Defining the SCRUM Framework for Agile Learning Design

By using Scrum as a foundation, we can apply Agile principles to orchestrating an Agile learning design and delivery process in your organization.

How SAM and LLAMA Instructional Design Models Incorporate Agile Principals

Two prime examples of Agile alternatives to ADDIE (analyze, design, develop, implement, evaluate) are the Successive Approximation Model (SAM) and the Lot Like Agile Management Approach (LLAMA).

Why Agile Learning Design Works: Iterative, Collaborative, & Incremental

If you're designing, developing, testing, and releasing changes in small increments, you don't have the same level of risk as when you're doing one big project.

Using Technology to Orchestrate an Agile Learning Design Process

Businesses need an agile learning system; a system that can move quickly and keep up with organizational needs; it should allow information to flow among authors, subject matter experts, admins, and learners.
---
Recommend this read to your friends and #shareknowledge!
Get your copy now
---
Join other professionals like you, who have downloaded the eBook!
Other resources by eLearning Brothers