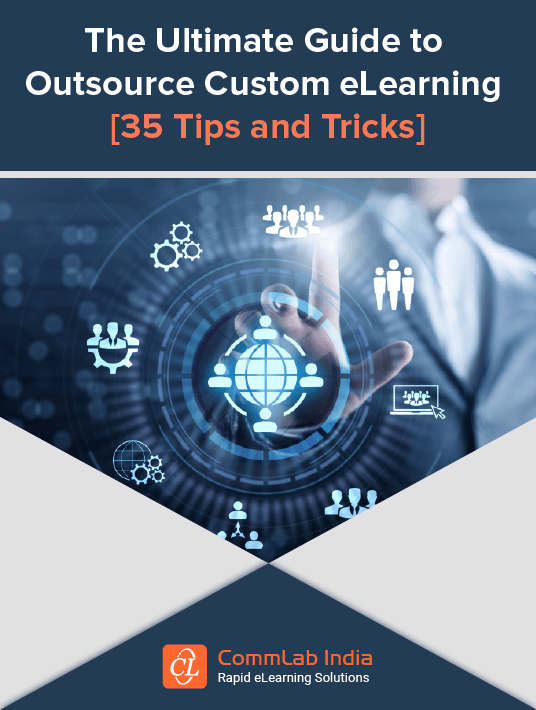 eBook
The Ultimate Guide To Outsource Custom eLearning
eBook
The Ultimate Guide To Outsource Custom eLearning
by CommLab India / Published: Aug 29 2019
What it's about
Whether you are new to eLearning, looking to outsource part of the effort, or you are already outsourcing eLearning development, this eBook offers practical ideas on designing learner-centric courses within set parameters, without compromising quality.
Key chapters
3 Reasons to Outsource Custom eLearning Development

Outsourcing custom eLearning helps complement your in-house team, offers access to experts in various fields, and ensures the timely delivery of courses. Explore these in detail.

6 Parts of Custom eLearning Development You Can Outsource

If you want to leverage the strengths of your in-house team, you have the flexibility to outsource only those aspects where you lack the expertise such as course development or eLearning translations. Check what can be outsourced.

4 Ways Setting the Right Learning Objectives Saves Time and Cost

Learning objectives are essential to an effective eLearning. Explore the inputs required to set measurable learning objectives, the components of a good objective, and more.

3 Things to Expect When Outsourcing Custom eLearning Development

Outsourcing eLearning means working with a new team, often from a different country, time zone, and culture. Discover the differences you need to keep in mind and some tips to leverage the differences for a win-win partnership.

4 Essential Steps Before Outsourcing Custom eLearning

To ensure hassle-free outsourcing, there's a little prep work you need to do. Gain insights on 4 main aspects you need to concentrate on, such as checking the availability of content and getting subject matter experts onboard.

6 Key Factors for Outsourcing on a Budget

Outsourcing eLearning development on a budget can be tricky. However, there are quick fixes such as leveraging templates offered by authoring tools and minimizing the use of audio judiciously. Explore 6 helpful tips.

4 Practical Tips to Maximize ROI

If you are brainstorming for some practical tips on how to do so, review these 4 practical tips that can help maximize ROI from outsourcing custom eLearning development.

5-Point Checklist to Find the Right Outsourcing Partner

With many eLearning vendors in the market, selecting the right one is very crucial. Explore this 5-point checklist to select the right vendor for outsourcing your custom eLearning.
---
Recommend this read to your friends and #shareknowledge!
Get your copy now
---
Join other professionals like you, who have downloaded the eBook!
Other resources by CommLab India