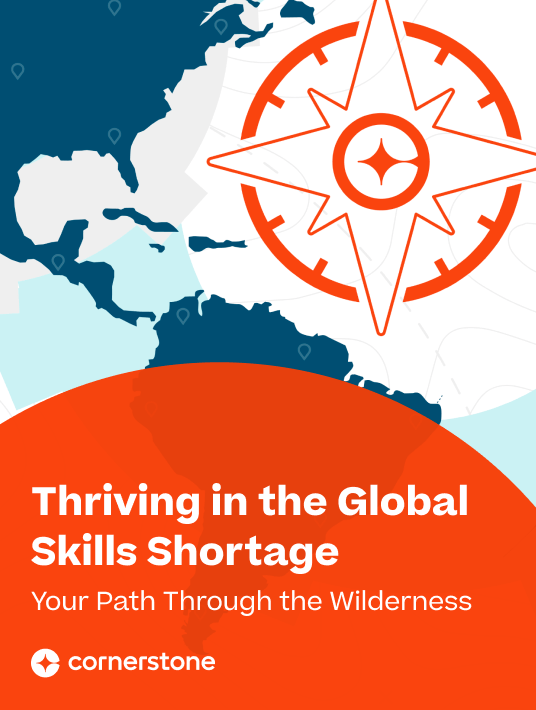 eBook
Thriving In The Global Skills Shortage: Your Path Through The Wilderness
eBook
Thriving In The Global Skills Shortage: Your Path Through The Wilderness
by Cornerstone People Research Lab / Published: Jun 16 2022
What it's about
Download this 2022 Global Skills Report to learn how successful organizations worldwide are using skills to navigate uncharted territory and help themselves and their people thrive in a new world of work.
Key chapters
2020 vs. 2022: What Changed?

Using reskilling as a catch-all term for skills development is problematic. In previous research, we defined a term that was inclusive of upskilling, reskilling, and new skill development as "new skilling."

COVID-19 Casts a Long Shadow on the Workforce

Throughout our study, there is a strong positive correlation between providing support and opportunities for employees and the overall business performance of an organization.

The Employee-Employer Skills Confidence Gap Remains — and Expands

In 2022, only 55% of employees are confident in their organization's prioritization in developing new skilling opportunities for them.

Skills Development Today: Employees and Employers Still Lost in the Wilderness

Understanding skills development was a central theme in this report and our 2020 report as we focused most of our research on understanding the appetite and delivery of skill development.

Where Do Your People Go for Skills Development? How High Performing Organizations Close the Confidence Gap!

High Performing Organizations recognize the opportunity and guide employees in their development.

What Does Good Skills Development Look Like?

High Performing Organizations drive better skill development outcomes.

How Do You Become a High Performing Organization?

Our perspective: Practical advice to modernize skill development.
---
Recommend this read to your friends and #shareknowledge!
Get your copy now
---
Join other professionals like you, who have downloaded the eBook!
Other resources by Cornerstone People Research Lab