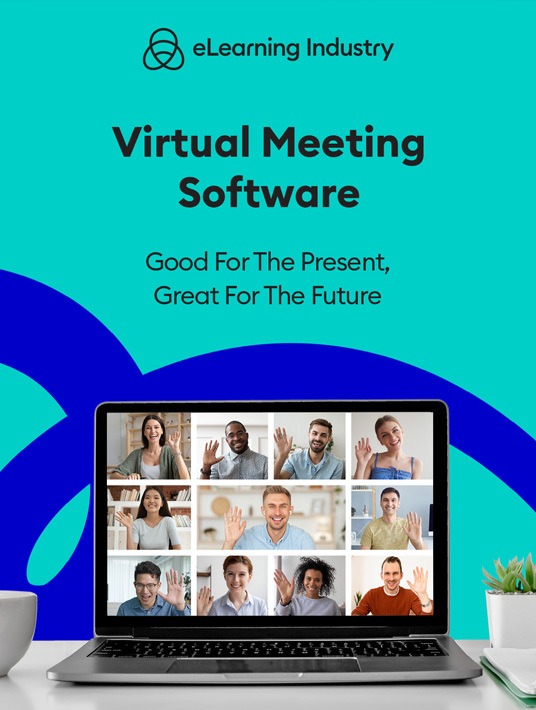 eBook
Virtual Meeting Software: Good For The Present, Great For The Future
eBook
Virtual Meeting Software: Good For The Present, Great For The Future
by eLearning Industry / Published: Oct 20 2020
What it's about
How can you be sure that you found the ideal virtual meeting software for the changing needs of your organization? This eBook will guide you through the process, from the basics and top software features to vendor vetting and drafting a complete RFP.
Key chapters
Introduction To The Basics Of Free Virtual Meeting Software

Explore the basics of virtual meeting platforms and the benefits they have for your SMB.

Why More And More Organizations Are Using Virtual Conference Software

Why are there so many organizations using virtual meeting software in their L&D programs?

9 Key Features Of The Top Virtual Meeting Software

Discover 9 crucial features to add to your virtual meeting software shopping list.

8 Innovative Ways To Find And Use The Best Virtual Meeting Platforms For Your Business Needs

There's more to the best virtual meeting platforms than meets the eye. Read on to find out.

7 Ways Accessible Virtual Meeting Software Can Impact Your Organization

Check out 7 ways virtual conferencing impacts your organization.

7 Tips To Choose The Right Virtual Conference Software Platform For Your L&D Priorities

In this chapter, you will find 7 secrets to choose the right virtual conference platform for your business needs.

Improving Your L&D ROI With Tested Virtual Meeting Software

Many organizations skip right to virtual meeting software RFPs and vendor calls but there's a lot of prep work you need to do before that. Learn more in this chapter.

How To Gather All Relevant Info Before Choosing Virtual Meeting Software

Here are 7 tips to gather all the relevant info before investing in virtual meeting software.

Creating A Winning Virtual Meeting Software RFP

Is a virtual meeting software RFP really necessary? Find out the answer as well as the top tips to draft an effective RFP.

7 Insider Secrets To Vet Virtual Meeting Software Providers

This chapter explores 7 insider secrets to vet virtual meeting software providers.
---
Recommend this read to your friends and #shareknowledge!
Get your copy now
---
Join other professionals like you, who have downloaded the eBook!
Other resources by eLearning Industry