How To Create Chatbots For Microlearning
If I ask you, "What is the most popular format for microlearning?" your response would most likely be "videos." For most of us, videos have become synonymous with microlearning. Interesting videos with the right storyline, engaging graphics, and optimal speed can be a great microlearning aid. But even when they come with a lot of benefits, videos are hard to maintain and update frequently. Considering this challenge, can you think of an easier approach that can be considered for developing microlearning? Personally, I learn well through Frequently Asked Questions (FAQs). Short questions and precise answers can make learning really effective. Owing to technology advancement, we can now create chatbots to consume nuggets of information in a question-and-answer format. A learner can ask a question and get a quick short answer at the point of need. These bots can be updated easily for frequently changing content and changes can be displayed to learners immediately.
Contrary to popular belief, chatbots can do much more than answering standard or pre-set questions. One of the multiple types of chatbots, intelligent bots, uses Artificial Intelligence and machine learning to facilitate conversational learning. In this scenario, bot interactions not only act as a short learning nugget but also provide an interesting way to involve learners in a meaningful conversation and make learning available in the flow of work. They can also be used to nudge relevant information whenever needed. Learners can use organizational chatbots as a learning buddy.
Chatbots are also a great way to train learners in various workplace scenarios. Let's understand this with an example. Imagine there is a conversation happening between a medical representative and a doctor. The representative is trying to sell a drug to the doctor. The representative, as part of their sales training, needs to be trained in all the situations that might come up during their actual conversation. Now, if we could have the representative (learner) converse with a bot that acts as a doctor, that would be helpful. The bot would respond to various statements/remarks that the representative makes during the conversation and help them gather as much information as possible before getting into the actual scenario. This bot could even be voice-enabled for further convenience.
See the screenshots below as reference. These screenshots are from a chatbot developed by Harbinger.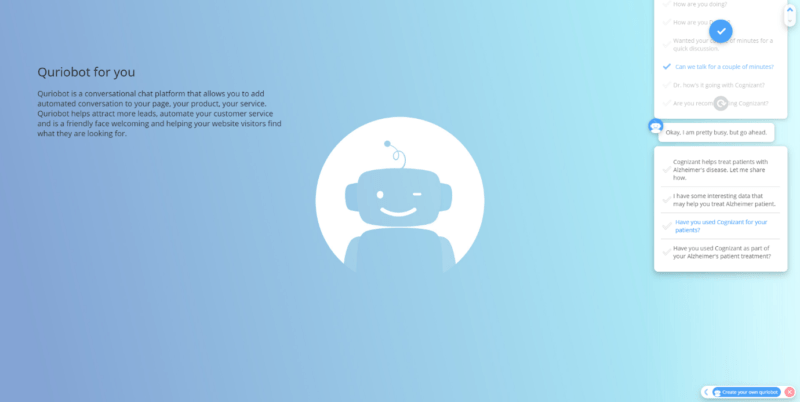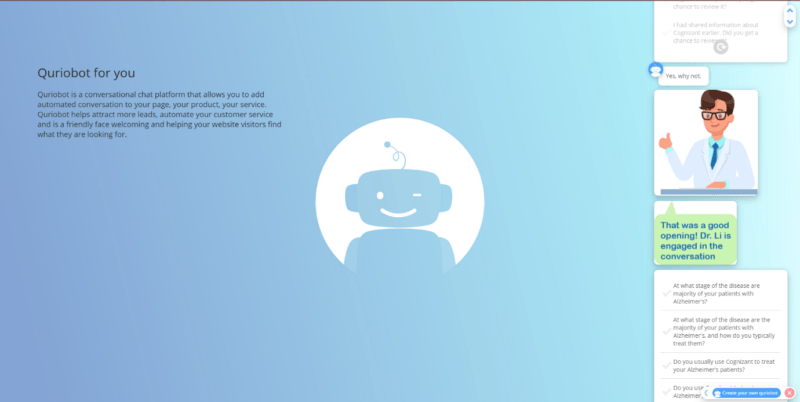 Below are snapshots of another microlearning chatbot developed by Harbinger, aimed at sales training of medical representatives.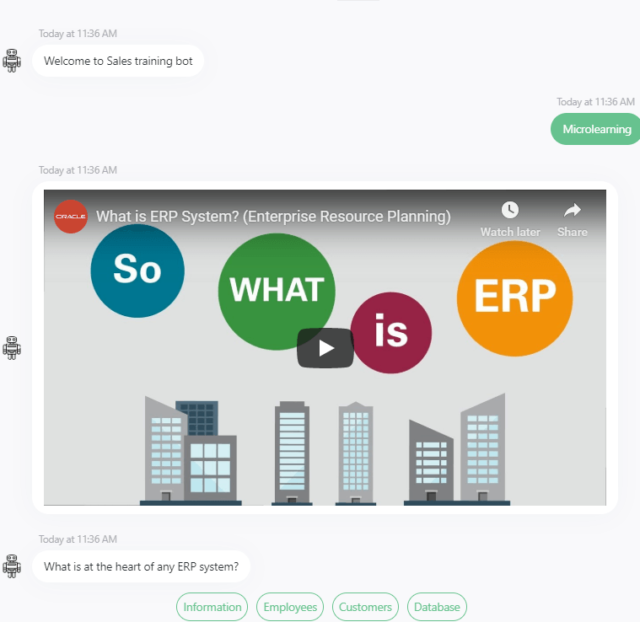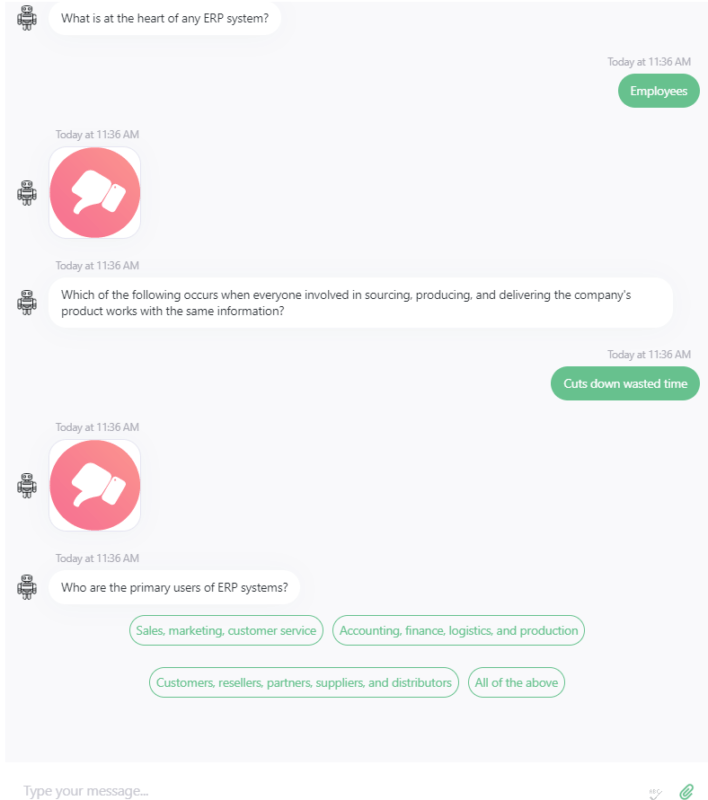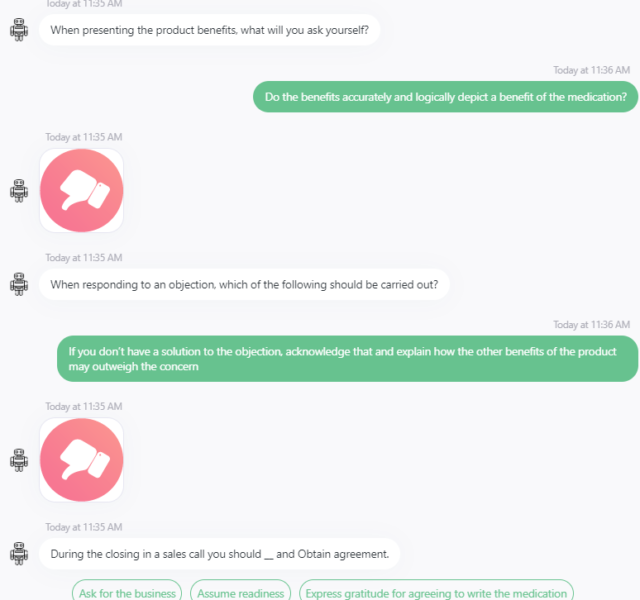 We could easily embed such bots in an eLearning course. They can converse, train, and even assess learners. And not only can chatbots answer queries or hold conversations, but they can also log analytics of the questions being asked and the questions that remain unanswered. These bots can be created using a variety of technologies such as Microsoft QnA Maker, Google Dialogflow, and Amazon Lex.
Developing A Chatbot
Like any other project, chatbot development undergoes some standard stages: define, design, develop, and deliver. At Harbinger, we call it the 4D development methodology.
1. Define
In this stage, we define the chatbot strategy, business objectives, and target audience. We also identify all integration and technological requirements along with the scope of SME involvement. Tool preferences are also laid down.
2. Design
In this stage, we define the bot persona, intent, entities, utterances. All this is done with the use case and target audience in mind. Based on the type of bot to be developed, dialog flows and conversational architecture are defined, too.
3. Develop
The production wheel gets rolling in this stage. All that was laid out in the design stage is put to actual development. A pilot operation is also run to provide insights into actual usage.
4. Deliver
Once the chatbot is developed, it undergoes a thorough quality testing and it is fixed for any issues before we label it as a successful delivery. It will also be helpful to note that a bot cannot answer everything. While all of us would like a bot that can answer all our queries, that's probably still a dream. A bot learns over time. We recommend continuous monitoring of the bot and regular evaluations of conversation logs to ensure continuous improvement.
Chatbots are riding the success wave high and will soon be all over the place. We, at Harbinger Interactive Learning, have developed and deployed multiple successful training chatbots.
Have you tried creating learning using chatbots? How has your experience been? Comment below.