How To Build A House At Home
I asked can you build a house?
An eager response of 'YES!' the kids were asked to perform three challenges:
Draw the house on paper
Build the house in Lego
Build the house in Minecraft
They set to work:
First they both drew a house;

Second they built the house in Lego and again the resulting pictures are shown below, well expect for Lucas's house. He decided that it wasn't a good house and smashed it on the floor before I could take any photos?

Then finally they were given the prized iPad's where they could play Minecraft, but now they are playing with a purpose. Tasked with building the same house they have drawn & built in Lego, but this time in a virtual 3D world. Minecraft is not something many parents are familiar with but kids love it, basically it is a virtual world of Lego, or rather blocks. You can build with an unlimited supply of blocks & destroy blocks at will; it's just like Lego but on a computer.
This is what they built

The boys had a multi-dimensional experience of creating a house and everyone had fun!
The boys decided their grandmother should judge the resulting houses, but she lives far away so we used Chatty Kidz to show off the pictures of the various house designs during a video call.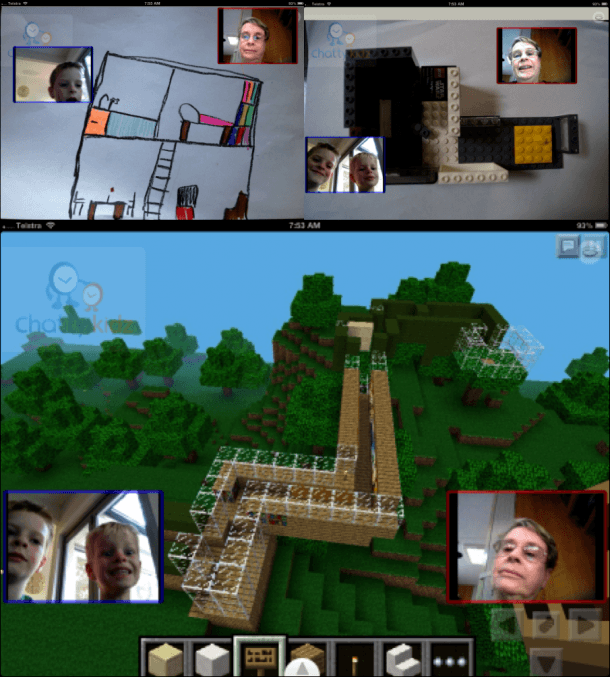 The results were positive:
Happy kids who had a fun afternoon
Kids who had learnt
Kids who had experimented in both 2D & 3D environments
Kids who had explored real & virtual worlds
Plus a grandmother who has learnt a little about Minecraft !
I now need to invent a few more experiments as the kids are nagging me to do it again.
Bloom's Taxonomy describing the various levels of thinking for this exercise
Create
The kids created several house designs in multiple environments; on paper and in 3D using real & virtual environments
Evaluate
Between each iteration the kids evaluated which parts of the design worked & experimented with different layouts in the different environments
Analyse
The kids analysed each completed design before starting the next iteration, how could they recreate parts of the house in the next environment (i.e. a ladder – how could they reproduce that in the Lego house and virtual house)
Apply
The kids had to apply their discoveries & designs in the new environment
Understand
The kids had to explain each design to their grandmother & how they achieved the objective using the various tools
Remember
The kids had to recall details from the design & creation process when chatting to their grandmother
About Chatty Kidz
Chatty Kidz is an early childhood education mobile application that pioneered the use of high-tech cloud collaboration tools for young children and their families. Founded by Ken Taggart in 2013, Chatty Kidz brings business tools such as virtual canvases, real-time sharing and in-cloud user generated content to keep the young child engaged with on-screen activities while parents or grandparents read them a story or help them with their homework.
Chatty Kidz is currently crowdfunding on Kickstarter to fund new education content and collaboration tools. With over £3000 raised in 10 days, the application is poised to lead the charge for the next generation of high-tech early childhood applications.