Why Is Immersive Learning Important For Learner Engagement In The Modern Hybrid Workplace?
Hybrid work, where employees don't work out of their traditional worksites, has fueled broad-ranging distraction and disengagement within the workplace. L&D teams are, therefore, in a quandary: how do they continue training and developing a very distributed workforce? And how do they ensure the inherent distractions and disconnects of hybrid working don't impede learning initiatives? The solution: learn from successful immersive learning examples to build engaging learning solutions that foster greater engagement.
What Are The Benefits Of Creating An Immersive Learning Environment?
There are many examples of immersive learning strategies that highlight how this approach can produce real results for businesses that adopt it. Companies that embrace immersive learning strategies to drive experiential learning accrue several benefits from doing so, including:
Increased engagement
Better comprehension and retention
Improved exploratory learning
Safe practice zones
Improved collaboration
Reduced time to productivity and proficiency
Enhanced training effectiveness
Reduced distractions in the remote workplace
Use Cases Of Immersive Learning By Industry Type
Hybrid work has become pervasive across a broad segment of businesses. From healthcare and retail to aerospace and government, they're all dealing with the challenges of hybrid workforces, especially in the context of driving engagement through learning. The business world, however, is filled with immersive learning examples across a diverse range of industries.
Healthcare: Serious healthcare situations are dangerous and complex to replicate or iterate in traditional learning environments. However, because learning outcomes can directly impact human life, L&D teams need to ensure they have the most engaging learning environment in place. Immersive training creates safe environments to practice use cases so staff can perfect their skills.
Airlines, aviation, and aerospace (AAA): Not only is the world of AAA complex and highly integrated, but implications such as operations delay and staffing challenges also cause serious legal and financial difficulties for the industry. Some situations such as catastrophic accidents or equipment failure can pose a serious threat to human life. Immersive learning can address those concerns by fostering high levels of engagement by providing safe practice zones for critical operational procedures.
Automotive sector: Supply chain issues, material shortages, lack of skilled staff, costly recalls—these are some issues that plague the automotive sector. The use of immersive training technology to train staff to address these issues more effectively can help alleviate some of them.
Banking, financial services, and insurance: As a highly regulated industry, immersive learning helps managers and staff in the business better understand how to comply with strict regulations, improve customer experience, and propose the best products and services for their clients.
Food and beverage (F&B): From enhanced branding and customer product awareness to product marketing and loyalty, immersive education technologies can serve the F&B industry well.
Information technology and computer software: Immersive learning offers a great use case to help train users on how to better use complex technology solutions. In addition to training technical staff on how to test the software under development, immersive learning can foster innovation in technologies and sophisticated technology platforms, help in the development of next-gen apps, and provide learners with hands-on visualization of 3D and simulated renditions of complex hardware architecture.
Management consulting and advisory services: Skill shortages, compliance, and globally dispersed workforces are challenges that immersive learning solutions address in this industry. Management consulting teams use immersive learning solutions to train their consultants on a wide range of topics, including needs analysis, gap identification, decision-making, issues resolution, ROI, and effectiveness measurement.
Retail and consumer goods: Post-COVID, the industry is plagued with staffing shortages due to skilled employee migration (to other industries). The industry can use immersive learning to quickly reorient their workforces and to rapidly reskill and upskill employees to respond to this new, post-pandemic world. Immersive learning also helps deliver a better understanding of company brands. It can also train frontline staff to actively engage with customers to promote brand loyalty.
6 Examples Of Immersive Learning By Training Type
Because of its depth and diversity of application, immersive learning can be used to address various types of training needs. Showcased below are 6 immersive learning examples, by training need, from courses that EI has designed for its clients.
Safety And Compliance Training
The purpose of this course was to create game-based, device-agnostic learning that can be consumed on the go. ​We strategized an app-based game with a microlearning approach.​
Keeping in mind the subject—security and compliance—we personalized the login with a thematic game and visuals. The mission-oriented outcome with content and challenges (scenarios) served as an impetus to complete the learning journey.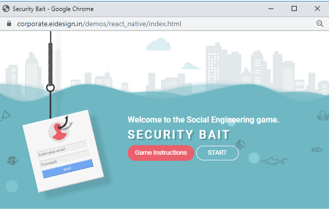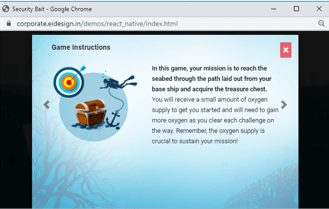 ​Impact: Higher motivation due to the continuous challenges that drive a sense of accomplishment with each successful completion.​
Sales Training
​The idea was to create an experiential sales training that provides a simulated environment for sales professionals to practice different sales situations while viewing the impact of their decisions. ​​​We adopted a scenario-based learning approach with gamified activities to enhance learners' confidence and ability to handle different situations in their workplace. This was brought about by:
Simulating real-life scenarios with relatable options to select their responses, followed by diagnostic feedback to guide the learner. ​
Creating an in-depth response analysis with tips and guidelines on the best way to respond, supplemented by scores as a performance indicator.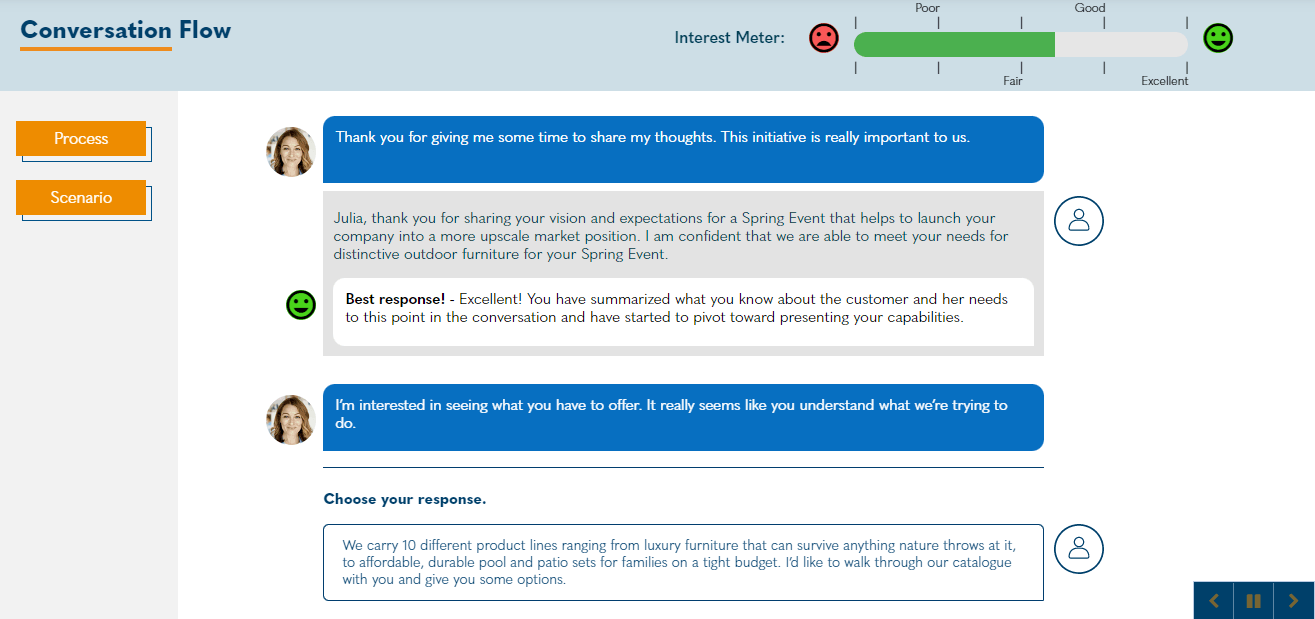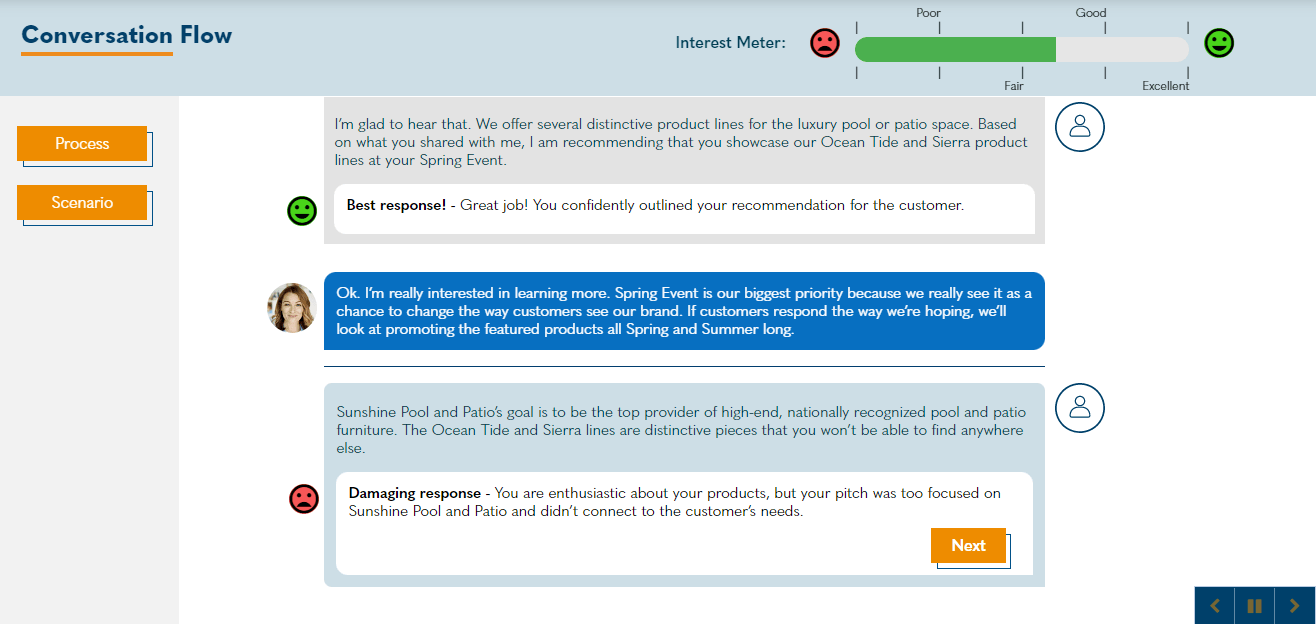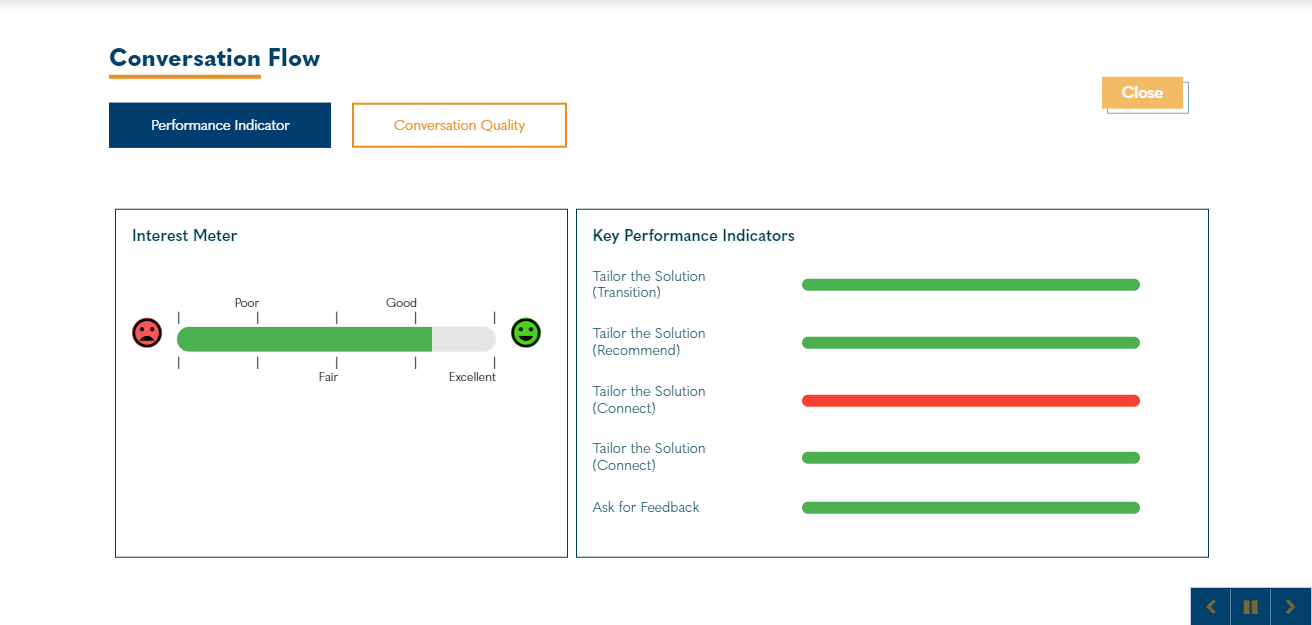 Impact: The consulting organization saw a significant boost in performance for their customers, with a positive impact on the sales numbers.​
Equipment Simulations
​The requirement was to create a comprehensive, quick reference guide for equipment/machine operators on various machinery with a focus on how to handle/operate certain equipment and the dos and don'ts to keep in mind while working with machinery. ​
​So, we created a new-age mobile app that allows exploring different machine products, features, and benefits for just-in-time learning as an all-inclusive performance support tool including a 360-degree image experience. ​The app features:
Personalized login to view the product catalog along with the option to explore details and an in-built search feature for ease of navigation. ​
Complete product overview along with layered feature details to enable in-depth exploration using 360-degree images and video-based simulations to show processes and procedures.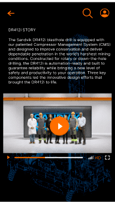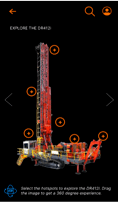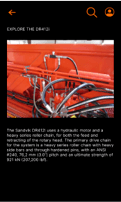 Impact: ​Increased product knowledge and overall awareness about specific equipment handling due to the in-depth ready reference. ​
Induction And Onboarding Training
When it comes to orienting new team members with an understanding of the organization and their roles and responsibilities, EI's very own, in-house induction and onboarding portal is a classic example.
It is a comprehensive microlearning approach within a microlearning path combined with gamification to achieve the desired outcome. ​
What it does:
Provides a learning journey in the form of microlearning nuggets like videos, infographics, interactive nuggets, activities, and games for the online section, and MS Teams features for the virtual sessions.​
Combines new-age technology like Virtual Reality (VR) with embedded content to create an immersive and modern learning experience.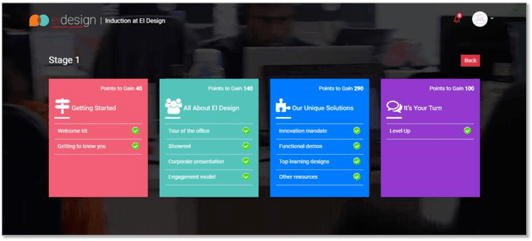 Uses high-end gamification to drive learner motivation through dashboards and enable social or collaborative learning.​

Impact: A seamless onboarding experience for new joiners with a positive influence on TTP.
Leadership Training
What our client needed was an experiential business simulation on risk management for different levels of managers, putting them in real-life situations and making choices that have implications for the eventual outcome of the action taken. ​Here's what went into making that happen:
Gamified branching scenarios rendering a safe environment to practice decision-making while providing increased engagement and challenge. ​
​Personalization is provided through role selection and performance support tools embedded into the simulation steps for just-in-time learning. ​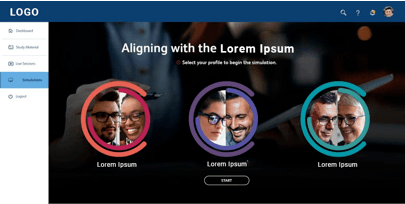 ​Fact and data-based options to select from a risky decision-making perspective as in real-life scenarios. ​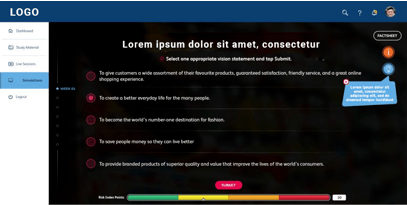 A Risk Index Meter with consolidated scores and diagnostic impact feedback to provide experiential learning. ​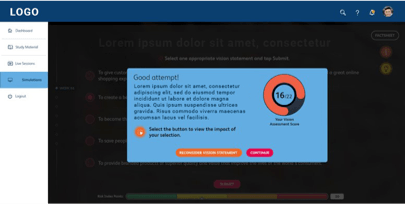 Complex simulation matrix, highlighted with practical impact and outcomes for the business. ​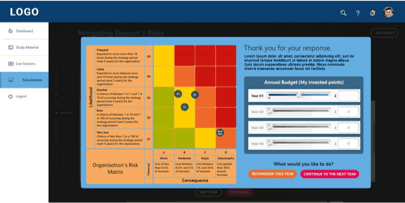 Impact: Leaders found the overall learning process closely relatable and practical. ​The organization was able to witness enhanced risk management from managers with a positive impact on business results.
Soft Skills Training
A leading insurance company wanted to build an experiential soft skills training course for their customer service representatives on how to communicate effectively with customers and how their decisions would impact customer service—both negatively and positively.
​So, we adopted a scenario-based learning approach with gamified practice activities and personalization driven through avatars, which would give them a real-time experience. Here are some highlights of how our strategy played out:
Use of relatable cast and characters to drive the core learning (personalization).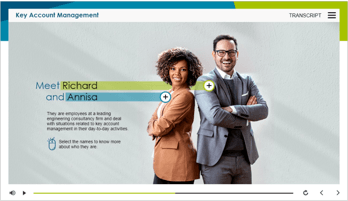 Involving the learner as an avatar in the primary scenario to drive active participation.​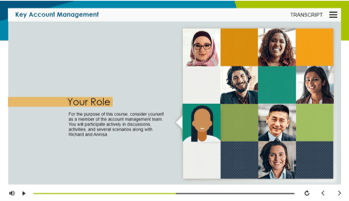 Quick-check activities to gauge how well concepts have been absorbed and use of gamified activities with simple elements such as a timer to maintain a sense of challenge and accomplishment once done.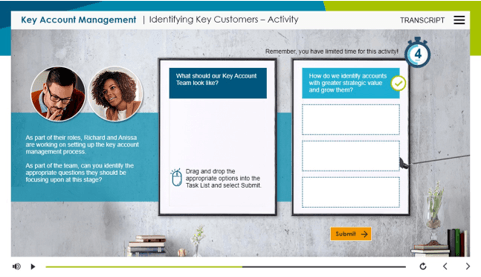 ​
Use of interactive videos with interspersed questions and diagnostic feedback for an enhanced experience. ​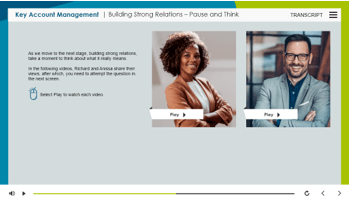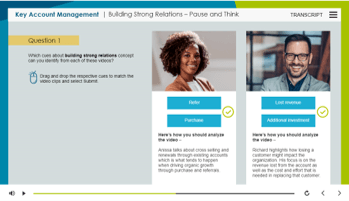 Impact: Participants indicated that they were better at handling accounts than they were in the past.​ The organization, too, saw a positive move in terms of growing key accounts. ​
Parting Thoughts
While there are real benefits to implementing immersive learning strategies, there's also a real downside to not embracing immersive learning. In healthcare services, for example, contagious situations don't typically replicate themselves "on demand." As a result, it's challenging to model those situations—safely and repeatedly—so staff can practice extensively on them to hone their skills.
In this post, we've highlighted some compelling immersive learning examples where businesses from across a spectrum of industries have benefited from implementing immersive learning strategies. From increased engagement to higher retention, and from reduced training time to better knowledge transference in the workplace, immersive learning delivers all of these and more.
Read More: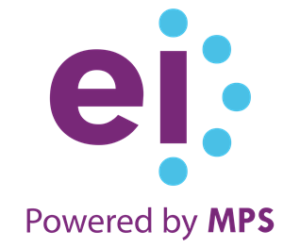 EI
EI is an emotionally intelligent learning experience design company that partners with customers in their Digital Transformation journey.