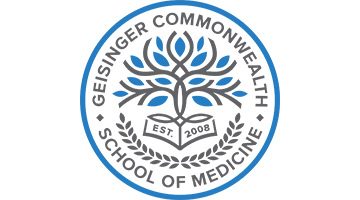 Director of Career Engagement
Geisinger Commonwealth School of Medicine
Geisinger Commonwealth's newly established School of Graduate Studies is creating transformative curricula for a portfolio of programs to include master's degrees in Population Health, Informatics, Genomics and Biomedical Sciences. The School is searching for a Director of Career Engagement. The Director of Career Engagement will design and implement a strategy to support graduate students' professional development goals, including the development of job resources. In addition, this position will help students prepare for and make connections with those resources and will cultivate and develop relationships with health care organizations, businesses, government agencies, and other firms for the purpose of building on and off campus recruiting programs. This position will also increase the number of employers actively recruiting and hiring the school's graduates while improving the number of students employed in full-time positions at or soon after graduation.
Requires 5+ years experience

Full time

Scranton, PA, United States

Requires Master's degree
Responsibilities
The successful candidate will collaborate with staff and key stakeholders to establish unit goals and procedures for assessing goal attainment; ensure that unit goals are assessed at regular intervals and assessment findings are considered by appropriate stakeholders and used in ongoing planning; develop and deploy resources to assist students and alumni at each stage of the career development process; conduct assessments with graduate students and alumni; develop and facilitate workshops on a variety of career and developmental topics; collaborate with faculty, students and staff to assess the career needs of students; utilize theory and practice to develop a comprehensive career services operation for students enrolled in science and health science disciplines; develop proposals as needed to provide services to targeted student constituencies; manage online career development tools, such as College Central Network; develop and maintain employer, corporate, and educational relationships; work closely with academic advising and personal counseling staff to coordinate student development initiatives; and develop relationships with regional and national organizations in order to increase internships and/or employment opportunities for students and alumni.
Qualifications
A Master's Degree in educational leadership, student affairs, student development, psychology, educational psychology, business administration or a related discipline is required in addition to a minimum of five years' progressive experience within higher education.  The successful candidate should also have an understanding of FERPA; demonstrated experience providing career development services within higher education; demonstrated supervisory skills; excellent verbal, written, and interpersonal skills; ability to serve the needs of a culturally diverse student population; strong organizational skills with an emphasis on detail; strong analytical skills; and a proficiency in computer software applications including Microsoft Office Suite, Datatel, and Canvas.
Who We Are
Geisinger Commonwealth School of Medicine (Geisinger Commonwealth) is one of the nation's newest fully accredited medical colleges located in northeastern and north central Pennsylvania. It offers a community-based model of medical education with four regional campuses – North (Scranton), South (Wilkes-Barre), West (Williamsport), and Guthrie (Sayre). The College attracts students from within its 17-county region as well as across Pennsylvania and the nation, who are interested in studying evidence- and community-based medicine and who have a strong desire to serve their community. Geisinger Commonwealth offers a Doctor of Medicine (MD) program and Master of Biomedical Sciences (MBS) programs. 
Job Function
Learning and Development Specialist