The LMS Plugin Vs. Membership Plugin Dilemma
If there is just one factor that separates a Learning Management System from a membership plugin, it is the necessity and the ability to track a student's progress.
With an LMS plugin, you can track the progress of a learner in real time. Questions like how many lessons she has attended, how many did she complete, how long she took to do that, and so on are instantly answered in the admin panel.
Why would you need this?
Well, if you are teaching a large group of students from schools or colleges, or if you are imparting training to a group of newly-inducted salespeople in your company, you may want to monitor and know how the students or the trainees are performing.
Evaluating performance is an important need these days, because, among others, it gives the trainer or the educator enough information to decide if the course contents are okay or they should change.
If this is what you want, go for an education website powered by a Learning Management System or a course software. Period.
Can't A Learning Management System Be A Membership Website?
This is a larger question, and the short answer is, of course, it can be.
Let me give an example.
I'm currently studying an advanced online course on PPC that focuses on using AdWords. This has nearly 30 lessons, and the course owner has used a Learning Management System for it, and not a membership plugin.
There is no tracking the progress of the learners. This is understandable since presumably most of those who learn the course are busy in their professions, and would prefer to learn when the time and the occasion suit them.
If the usual LMS features like quizzes, targets, completion, etc. are imposed on the learners in this course, there are good chances that they stop learning because of unnecessary interference.
Couldn't this course be preferably made with a membership plugin?
Ideally, yes, but then who is to complain when everything is going alright!
When Would You Use A Membership Plugin?
In contrast, a membership plugin is very handy when your principal objective is to control access to the content pages in your website. These could be the course contents or even selected blog posts in your website.
With a membership plugin, you can arrange different access levels in order to control who can see what contents.
For instance –to take the example of the PPC course I am learning– there could be a Bronze subscriber who gets to see 10 pages of contents, a Silver subscriber who sees 20 pages, and a Gold subscriber who sees all the 30 pages.
Obviously, doing so means there will be 3-tier pricing. And this may make sense since many people who cannot afford or do not want to spend the single full price of the course, may just feel the nudge to buy the entry-level Silver membership.
Later, if necessary, they can buy a higher-level membership. For the course owner, this is a good strategy because she can attract a wide section of learners, and make money for her efforts anyway.
What Else Separates A Learning Management System From Membership?
I spoke about the monitoring of students in a Learning Management System, and about controlling access to contents in membership plugin.
However, a crucial factor about which one to choose relates to the number of courses you plan to offer now, and in the days to come.
Ideally, a membership plugin is an appropriate choice when you plan to offer a single course (or, maybe 2 to 3 courses) with multiple access levels.
I am not suggesting you cannot offer more courses in membership, but things may become complicated and difficult to manage as you go ahead.
On the contrary, when you use a Learning Management System, you can offer any number of courses going forward.
What's more, with the help of the popular eCommerce plugin like WooCommerce, you can offer exciting features like course bundling, dynamic pricing, coupons, and so on.
That's not all.
To put the icing on the cake, some course software makes it possible to allow other teachers to create and sell courses on your website, much like the online marketplace Udemy.
Want that?
Well, it is surely possible.
So, How Do You Know Which One You Need?
I have prepared a kind of ready reckoner comparing the features of a Learning Management System or a course software vis-à-vis a membership software.
There are quite a few overlaps as you will see soon, but essentially the decision narrows down to whether you're offering many courses or just one or 2 courses.
Have a look at the comparison chart.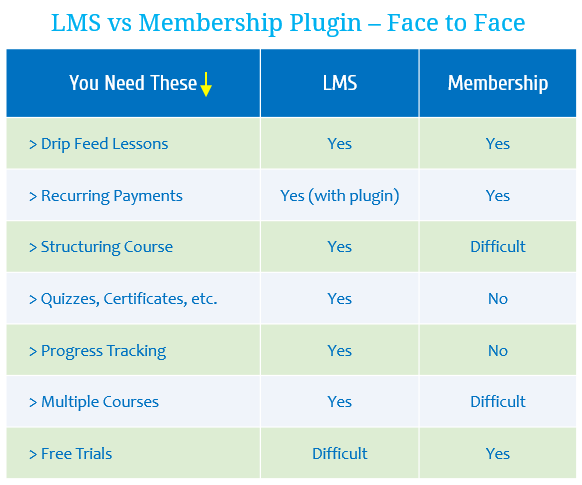 Summing Up
Perhaps it is a solace that there really is no right or wrong answer as to which is the best option for your site.
In which case, you may base your decision on one or two major features that you need, or it may simply be that you feel more confident setting up one than the other.
You should remember though that in either case, it's NOT a question of just one plugin to use. You must go for a combination of other plugins that together perform all the necessary tasks to make your website a wonderful experience for the users.
That, you may find often, is easier said than done.
It could be frustrating for you to take a decision on the right combination of plugins for your site, especially since there is so much choice available these days.
Lastly, if you are struggling to make things happen, if you wish someone would solve your problem, do not hesitate to get in touch with me for any help or guidance to setup and launch your education website with the powerful combination of LMS and eCommerce systems.
Wish you all the best.