Review of Lumi Say
Like every other industry rooted in technology, eLearning tool vendors not only try to keep up with each other's offerings, they often look to borrow innovations from other industries. They will analyze what's happening in technical fields especially, and then see how to apply anything they think could work in a learning context. This sometimes can help advance the eLearning industry more so than remaining within the confines of learning disciplines alone.
Of course, one of the biggest ways that eLearning has borrowed and piggybacked on the breakthroughs of technology is in mobile delivery. Tablets and even smart phones are now seen as delivery systems for learning, especially for just-in-time, short training sessions.
One such organization I've recently reviewed is Lumi Technologies. Lumi was founded by several of the original programmers and engineers from Nokia, so that's reassuring. They've been creating mobile applications for over 11 years, initially starting on 2G flip phones for game shows. They tell me that last year alone they supported over 2,500 events with over 500,000 participants utilizing their various solutions worldwide. They've come a long way since their origins and now their tools are starting to be noticed in the world of learning. Case in point: they have my attention now.
Their tool most applicable to learning is called Lumi Say. I've long been looking for viable options for delivering follow-on, short learning segments after learners have finished taking an eLearning or a facilitator-led course. I think Lumi Say can be very helpful in this regard.
At first glance, it seems like a simple product with a clean interface (See Figure 1) but I found that it has more depth than I anticipated.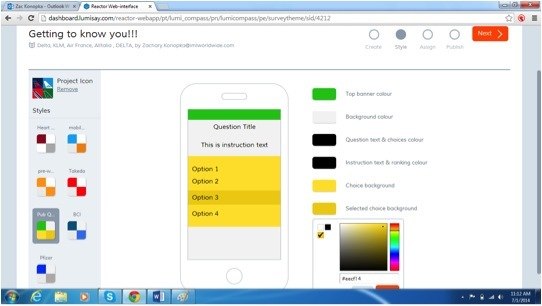 Figure 1. A Clean Interface
With Lumi Say, learners can:
Take photos and videos with their phone,
Scan bar codes,
Watch videos, and
Respond to open-ended or bound questions.
It makes use of flow logic (or branching question types) so organizations can see how well participants justify their responses. The solutions can be self-administered as a near SaaS (Software as a Service) solution or you can provide the Lumi folks your content to manage and deploy to your perspective learners.
Learners can download a Lumi Say app to their smart devices, or they can browse to a website to access the learning if they don't want to download the app (see Limitations below, though). It appears that the application's functionality makes continuous engagement available on nearly any smart device. I like that it takes advantage of many of the features that we all take for granted on our smart devices. Most eLearning tools don't let you, for instance, create learning that allows the learner to take and upload a photo or video from their phone or tablet.
Lumi provides several question types, including, which you can see in Figure 2. Lumi Say also has some features in terms of how and when you receive the content specific to your role within the organization. Content can be triggered based on time/date as well as through geo-triggering, meaning that learners can receive content based on their specific geographical location content. This is great for Just-in-Time delivery as well as more practical training such as safety, compliance and product knowledge. Based on your log-in credentials, content specific to your role will be made available when necessary.
Figure 2. Question and Input Types
Up until now, Lumi has focused their product on corporate learning, but there's no reason that this can't be a valuable way of disseminating learning in academia and in government. Everyone carries a smart phone with them now, so why not? I think Lumi Say can also help extend the lifecycle of facilitator-led training or eLearning programs by focusing on the objectives of those programs and following up with learners after they've completed the official training. Lumi Say allows learners to retain the information and content of those courses through bite size learning modules. This application helps them remember and utilize what their course objectives were and apply them to their own work initiatives. With fluid formatting and delivery options, organization has another option to engage with their workforce.
Lumi Say Reporting
One of the biggest challenges learning professionals have is demonstrating their value to the rest of the organization, specifically executive decision makers. We know how important analytics and reporting are to stakeholders. The reporting with Lumi Say is quite functional. The raw data provides the responses to every question in each module via a Microsoft Excel output. See Figure 3.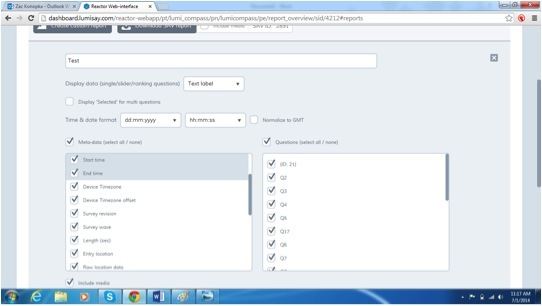 Figure 3. Setting up Reporting
Lumi has also developed a data visualization piece that allows you to see the output from a much different perspective. You're able to cross cut any of the data within the reporting, breaking down trends, gaps and individual performance much easier. See Figure 4.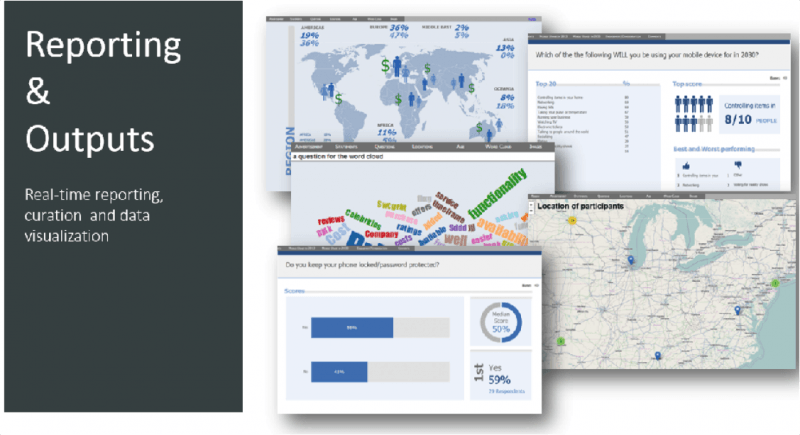 Figure 4. Data Visualization
What the Lumi Say Learner Sees
What I like about Lumi Say is that it doesn't appear alien on my device. It looks like an app that was built for mobile because, well, it was. In Figure 5 you can see an example of a learner sees and in Figure 6 how a video might look as well.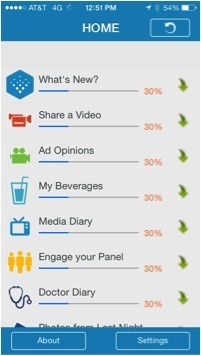 Figure 5. User Home Screen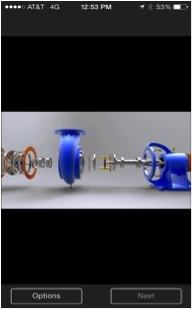 Figure 6. Videos Can Be Used
Lumi Say Limitations
There are some challenges with this tool, so it should be considered in the context of your design. If you choose to use the HTML solution, the questions types are limited in respect to the native application. With HTML, bar code scans, video capture and ranking questions are currently unavailable. There is also a required knowledge of XML coding to produce any of the advanced features such as scoring and flow logic. Lumi is also currently developing their SCORM/Tin Can API, which they say will be available by the end of summer.
We've already learned, of course, that learners will spend more time on a laptop taking a lesson than on their phone or even their tablets. It's best to provide shorter, even bite-sized content, when delivering to mobile devices. Lumi Say is not meant to replace eLearning or facilitator-led programs, but to supplement them quite well in keeping learners focused on their professional development.
Conclusion
Used to supplement larger learning programs, Lumi Say has brought something to the mobile learning world that is quite unique. It allows us to take advantage of unique mobile features that so far I haven't seen in a mainstream eLearning development tool. It's pretty easy to learn to use this tool, so it doesn't take much of a time investment. Overall, I think Lumi has a pretty hot product in Lumi Say and I'll not only be keeping an eye on its continuing evolution but also will be looking to use it as follow-up to eLearning and standup courses I create.