Mobile Application Boosts Learning Anytime
Technology has been a game-changer for so many industries. Education and corporate learning are one such sector that has experienced a massive changeover in terms of its deliverables because of this digital drive. In this article, you will be acquainted with how mobile applications are giving a positive push to the eLearning industry. Apart from this, you will be accustomed to the perks of m-learning, the role of m-learning amongst corporates and the education industry, and finally to the mobile applications in the eLearning sector. Let's begin.
Advantages Of Mobile Application In eLearning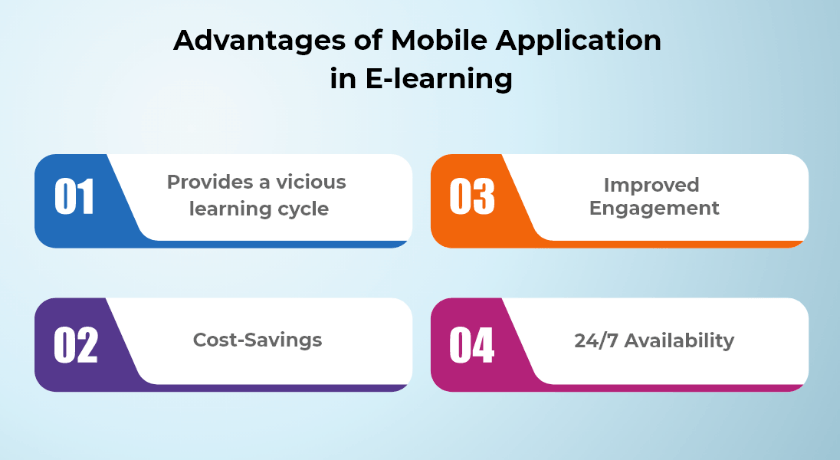 The millennial generation of today is growing up in the world of the digital age. Therefore, even technological advancements have customized themselves to the way they behave. Mobile app development services are one such example. Mobile applications for digital learning are crowned with uncountable jewels of benefits. Let's study them.
1. Provide A Vicious Learning Cycle
With the ease of download on Playstore and Apple store, learning is just a click away. One need not depend on big, heavy textbooks to grasp the needed knowledge. There is instant and anytime access to knowledge.
2. Improved Engagement
Mobile app development companies create applications that are easy to comprehend by their target age group. Also, the content is audio-video friendly to make it more engaging and easy to learn.
3. Cost-Savings
You need not spend much when you hire dedicated mobile developers. Building learning mobile applications is less expensive to make and still exhibits a plethora of knowledge. Students need not worry about money for getting their educational content, nor do corporates need to compromise on finances and the quality of learning content.
4. 24/7 Availability
Because of the major shift in the learning content from textbooks and journals to online web pages and digital course material available on apps, the availability of material is round the clock.
Role Of Mobile Learning In The Corporate Sector
Today, every corporate sector employee and employer owns a smartphone with internet access. As a result, whenever there is a need to grasp knowledge during meetings or training sessions, people search for content online on their respective smartphones.
Here are 2 examples of mobile learning in corporate education:
1. Distribution Of Learning Material On Mobile Applications
Once a person has curated complete content on their desktop or laptop, they can share the same with others through mobile apps. This is, in fact, the most general use of mobile apps. Mobile learning is more about the ease of individual access to the learning material.
2. Use Of Mobile Apps For A Blended Learning Approach
During corporate learning sessions, an instructor can conduct an online survey, accessible to trainees on their smart mobile phones. Also, a trainer can send a common invite to the participants via email or message. Mobile applications turn out to be a very handy tool when the number of participants is huge.
Role Of Mobile Learning In Student Education
eLearning companies hire mobile app developers to enhance the learning experience of the students who are much more comfortable with mobile devices than the closed infrastructure of classrooms. The ease of internet access, growth in technology, and easy access to the personalized learning experience are the forces that push the positive role of mobile app development services.
Because of mobile learning, students are easily trained to enjoy the perks of interactive learning sessions. The efforts and collaboration of many learning institutes and Android app development companies, or even iOS app development, have narrowed down the distance between an education provider and a receiver. Geographical boundaries are no more a challenge. The massive growth in the virtual learning environment throughout the world during the COVID-19 pandemic is the latest example of this.
How Do Mobile Applications Boost eLearning In The Education And Corporate Sector?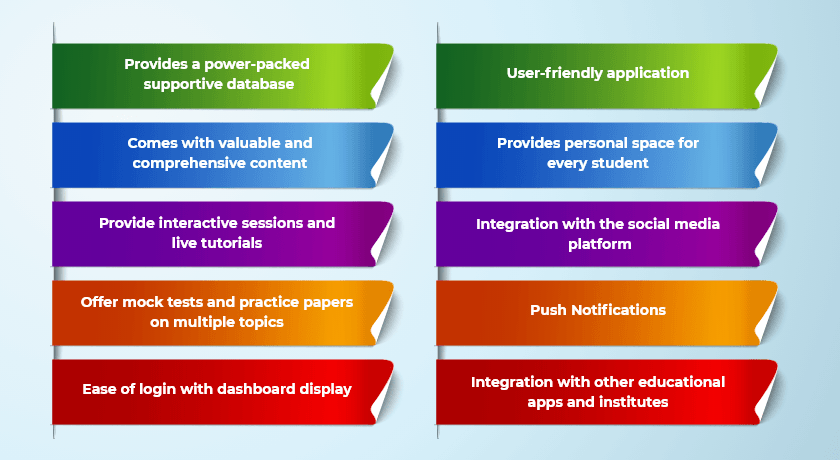 1. Provide A Power-Packed Supportive Database
When you hire a mobile app developer, your mobile application database has all the collective information in form of facts, figures, content, videos, and statistics. This database determines the quality of your learning app and so needs to be updated regularly. The database should also ensure the learning process is easy to grasp and provides complete information on each topic. It should be safeguarded against slow internet speed too.
2. Come With Valuable And Comprehensive Content
Your learning app should have content quality and quantity in a manner that pulls more and more prospects to download your app. To ensure the maximum download of your learning application, take care of the following points:
Have comprehensive content
Content should be worthy
Content should be specific to the target audience
Keep the content simple and easy to comprehend
Content should be mobile-friendly
3. Provide Interactive Sessions And Live Tutorials
Learning applications that come with interactive coaching sessions or live tutorials are the ones that are more popular amongst corporates and students. Therefore, this added feature is another way to boost the graph of the virtual learning industry. The virtual classroom atmosphere places learners at the convenience of their space and also helps to solve their queries on a one-to-one basis. Some apps also have a chatbox for students who prefer chatting sessions over other modes of virtual interaction.
4. Offer Mock Tests And Practice Papers On Multiple Topics
Sincere learners always prefer to examine their knowledge and understanding based on practice papers and mock tests. These mock tests and revision papers are traditional means of evaluation that have maintained their authority because of their digital modification. Mobile applications can therefore upload multiple MCQs online for quick evaluation tests before the final exam.
5. Ease Of Login With Dashboard Display
Hire mobile app developers who guarantee to provide you with an easy login facility on your application. This means that a student should be able to create his profile on the app within a few steps. The dashboard should display the personal profile, choice of subjects, topics learned, exams appeared for, scorecard, and more.
6. User-Friendly Application
Even if your learning application has all the above five attributes, but lacks based on user-friendliness, you will get a back seat in the competitive market. Therefore, if you want your mobile application to be a key player in the eLearning industry, you need to provide flawless support to your users.
7. Provide Personal Space To Every Student
Mobile applications are a one-stop solution for learners. One single app has learning material that can easily be downloaded or printed, live tutorials, exams, and question papers. As a result, individuals enjoy their freedom to access the content as per their needs and understanding.
8. Integration With Social Media Platforms
It is a fact that every digital activity needs a social media push for maximum reach and popularity. The same holds true for learning mobile applications. As a result, when professionals promote their learning apps on social media sites and apps, the virtual learning market expands in size. Today, learning apps also have their respective YouTube channels for massive popularity through audio-video content.
9. Push Notifications
Mobile applications keep updating their users with new add-ons to their database. The updates on relevant pieces of information help to maximize the installation and download of the apps. Therefore, these push notifications increase the popularity of eLearning apps amongst target users.
10. Integration With Other Educational Apps And Institutes
Integration with multiple educational and coaching institutes further helps in boosting the popularity of the virtual education industry. Mobile apps can mark their presence on other learning websites or web pages for effective integration results.
Wrapping Up
The mobile learning industry has shown tremendous growth of 900% since 2000. This reveals the plethora of benefits that are encircling the eLearning industry because of the presence of learning mobile applications. In fact, more and more organizations are following the footsteps of industry leaders, like Udemy, in embracing m-learning. This trend in education and learning has further triggered the demand for mobile app development companies, like Inexture, for flawless applications.