Top Strategies For Effective Mobile Learning Delivery
Mobile devices have changed every aspect of our lives, including the way we work. Thanks to advancements in technology, what could only be done earlier by employees sitting at a desk, can now be performed by them on the go. The increasing prominence of mobile devices has also impacted the way employees undertake organizational training.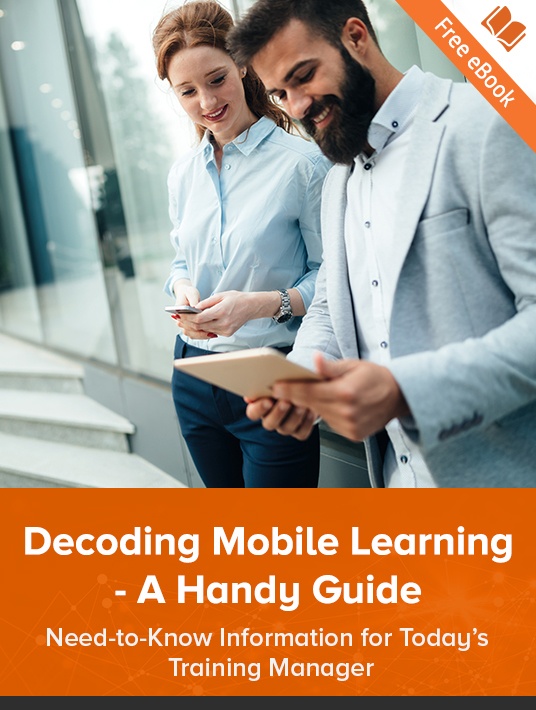 eBook Release
Decoding Mobile Learning – A Handy Guide
Discover crucial information on mobile learning and learn about the top considerations you should reflect on before implementing mLearning to judge how well it can fit with your training needs.
Mobile learning does not just mean a change in the screen size, nor does it mean accessing an eLearning course on a mobile device. Courses have to be designed differently for mobile learning with different Instructional Design strategies.
You also need to deliver the modules to the right audience in the right manner, for learners to access them anytime and anywhere to suit their needs. Let's explore some of the top strategies for delivering your mobile learning to your employees for maximum impact.
1. Mobile-Friendly LMS
For online courses to be accessed on mobile devices, you need to have a Learning Management System that can run flawlessly on mobile devices, delivering learning anytime and anywhere, through any device. This will allow learners to undertake online modules and assessments without any hiccups. Administrators can deploy courses, assess skills, and provide feedback without having to worry about the mobile compatibility of the LMS. On top of this, a fully mobile compatible LMS helps meet the needs and demands of the constantly evolving mobile learning landscape.
2. Mobile Applications
Native mobile apps need to be downloaded and installed for a particular platform or device class. Such apps offer the best learner experience by delivering learning content in a personalized form. Learners can access and switch between content, or even between devices as apps can sync their data across the devices accessed. Learners can search and browse for social learning content and access any type of content formats including Word docs, PDFs, audio clips, videos, etc. right from the app. Such apps also work offline, thus providing great just-in-time learning in remote locations.
3. Mobile Optimized Websites
A mobile optimized website is another option to deliver mobile learning. Web-based apps use web browsers and technology and work on any smart device, without the need to download or install them. Such websites are usually compatible with multiple devices as they are developed with HTML5. Courses can be accessed directly using a default mobile browser without the need to develop multiple versions for each device. In case of any changes, the mobile website can be easily modified without having to worry about any compatibility issues.
4. Dedicated Games
Game-based content and touch-enabled mobile devices are a match made in heaven. Owing to their powerful processors and brilliant displays, games using immersive graphics can be developed exclusively for mobile devices. Such games can be classified as a type of mobile application, which needs to be installed on the device.
A game installed on your device will ensure that your progress, customizations, and scores remain intact even when you don't play for long. Such games can even use the notification feature of the smart device to send learners regular reminders and updates about the learning content. For example, games developed for training employees on filling their expense reports in a timely manner can greatly benefit from this reminder feature.
5. Online Videos
Mobile learning eventually boils down to one principle, learning more in less. Mobile devices with their small screen size can only keep your learners engaged for so long. You need to make the most of it in your mobile learning, as nothing conveys the most information in the least time better than videos. Using a mix of animations, voiceovers, and live footage, you can effectively break down any topic of any complexity, to create a learning video that your learners will enjoy interacting with.
Mobile learning has become a highly essential component in the world of digital training. For mobile learning to realize its full potential, you just need to make sure you use the right channels for delivery. Experienced eLearning vendors will be able to help you make the most of this powerful training methodology.
CommLab India Rapid eLearning Solutions
Working with multiple outsourcing vendors can be stressful, and a waste of time & money. With CommLab India Rapid eLearning Solutions, all your online training needs are taken care of, rapidly and economically.