How To Create Educational Games With ITyStudio
The power of a company is often based on employees' skills. The perfect employee with all the skills and knowledge required for your company does not exist yet, but you can do your best for approaching this perfect employee with innovative training approach through educational games. Thanks to these new training habits, employees can improve their skills easily and quickly, and you can enhance their fidelity and happiness that are key benefits for your structure.
eLearning training works for a while, but learners tend to get tired of it because of its very classical structure over and over. With eLearning training, you have basically 4 mains steps that always come up:
A basic introduction with several information of the training you are going to address and the main themes that are covered.
A lot of information to read and watch.
A quiz with different questions to evaluate knowledge.
The result of the evaluation.
Now, when you create educational games, you keep those parts and you add some fun to the training! Moreover, you do not pass only information and knowledge to your learners; you allow them to develop new skills.
Throughout this article, we will see how to create educational games with the help of an authoring tool specialized in educational games: ITyStudio.
1. Create Educational Games With A full Content Library
To create educational games, you must create a serious games design. This environment should be familiar and the main goal is to immerse your learners. An environment is a combination between characters and areas.
The immersive concept is key because this is how your learners will feel engaged in a real, daily situation. Your learners must feel into the character's skin.
You may think that creating a familiar graphical environment would need technical skills and a lot of time, and you are right. But on the market there are few authoring tools that allow you to create educational games with customized environment thanks to their rich and varied libraries of content -  and ITyStudio is one of them. You will be able to create 3D simulation, but also 2D simulation. Moreover, ITyStudio is a web authoring tool, so you will have access to all the new environments immediately!
Below you will find several examples of the ready-made content that ITyStudio offers: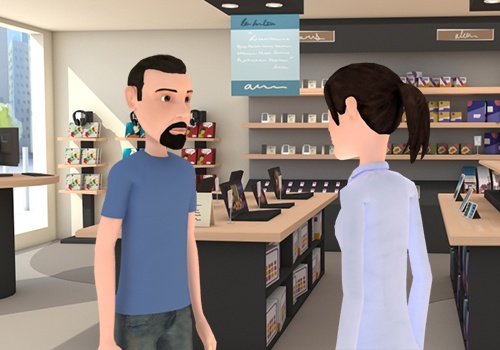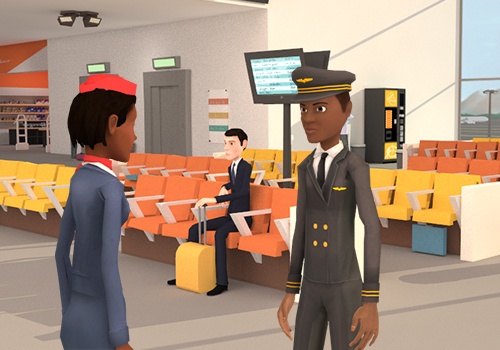 2. Initiate Your Educational Structure
The main thing to think before creating 3D educational games is building a strong educational structure. The game part is essential to keep the attention of your learners, but if you want them to learn new skills, you should elaborate your educational structure before you create educational games.
First you have to know where you want to lead your learners, and what skills you want them to improve. To help you in this research, you can ask yourself some questions:
What skills do my employees need in their daily job?
What are their strengths and weaknesses?
For my company, what skills need to be developed?
Once you have done this analysis part, you can decide your analysis criteria. An analysis criteria is one of the criteria on which you have decided to evaluate your learners during this educational game. Let's take an example: If you create educational games for your Sales people, you can have analysis criteria such as empathy, market knowledge or product knowledge, ability to identify the needs of the customer…
From experience, we advise you to use between 3 to 6 analysis criteria. Under 3 criteria, the analysis will be too poor for you learners; with more than 6 criteria, the analysis will be too complex for your learners to understand and for you to analyze.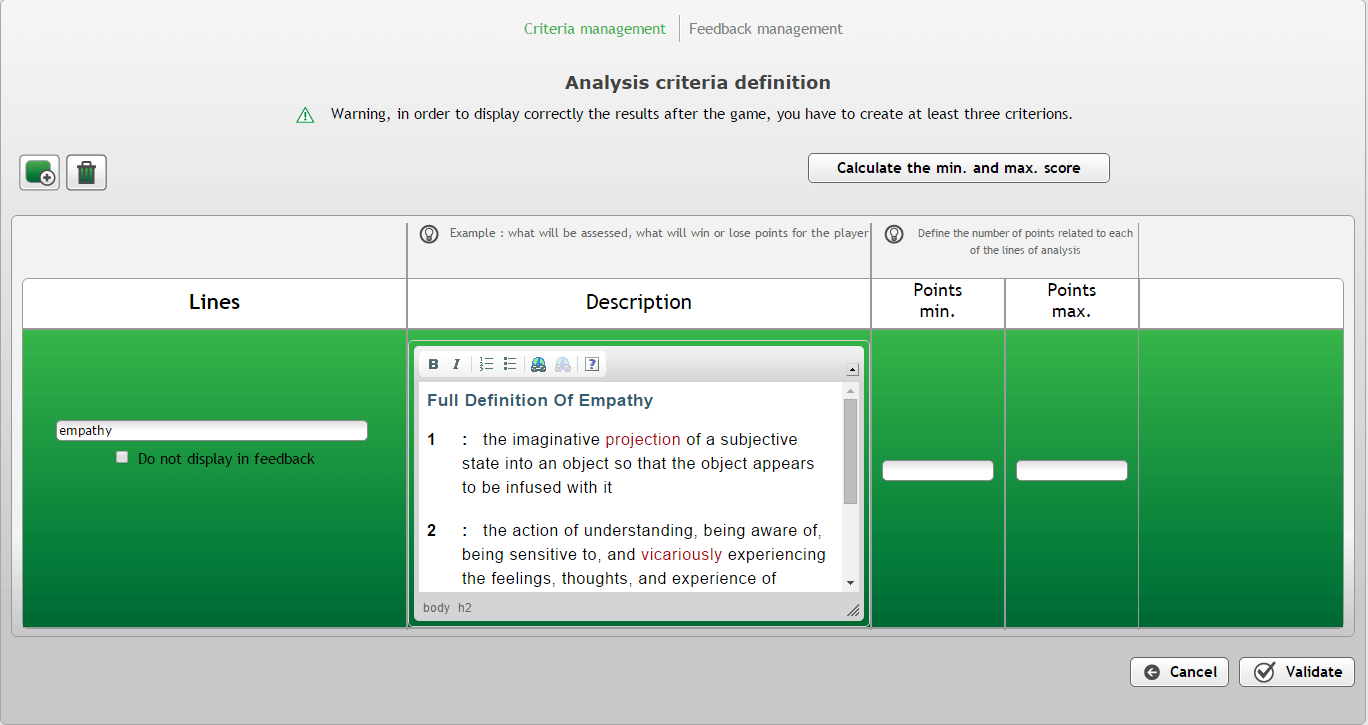 3. Customize Your Feedback
Employees needs to be listened to and understood. This is a major point in employees' happiness at work. In plus of helping your learners to improve themselves, you can make them feel listened to and understood thanks to customized feedback.
You have many employees to train and you do not have the time to give them customized feedback after the training? Not a problem when you create educational games with ITyStudio. You can simply add feedback according to the score of your learners. They will feel followed in their training and this will enhance their motivation to do better next time!
Moreover, you will be following up your employees in their evaluation and you can identify quickly where some employees have difficulties and where they have talents!

4. Design Your Educational Games Scenarios
Finally, we come to the funny part and the heart of the serious games authoring tool: Creating your scenario. To create motivating and engaging educational games, your script must be a script-writing tree. That means your learners will have a unique experience by creating their own story. Every decision they will make will lead them to a different scene. They are not going from A to B with one way, but they can reach B through multiple possibilities! You create a 3D simulation where your learners are actors in their training.
What are the advantages of a branching scenario?
First, your learners will have the possibility to do the educational games as many times as they want without following the same way. They will learn new things each time they are taking the training.
Second, they will have a scene corresponding to their previous choice. This means that if they make the wrong decision, this will lead them to a new scene where they will see directly the consequences.
Then, by having the possibility to try several ways, your learners can make "mistakes" during the training and learn from those mistakes.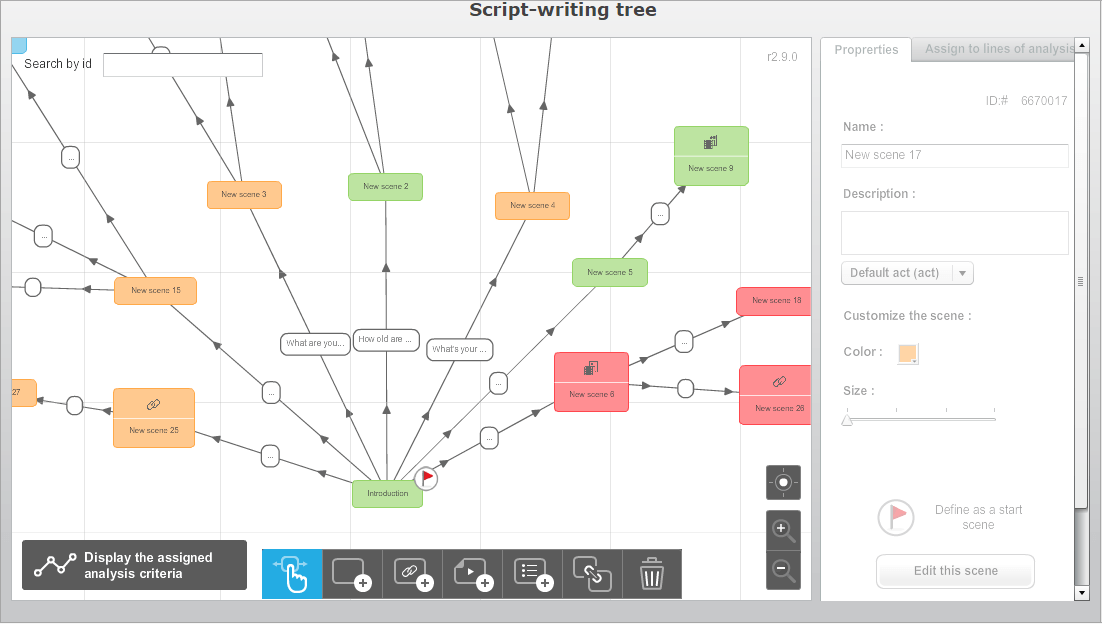 5. Insert Different Types Of Scenes To Enrich Your Educational Game
Into ITyStudio, the immersion of your scenario is a priority. Therefore, you can find 4 types of scenes and insert all types of content.
Classic scene.
It is a simple interaction between the learner's character and other characters.
Media scene.
In this type of scene you can add photos, videos, or PDFs to enrich your modules with extra content that you want your learner to see.
Web scene.
Here again, you can add extra content from the web such as a website or an YouTube video. But one important thing is you can insert eLearning content from Storyline or Captivate for example. Both of those two eLearning authoring tools are compatible with ITyStudio.
Quiz scene.
This is also possible to add a quiz into ITyStudio. It can be a simple question or QCM with multi choices, etc.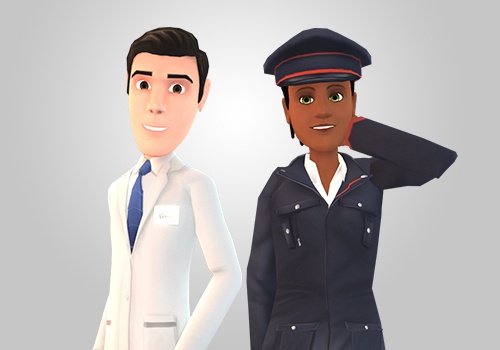 6. Export Your Creation
Once you have finished to create educational games and tried them, you must export them. With ITyStudio you have multiple choices:
Export your creations in SCORM 1.2 or 2004 format for dissemination to most Learning Management System platforms on the market.
Choose to export as executable files, for more flexible use, to a whole host of devices, including PCs and tablets.
Choose the HTML5 export to read your content on tablets and give flexibility to your learners!
Your content will always be playable from everywhere and at any time!
Ready To Create Educational Games Easily With ITyStudio? Take Action!
In this article, we covered how to create educational games easily and quickly with ITyStudio.
If you feel concerned and see a potential in this authoring tool, you should definitely give ITyStudio a try!
This eLearning authoring tool contains all the features needed to implement the tips and tricks listed previously.
It is easy to use, it is engaging, and, best of all: You can try it for free!
Ready to go to the next level? Claim your 30-day free trial here!
Are You interested In eLearning Technologies? Meet ITyStudio's Team At The DevLearn 2016!
The DevLearn is the world's largest eLearning technologies expo and conferences event. This year again, it will occur in Las Vegas, Nevada, between November 16th – November 18th, and more than 200 learning activities will be offered.
For the first time, ITycom, the digital solutions' expert for organizations all around the world, will be exhibiting at the DevLearn with its brand new serious games authoring tool's release: ITyStudio.
Are you planning to go to the DevLearn this year? Come and discover ITyStudio's booth at the location 342 and let's meet!
Do not hesitate to visit our ITyStudio's website or to contact us if you want to meet us in Las Vegas!