Does Involving More Of Your Learning And Development Team Increase Or Decrease eLearning Quality?
eLearning development is usually a team process. But with so many skills and personalities, how can you get utilize everyone in the most effective way?
Let's look at some practical tips to help you to get the best from your Learning and Development team.
1. Set up your team for success.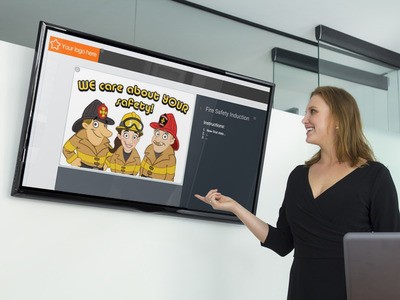 Make sure that responsibilities and expectations are communicated to all members of the team. Give your team the responsibility for quality control by providing standardized instructions, style guides, reference materials, and project files.
2. Create a culture that embraces agile methodologies.
The need to involve multiple team members with different talents can pose a number of challenges. Consider adopting an agile approach in which the team is one and everybody in the team is responsible for the result and quality. This is a big game changer. There will be no more "Sorry it's late, the testing didn't finish on time". The team is responsible for the tasks and project deadlines.
In an ideal situation, all members have all the necessary skills. Unfortunately, this is never the case in the real world. But, it is surprising how much responsibility people can share if the expectation is set from the start.
Encourage your team to look beyond their core skill sets. For example, ask your graphics person to quality check the overall design and layout. Ask your developer and testers to use correct language in your content. And ask your Instructional Designer to help with sourcing imagery.
By involving more people on a project, you can speed up the time it takes to review and make changes. Further, if you use smaller review cycles, you can iterate faster which will help you improve overall quality.
3. Enable online collaboration.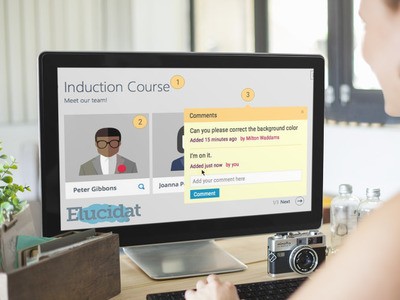 Online collaboration makes it easier to involve all team members in discussion, which reduces the chance of miscommunications which can impact the quality and accuracy of the end product.
Here are 3 ways you use online collaboration to foster a good team-working environment:
Host team hangouts.
Try hosting knowledge-sharing hangouts twice a month where your team comes together to present a project. Discuss the challenges you encounter and how you overcame them. This teaches your team new practices that can increase overall efficiency.
Share lessons learned.
Share expertise, tools and resources, solutions and techniques, and good practice.
Embrace online collaboration tools.
Some authoring tools –like Elucidat– have inbuilt online review/comment systems which makes collaboration fast and efficient. If your tool doesn't have this feature, take a look at Trello.
Related: Why Online Collaboration Is The Solution To Your Learning And Development Team's Efficiency Problem
4. Use tools that encourage your team to work together, simultaneously.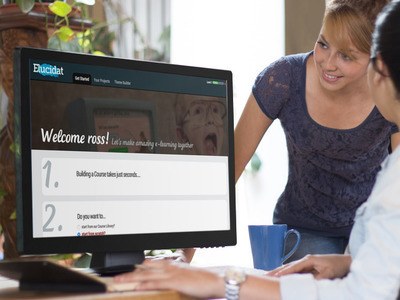 Modern, cloud-based tools make it possible for all of your team to be work on one project simultaneously. This can significantly reduce the time and effort spent on packaging and moving files to-and-from team members.
At Elucidat, we've added "roles" so you can quickly grant different rights to different people.
For example, you can have assign team members to test and review chapter one, while you assign others to design and develop chapter two. By assigning roles you can eliminate the risk of the reviewer accidentally making changes or deleting anything in chapter two.
You can also assign your Subject Matter Expert (SME) as a content editor. This role gives him or her the right to change and add text or images to pages, but not to create or delete pages. For Subject Matter Experts who have content knowledge, but no eLearning authoring skills, this can be very useful.
5. Use inbuilt online review.
The best way to improve team efficiency is to use a tool with inbuilt online review. Consider selecting an authoring tool –like Elucidat– that provides reviewing and commenting functionality right inside the project itself. This will save you the need to use additional software to track and manage your review process.
6. Empower Subject Matter Experts to design and develop.
If the project is small, simple, or highly technical, empowering your Subject Matter Experts create the course themselves can save time and money. You can complete a lot more projects this way, and reduce costs associated with hiring additional staff.
Tools that let you easily create courses from a master theme (template) will help ensure your Subject Matter Experts produce eLearning that is consistent with your other courses and meets your instructional design standards.
7. Use freelancers to scale up (or down) production.
It's expensive to keep staff around when you may not always have work for them. Instead, why not consider is taking on freelancers as extra-hands for your team when you need to increase production?
You can test the waters by engaging new freelancers on straightforward, low-risk projects to see how you work together. When you feel comfortable with working relationship, you can integrate them into your Learning and Development team and involve them in more projects.
Start Involving Your Entire Team
New technology has now made it more important than ever to involve all of your Learning and Development team in the eLearning development process. Gone are the days of relying on specialists to create modules or design pages, tools like Elucidat remove the technical headaches so everyone on your team has the design and development skills to create best practice eLearning.