The Advantages Of Adopting Mobile Learning
With mobile learning you can cater to the needs of today's learners and by delivering content through the technology they are using, your training delivery will be in sync with their preferences. Apart from this, mobile learning appeals to millennial learners who have a preference for anything mobile. Let us look at a few advantages of adopting a mobile learning strategy that will make you seriously consider the option.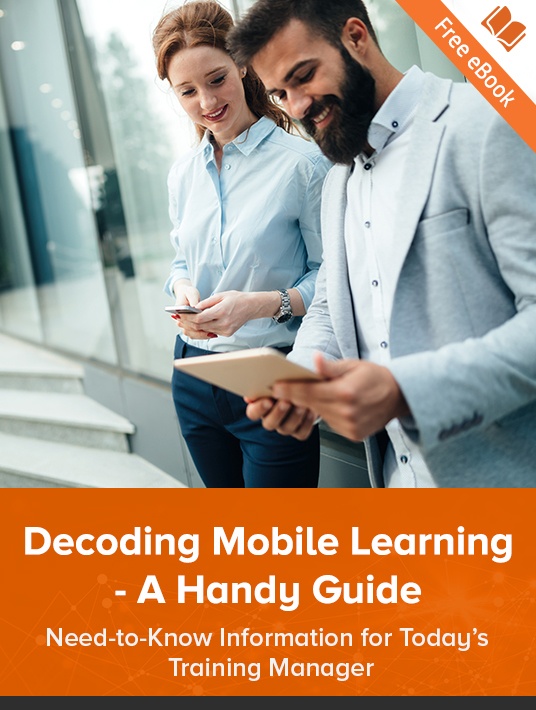 eBook Release
Decoding Mobile Learning – A Handy Guide
Discover crucial information on mobile learning and learn about the top considerations you should reflect on before implementing mLearning to judge how well it can fit with your training needs.
1. Helps Learners Learn What They Need
Mobile learning provides learning on their preferred devices, enabling learners to learn anytime and anywhere. This also ensures that learners learn or know about something at their point of need, and not when they see no relevance for what they are being trained on. Consider a Sales rep who needs to convey the cost-effectiveness of his product to a customer. Having access to a cost calculator on his smartphone will help him compare the cost of his product with that of competitors', in front of the customer.
2. Helps Learners Choose Their Device
Another benefit of adopting mobile learning is it also caters to the learners' preference of learning on the device of their choice – whether tablets or smartphones – and at their convenience. When employees use their mobile devices for learning, this helps create a sense of ownership over the learning, which keeps them engaged.
By not forcing learners to be tied to a personal computer, it increases the likelihood of lowering their resistance to learning as well. Picture this, an employee who listens to music or plays games on his long commute to work is more likely to complete his required training if he can access the course on his mobile because he needn't carve out time from his work hours to complete the training.
3. Creates Better Engagement Of Learners Through Microlearning
The advantage of mobile learning is that it is flexible to convey formats such as microlearning and can be infused with elements such as gamification, interactive videos, or mobile apps that increase the engagement factor. The use of a variety of multimedia such as podcasts, infographics, and animations in mobile learning makes it further engaging. Mobile devices are the ideal devices to deliver microlearning modules and can be used both for formal training and performance support.
4. Adds A New Dimension To Learning Through Apps
Mobile learning apps help learners learn anytime and anywhere. These apps function just like normal Smartphone apps. Native apps can be downloaded on learners' devices and they offer access to learning resources, even when offline. These apps are the ideal platform to support social media features and collaborative options such as chat rooms and discussion forums. These features help learners share their views and inputs on the subject, with peers and experts. These forums therefore promote informal learning.
5. Provides Performance Support
Performance support is providing employees timely help to perform their tasks. This creates an uninterrupted workflow that benefits both the employee and the organization. Mobile devices are the ideal choice when providing performance support to employees. This can be in the form of videos or online job-aids that learners can refer to, at the moment of need.
Consider an organization that's rolling out a new ERP. Employees in different roles will access the system for different tasks, based on their workflow. Micro videos available on employees' mobiles will offer them the flexibility to refer them before carrying out a task, they are not very familiar with.
Final Word
Mobile learning gives learners the freedom to learn when and where they want while providing an engaging learning experience. It provides performance support and meets the learning needs of a remote workforce. With so many advantages, it is no wonder many organizations are including mobile learning in their training arsenal.
CommLab India
Working with multiple outsourcing vendors can be stressful, and a waste of time & money. With CommLab India, all your online training needs are taken care of, rapidly and economically.