LMS Marketing Strategies For Learning Tech Vendors
As a marketer with 15+ years' experience in various marketing and product roles working for a large eLearning vendor, as well as another couple of years as a consultant and advisor to early stage and growth companies in the corporate learning space, I've picked up a few things. Here are a few indispensable parts of my approach to marketing learning and HR technology solutions.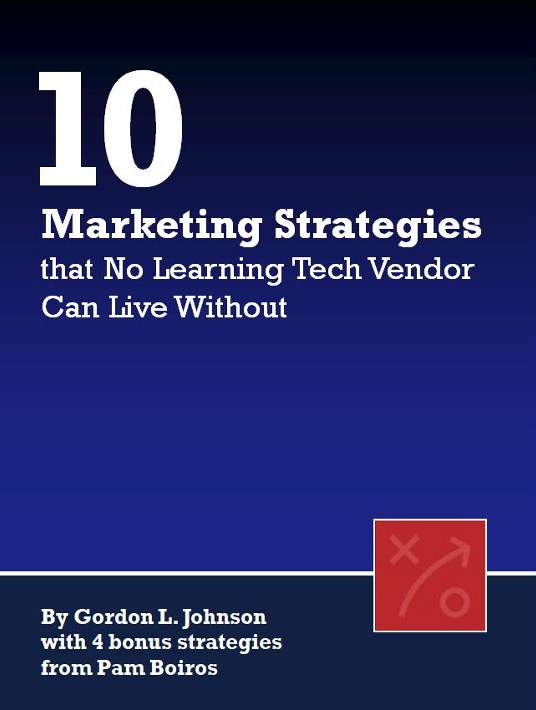 eBook Release
10 Marketing Strategies That No Learning Tech Vendor Can Live Without
A must-read for any marketer who wants a serious edge in the learning tech marketplace.
1. Realize Customers Are Looking For A Learning Technology Ecosystem – Not To Buy Everything From You
According to advertising/consulting/technology agency The Starr Conspiracy, "Today's learning ecosystem is about having it all, but not from one vendor." And what's potentially making this development even more complicated is that many organizations are thinking about learning technology within the broader HR technology stack. While this can be a painful fact for us to realize as marketers, it is the reality. Customers want a best of breed solution, and this means choosing the modules or solutions from a variety of vendors that they can assemble seamlessly to meet their specific needs.
It is important to understand and embrace this phenomenon, which means playing well with others and figuring out how to integrate data and systems. Think about how you can partner with other vendors in the stack. Maybe you need a performance management or workforce management vendor, for example. At first, the connection may not be obvious, but look for areas of intersection. If you have a mutual customer in common, this will be even more important, interesting, and fruitful. Mutual customers will provide a tangible opportunity to work together with the support of your customer. The creative solutions you come up with can then be applied to other customers.
2. If You're Not Already Doing It, Consider An ABM (Account Based Marketing) Pilot
ABM is one of the newest buzzwords in B2B marketing, but it's a new take on a tried-and-true sales methodology. You may be more familiar with a "named accounts" or "target accounts" strategy. To be successful, ABM must be a joint effort between the Sales, Business Development/Sales Development, and Marketing functions and it requires the systems and processes to ensure a personalized approach at scale.
ABM is defined as:
"… a strategic approach to business marketing based on account awareness in which an organization considers and communicates with individual prospect or customer accounts as markets of one."
[ CITATION Hub17 \l 1033 ]
Furthermore, according to marketing automation vendor Marketo:
"ABM concentrates sales and marketing resources on a clearly defined set of target accounts within a market and employs personalized campaigns designed to resonate with each account… ABM is perhaps one of the most efficient ways to align sales and marketing. This is primarily due to the fact that the marketer running an ABM program operates with a mindset very similar to sales—thinking in terms of accounts and how to target them, bring them to the table, and generate revenue from them." [ CITATION Mar18 \l 1033 ]
Most solutions are a great fit for certain prospects – and not a good fit for others. Focus on the former vs. wasting precious resources on the latter. ABM is a great way to get sales and marketing to truly partner together and focus on the same goals.
Getting Started On Your Pilot
First, identify the profile of the best customers in your current customer portfolio – the ones that are power-users of your product and push your product to its limit; those that are references and advocates. What is their industry? Company size? Number of employees? Geographic region? And any other factors that are responsible for driving loyalty to your product. Then, armed with that information, draw up a list of other companies who fit a similar profile and come up with a plan—one that is shared by Marketing and Sales—to surround these accounts through every tactic in your toolbox.
Also, by calling the program a pilot you can more easily get approval to try something new. Start small, learn and build on successes. (It's amazing the crazy things you can get permission to do if you use the word "pilot").
3. Get Your Systems And Data In Order
It's likely that you have a Marketing Automation Platform (MAP) such as Marketo, Hubspot, or Pardot, a CRM system, and other internal and external sources of sales and marketing information. Data hygiene is not sexy or fun, but it has to be done. Otherwise, you're in the classic "GIGO" situation – garbage in, garbage out. Making sense out of data in order to make smart decisions and do even basic market segmentation relies on clean data. See if you can get in some temps or college interns to help with the process. Or use a third -party data provider to scrub and augment your existing data.
Be ruthless – if a prospect or suspect has not engaged with you in the last six months, chances are they should be inactivated or deleted from your system. Data quality is everyone's job—and no one's—so it never pops to the top of the list. Set deadlines and stick to them. Oh, and once you complete this project ensure that everyone in the Sales and Marketing team knows the rules about creating and maintaining customer and prospect info so that you don't end up in the same situation again in a few months.
4. Invest In Your Team's—And Your Own—Development
Marketing is an ever-evolving discipline, and there are new techniques and technologies emerging all the time. It's increasingly a discipline that requires a balance of creative and analytical skills – a rare combination. But you're in the learning industry! What a great opportunity to "drink your own champagne." Foster a sense of curiosity and interest in your team; share interesting articles and other resources based on their individual interests and roles. Encourage sharing amongst your team members with informal lunch and learns. It's like show and tell for grown-ups – and who doesn't like show and tell?
This goes for you, too, as a marketing leader. The marketer's job is never done, so it's easy to get focused on all the tactical stuff. But pick your head up once in a while to meet other marketers, attend conferences and webinars, and read up on new techniques. Follow marketers you admire on LinkedIn and Twitter. Make it a priority to connect to at least a few other marketers each month – in person, by phone, by email, or on social media. All of these steps will keep you—and your team—creative and innovative.
If you want to learn more best practices for LMS marketing, download the eBook 10 Marketing Strategies That No Learning Tech Vendor Can Live Without.
Related articles:
1. LMS Marketing: SEO – Make Your Learning Technology Easy To Find
2. 6 Ways To Succeed With A Customer-Centric LMS Marketing Strategy
3. LMS Marketing: Lead Nurturing – Keep A Close Eye On Who Visits Your Website
4. LMS Marketing: Lead Generation – One Great Lead Is All It Takes