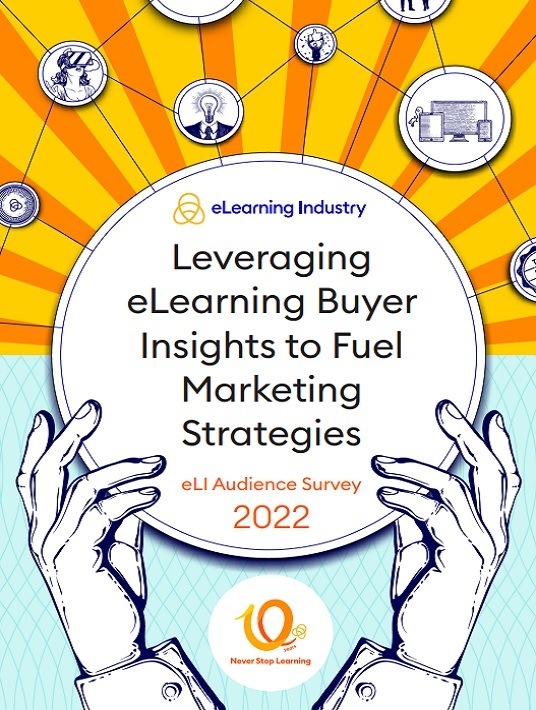 eLI Audience Survey 2022: Leveraging eLearning Buyer Insights To Fuel Marketing Strategies
2022 marks eLearning Industry's 10th anniversary. In celebration of this huge milestone, we share our survey results report as a tribute to the community. Dive into this survey data analysis and see in numbers the effect of working from home and social distancing on eLearning professionals, HR pros, and corporations worldwide. Then, decide how to solve their challenges with your eLearning solutions!
Update your details to download a copy of the eBook
Key Chapters
Survey Overview

A chart galore with valuable insights showcasing more info about our survey audience and their use of eLearning.

Challenges With LMS Tools

Our survey data analysis shares insights from L&D and HR decision-makers regarding the greatest challenges that companies are facing with LMS tools.

Challenges With Training Content Creation

The survey results report continues by revealing training needs for decision-makers and what prevents them from implementing custom eLearning.

General Insights

Here, the survey data analysis highlights the most interesting topics for our eLearning audience and how they like to gather information regarding eLearning solutions.

Insights On Upcoming eLearning Trends

In this chapter, the survey data unveils eLearning trends to watch out for and how they help future-proof businesses.

What The Corporate Sector Has To Say

The impact of the covid crisis and working in the new normal. Going a little deeper as to how eLearning helps combat the great resignation and difficulties with ROI calculation.

What About The L&D And HR Decision Makers?

The decision-makers weigh in and share valuable insights on the tools and training methods they are using. Plus, they reveal their greatest challenges in the coming year.

Conclusion

How to continuously create and distribute content that interests the L&D and HR audience, including decision-makers.
eLearning Industry felt the need to see in numbers the effect that working from home and social distancing had on eLearning professionals, HR pros, and corporations worldwide.