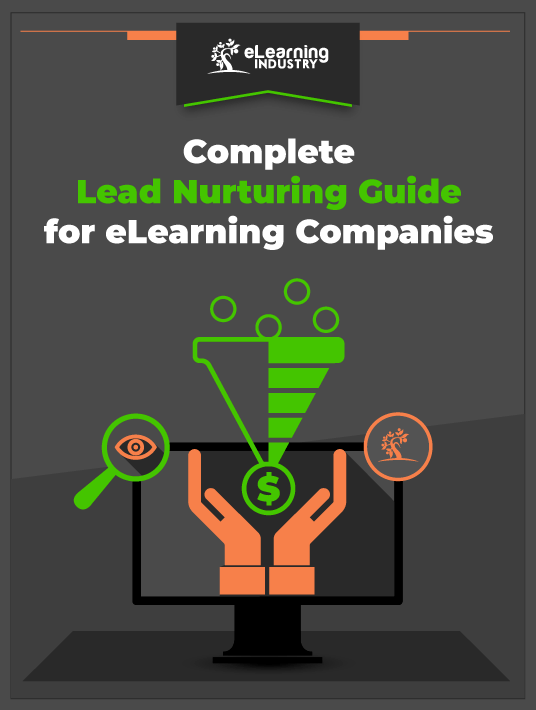 Complete Lead Nurturing Guide for eLearning Companies
Creating an effective lead nurturing strategy is key to your content marketing success. In this eBook eLearning marketers can explore the best practices of an effective lead nurturing campaign. We share tips on identifying your ideal eLearning customers. Plus, you'll learn how to attract and nurture prospects in order to increase conversions.
Update your details to download a copy of the eBook
Key Chapters
What Is Lead Nurturing? How eLearning Companies Can Benefit From This Marketing Strategy

7 steps on you need to take for a successful lead nurturing process. Tips that will lead you to create a lead nurturing strategy that increases your eLearning brand's revenue.

Setting A Lead Nurturing Strategy For Your eLearning Business

Learn about the importance of nurturing leads when targeting the eLearning audience. Explore the 5 components of a lead nurturing strategy that works.

The Team Your eLearning Company Needs for A Successful Lead Nurturing Campaign

Successful content creation and lead nurturing depend on your team. Find out how selecting the right people can make a difference on how you guide your ideal eLearning prospects down the funnel.

How Marketing Automation Can Revolutionize Lead Nurturing For eLearning Marketers

Marketing automation is vital for lead nurturing. In this chapter, you'll get the best tips on how to use marketing automation software to your advantage.

5 Ways To Score Leads For Success By Targeting The eLearning Community

Are you one of those marketers who are pursuing high-quality leads? This chapter analyses the importance of lead scoring in the eLearning niche. You'll learn which steps you need to follow to score your leads and get more SQLs.

Producing Optimal Lead Nurturing Content And Emails To Reach The eLearning Audience

This chapter analyses the best practices of relationship-building between eLearning brands and their ideal buyers. Find out the key ingredients for content creation. Plus, learn how to target and nurture eLearning Prospects with emails.

The Power Of Content Mapping In Lead Nurturing And How To Leverage It As An eLearning Marketer

Learn why content mapping is key to getting the most out of your existing content library. Explore how content mapping can help eLearning marketers create better funnels in addition to building strong customer relationships.

Testing Your Lead Nurturing Campaign To Attract The Ideal eLearning Audience

The power of lead nurturing optimization and how it can help you reach the ideal eLearning buyers. Best tips on how to test your lead nurturing campaign in order to bring better results.

The Challenge Of Measuring The Lead Nurturing ROI Of Your eLearning Marketing Campaign

Is your lead nurturing campaign increasing your revenue as well as your brand awareness? In this chapter, you'll learn how to calculate the ROI of your lead nurturing campaigns.

Catapulting A Lead Nurturing Campaign To Bring Long-Term Success For Your eLearning Business

In this chapter, you'll understand the key strategies for long-term lead nurturing success. Plus, you'll find out how to tie analytics to your marketing goals while using multiple touchpoints in order to engage with the right prospects.
The key to lead nurturing success is knowing your buyer personas. Then, you need to create content that solves their pain-points. But, to get conversions you have to guide eLearning prospects through your marketing funnels. To do that you need several tools. The above need is one of the biggest hurdles that eLearning marketers face when adopting a lead nurturing strategy. There is no doubt that you must include new tools and platforms into your workday. In this eBook, you'll learn all the tips and tricks on how to build effective lead nurturing campaigns that will make your ideal eLearning buyers convert.
eLearning marketers need to follow all the best practices regarding lead nurturing in order to move prospects down the funnel. Most importantly, they need to create steady relationships and keep potential buyers engaged by offering valuable eLearning material. This eBook is a complete guide that offers insights on how to create successful nurturing campaigns. It gives you insights on how to approach your content creation to the right potential buyers through all stages of your marketing funnels. Most importantly, you'll discover the importance of marketing automation. Automation can be hugely beneficial for eLearning brands. We share insights on how you can methodize your lead nurturing strategy to increase conversions for your eLearning business.