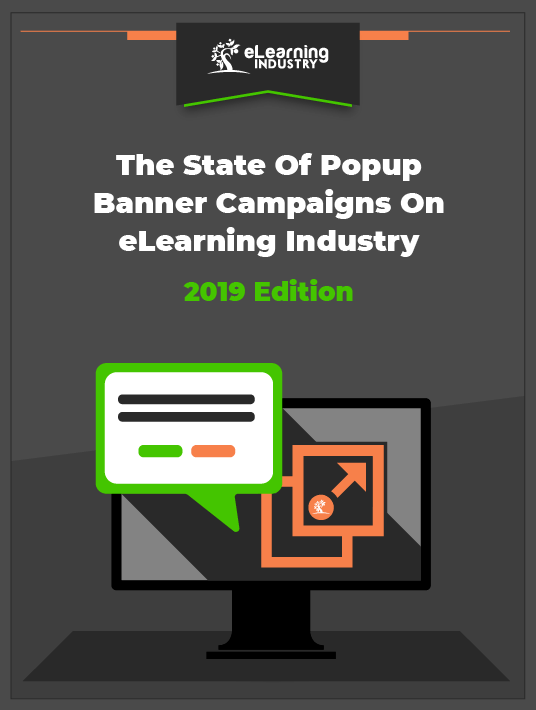 The Complete Popup Banners Guide For eLearning Companies
There are definite benefits to using popup banners for your eLearning company. Simultaneously, it's fundamental to know of the ways popup banners can increase awareness around your eLearning solutions. But what are the copywriting secrets to skyrocket popup banner conversions? And, how can you boost your marketing ROI by outsourcing a popup banner campaign? Read all about it in this complete popup banners guide for some of the hottest tips to design and optimize popup banner campaigns that actually convert.
Update your details to download a copy of the eBook
Key Chapters
Introduction to Popup Banner Ads For eLearning Marketers

4 Key Benefits Of Using Popup Banners For Your eLearning Business

3 Ways Popup Banners Can Increase Awareness Around Your eLearning Solutions

7 Types of Popup Banners That Work For eLearning Businesses

How Can An Exit-Intent Popup Help Grow Your Revenue?

Why Some Popup Banner Campaigns Fail? (And how to fix it)

Tips To Design and Optimize Popup Banner Ad Campaigns That Convert

How To Optimize Your Landing Pages For Better Results?

5 Copywriting Secrets To Skyrocket Popup Banner Conversions

6 Popup Banner Metrics to Track For High Conversion Rates

3 Steps to Optimize your Popup Banner Campaign

Why Outsourcing A Popup Banner Campaign Can Boost Your ROI?
Going by the simple definition, a popup is a type of window that opens up without any commands from the user. In most common cases, popups are generated by websites in the form of ads. While popups, when used correctly, can be highly effective for marketing, an inappropriate implementation can agitate more users than one can imagine. So, understand the need for making a balance between being too salesy and offering help for your ulterior benefits.
If you are looking to double your email subscriptions, increase prospects' engagement and also get more leads, popup banner ads are a great way to achieve these goals. Setting up the perfect Popup Banner Campaign is an art altogether. Keep reading if you want to learn everything you need to know about using pop-up banner ads for promoting your eLearning business.