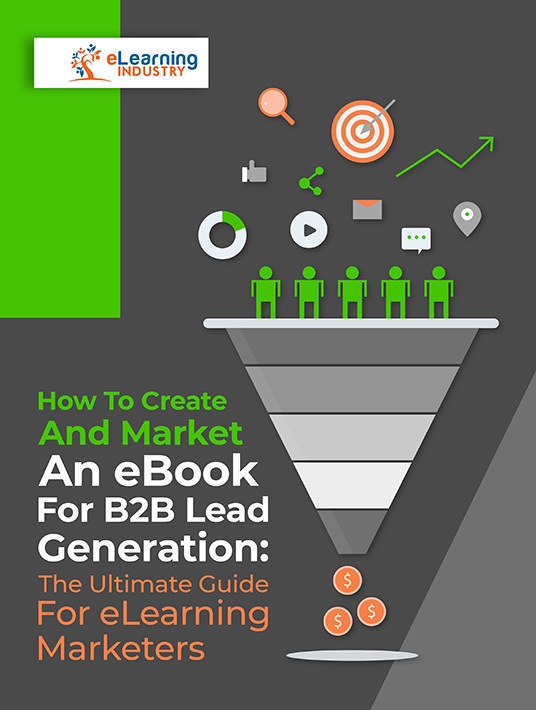 How To Create And Market An eBook For B2B Lead Generation: The Ultimate Guide For eLearning Marketers
eLearning marketers may sometimes feel overwhelmed when they're in the process of finding the best ways to create and market an eBook for B2B lead generation. Identifying lead generation best practices, generating B2B leads or engaging the right target audience are some of the obstacles eLearning marketers may encounter.
Download our eBook to learn how you can optimize the B2B lead generation process and its ROI while discovering tips on quantity vs. quality, and much more…
Update your details to download a copy of the eBook
Key Chapters
6 Lead Generation Best Practices That Work For B2B eLearning Companies

How To Generate B2B Leads With An eBook [4-Step Guide For eLearning Companies]

5 Keys For Finding The Right Target Audience For Your eBook

How To Choose An eBook Topic That Fits Your Audience's Needs

How To Structure Your eLearning eBook For Effective Lead Generation

4 Must-Have Elements Of A Good eBook

3 eBook Marketing Tips For Successful B2B eLearning Companies

Top Channels To Promote Your eLearning eBook For Maximum Effect

Optimize B2B Lead Generation Process With Marketing Automation

Quantity Vs Quality - How To Generate Better Leads From Your eLearning eBook

Improve Your B2B Lead Generation ROI By Repurposing Your eBook
Create and market a B2B lead generation eBook that addresses the topic with the authority of an eLearning marketing expert, but in a friendly tone. Influence readers by providing clarity, and focus not only on B2B lead generation must-haves, but also on helpful information related to the promotion and optimization of the eBook, without using it only to achieve a sales pitch. Convey information about lead generation best practices in an understandable way and make the eBook worth downloading.
The more information about creating and marketing an eBook for B2B lead generation as an eLearning marketer you have in your hands, the more valuable the message you convey to your audience will be. Such resources on planning the creation and marketing of your eBook, accompanied by valuable insights on its structure, content and optimization, are extremely useful and cannot be missed by any eLearning marketing expert.