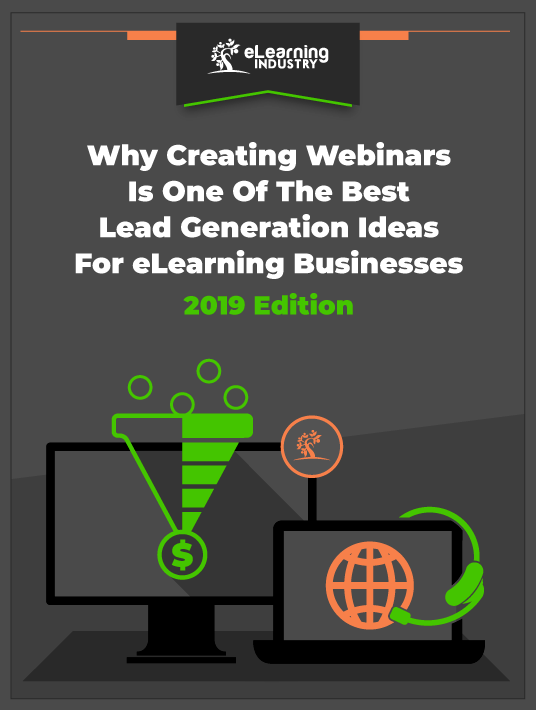 Why Creating Webinars Is One Of The Best Lead Generation Ideas For eLearning Businesses
Creating webinars for lead generation can increase your profit margin. Find out why most eLearning businesses opt for webinar marketing. All you have to do is find an interesting topic to attract the right buyers. How do you do that? Download this eBook and learn the best practices of webinar marketing.
Update your details to download a copy of the eBook
Key Chapters
What Is A Webinar? Looking At Webinars From An eLearning Perspective

A beginner's guide to eLearning webinars. Learn the benefits of holding webinar sessions for your eLearning Business.

9 Steps To Creating An eLearning Business Webinar That Your Audience Will Love

In this chapter, you'll read about how to create eLearning business webinars that convert. With these tips, you can find out what your target audience likes and take action!

Webinar Marketing: Lead Generation Funnel And Strategies For eLearning Companies

Discover how you can create a high converting lead generation funnel for your webinar marketing campaign. Plus, find out some of the most effective webinar marketing strategies for eLearning companies.


Key Webinar Metrics And KPIs To Track Webinar Performance

Data is a crucial part of all marketing processes. From measuring ROI to optimizing webinars that convert, data plays a vital role in all of it. This chapter will help you understand which metrics are vital for a successful eLearning webinar.


10 Steps To Increase Webinar Registrations By Creating Interesting Topics To Discuss

A successful webinar should have a good amount of registrants and attendees. The question is, how exactly do you do that? You'll find all the answers in this chapter.

Webinars And Lead Generation: 9 Types Of Webinars You Can Create

Explore how lead generation webinars can help your eLearning business boom. Find out what types of webinars can help you attract the right buyers.

Why You Need To Keep An On-demand Webinar Recording: Harness The Power Of Evergreen Content

Read details about how an on-demand webinar can be an evergreen lead magnet depending on the topic you choose.

22 Interesting Webinar Statistics Every eLearning Marketer Needs To Know

Webinar statistics offer solid proof of why webinars are an excellent lead generation strategy. We reveal why you need to start your webinar marketing ASAP.

7 Webinar Best Practices For Successful Webinar Presentations

Some of the best tips you can get about creating successful webinar presentations to engage more viewers.

6 Killer Marketing Tips To Get A World Of Subscribers For Your Business Webinar

Creating a great webinar and a high converting sales funnel is not enough. It's crucial to promote it correctly. Leverage our tips to make it happen.

How Co-Branding A Live Webinar Can Help You Reach More Qualified Leads

Explaining how you can give more exposure to your eLearning brand's webinar by taking advantage of your webinar partner's audience as well.


Did you know that 61% of webinars are done for B2B? With a large number of eLearning marketers trying to reap the gold out of their investments, the constant evolution of techniques and technologies has become a requirement. No wonder, the last few years have seen a myriad of killer marketing gimmicks that convert. And one such gimmick is the "webinar". Actually, webinars convert between 20% to 40% of viewers into qualified leads. In this eBook you can find everything you need to know about lead generation webinars and how they can be useful for promoting your eLearning business.
Without a doubt, hosting webinars is beneficial for eLearning businesses that need high-quality leads. We've seen it happen with eLearning Industry's webinars. This eBook offers excellent insights on how to find exciting webinar topics that will keep your audience's engagement high. By following the best webinar practices of this eBook, creating webinars will be a piece of cake. Every business requires a different approach. In the eLearning niche, knowing your audience will help generate high-quality leads. In this eBook, you can find several tips and tricks on how to define what your targeted audience wants. What's more, you'll master how to boost your revenue by creating webinars that actually convert.