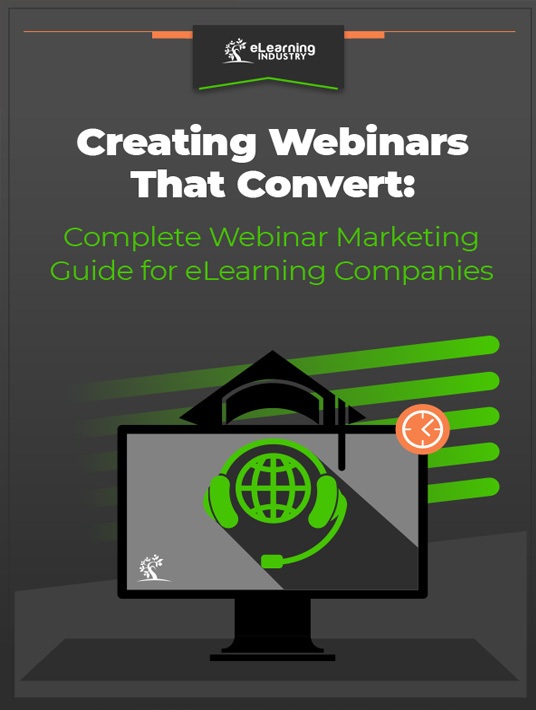 Creating Webinars That Convert: Complete ​Webinar Marketing​ Guide For eLearning Companies
Wondering how to create top-notch lead generation webinars? Get full know-how on creating business webinars that convert. Learn the best practices to capture audience attention, and discover the right lead generation metrics to measure your live webinar's success.
Update your details to download a copy of the eBook
Key Chapters
Webinars: High-Quality Leads, Valuable Partnerships, And No Boundaries

Defining Objectives And Audiences For Your B2B Lead Generation Webinar

From Top to Bottom: Making Webinars For Each Part Of The Sales Funnel

How To Create A High-Converting Webinar Landing Page

Identifying Potential Partners For Your B2B Lead Generation Webinar

5 Tips For Effectively Promoting Your Webinar For Lead Generation

Build Anticipation Through Compelling Conversation

Building Your Webinar Framework To Capture Audience Attention

Platform And Presentation Style Are Key To Your Lead Generation Webinar

3 Follow-Up Actions For Successful Webinar Lead Generation

5 Lead Generation Metrics To Measure Your Webinar's Success

Repurposing Your B2B Lead Generation Webinar
Creating a webinar requires time and detailed planning, from determining its topic to successfully promoting it to attract more leads. Identifying potential partners for your B2B lead generation webinar and making webinars for each part of the sales funnel are also parts you should put a lot of thought into.
With webinars, you can teach and network while simultaneously meeting many of your most important marketing goals. These presentations and conversations can help you capture high-quality leads, expand your reach far beyond your geographic location, partner with respected companies and thought leaders in your market, and much more.