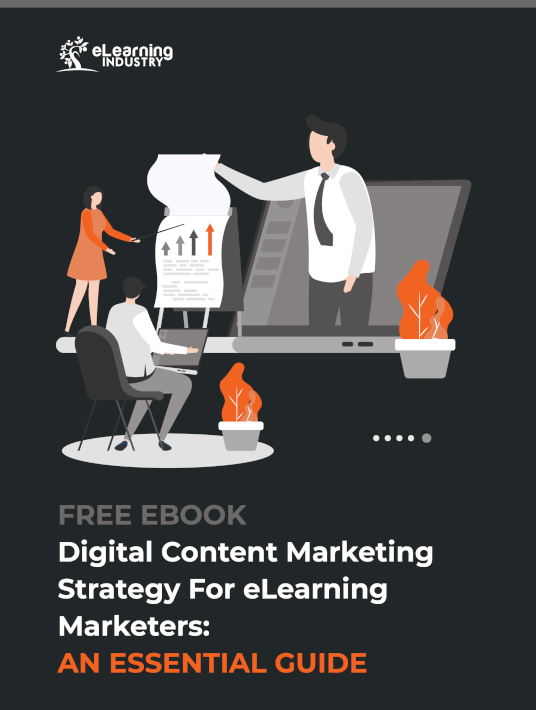 Digital Content Marketing Strategy For eLearning Marketers: An Essential Guide
Content Marketing serves the purpose of improving conversions using a very strategic approach. Taking (potential) leads and customers and genuinely connecting with them and supplying them with real value. This eBook delves into an excellent method to start building long-lasting relationships by establishing trust. At the same time having conversions skyrocket by giving users the information they need to make an informed purchasing decision.
Update your details to download a copy of the eBook
Key Chapters
What is Content Marketing Strategy and how to Leverage it as eLearning Company

The Power of Thought Leadership in the eLearning industry

Developing your Content Marketing Plan: What to Consider as eLearning Marketer

Using Content to Walk Prospects Through the Content Marketing Funnel: Guide for eLearning Companies

How to make a Competition Analysis in the eLearning Niche

Creating an Effective Editorial Calendar: 4 Steps eLearning Marketers Should Follow

The Who, What, and How Behind Successful Content Marketing Strategy Every eLearning Marketer Should Know

Tailoring Your Content to the Right Audience of eLearning Niche

How eLearning Companies can combine SEO and Content Marketing for better Performance

Maximizing the Value of Keyword Research (Complete Guide for eLearning Marketers)

5 Content Marketing Tips that will Help your Content Rank and Drive Qualified Traffic

Distributing and Maximizing Your Content Marketing Efforts as eLearning Marketer

5 Secrets for Generating Fresh Content to Engage with eLearning Audience
A buyer persona is a representation of your ideal — and realistic — customer. Comprehensive personas include research on factors like demographics, behavior patterns, and goals to create a clear picture of who might buy a product or service. By creating buyer personas, marketers can focus on audiences that are likely to prove fruitful while helping their organizations pursue a common goal.
It's any marketer's dream to connect with their audience, get them to really like the content and to share it organically. There is lots of content which describes the essential steps of a Content Marketing methodology out there, but none is tailored to the eLearning field as accurately as this eBook is.