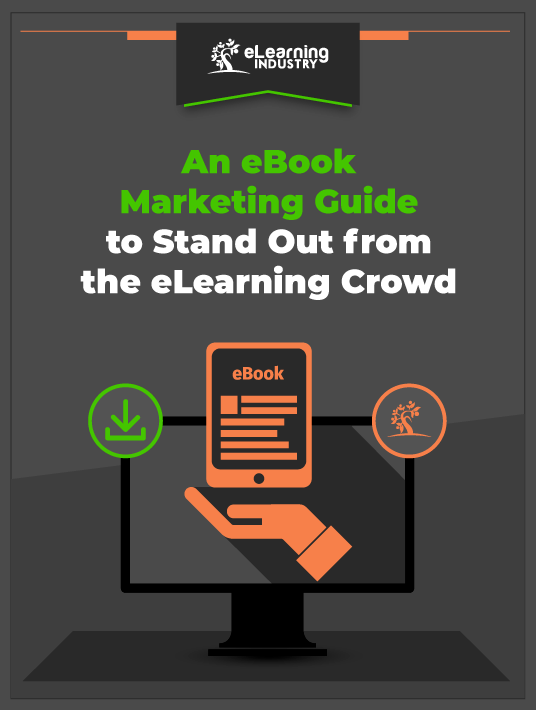 An eBook Marketing Guide To Stand Out From The eLearning Crowd
In this eBook marketing guide, we share the know-how of creating eBooks that stand out. From picking topics to turning prospects into leads, marketers can get information on crafting content marketing strategies that differ from the competition.
Update your details to download a copy of the eBook
Key Chapters
What Are eBooks And How Can They Help Overcome Content Marketing Noise?

You'll learn all there is about eBooks and how creating engaging content can help you earn credibility among the eLearning audience. Plus, you'll undestand the importance of identifying your buyer personas to reach out to prospective leads and buyers you can actually convert.

How Creating eBooks Can Make You A Thought Leader In The eLearning Niche

We share valuable tips on how to establish your brand as a thought leader on specific topics by leveraging the power of eBooks. You'll learn how to create eBooks that target your ideal eLearning buyers.

How eBook Creation Positively Impacts Your Customer Retention

In this chapter, you'll grasp how creating eBooks can help increase customer satisfaction. Plus, you'll learn why eBooks are useful for eLearning businesses that want to establish a better connection with their audience.

How To Effectively Include An eBook Into Your Content Marketing Strategy

In this chapter, you'll learn why and how creating an eBook can supercharge your marketing tactics. Plus, you'll have a better idea of what actually makes a good eBook.

5 Key Audience Facts You Need To Consider When Planning To Create An eBook

An effective eBook needs to reach the ideal buyer personas. We share all the audience metrics marketers have to check before deciding on a topic.

How To Choose eBook Topics Relevant To Your Organizational Goals

In this chapter, you'll learn how to choose the most engaging topic for your eLearning audience. Plus, you'll get a better idea of how you can align your eBook topic with your eLearning business's goals to drive conversions.

4 Vital eBook Promotion Ideas To Consider After Your eBook Creation

Creating an eBook is only the tip of the iceberg. In this section, we share the best tips on how to set up a winning eBook promotion strategy.

8 Tips On How To Effectively Convert Leads Into Sales After eBook Download

We understand there's a big difference between generating leads and turning them into customers. In this chapter, we share top tips on how to bridge this gap by smoothly converting leads into sales.

How To Accurately Evaluate And Optimize Your eBook Marketing ROI

Marketing your eBook effectively can be a big challenge. In this section, you'll learn which metrics can help track the effectiveness of your eBook marketing campaigns. Plus, you get info on ways to optimize your budget.

Reach Out To A Content Marketing Consultant To Boost Your eBook's ROI

Learn what eLearning marketers need to consider before choosing a consultant. In this final chapter, we share our view on how such a pro can help eLearning businesses develop clear eBook strategies.
eBooks are a great lead magnet that help establish a brand's online reputation. Is your company struggling to create unique, niche-specific content? Now is the time to start crafting eLearning content the right way. By creating tailor-made content, not only do you earn credibility among the eLearning audience but you can also manage to nurture leads down the marketing funnel. However, to accomplish this you need the know-how.
eBooks are challenging for some marketers for several reasons. Some struggle because they can't get prospects to convert. Actually, there's a big difference between generating leads and turning them into customers. This eBook has all the information you need to bridge this gap. To effectively convert leads into sales you have to nurture them through the buyer's journey. To do this effectively you need to keep creating engaging content on topics your ideal personas are interested in.