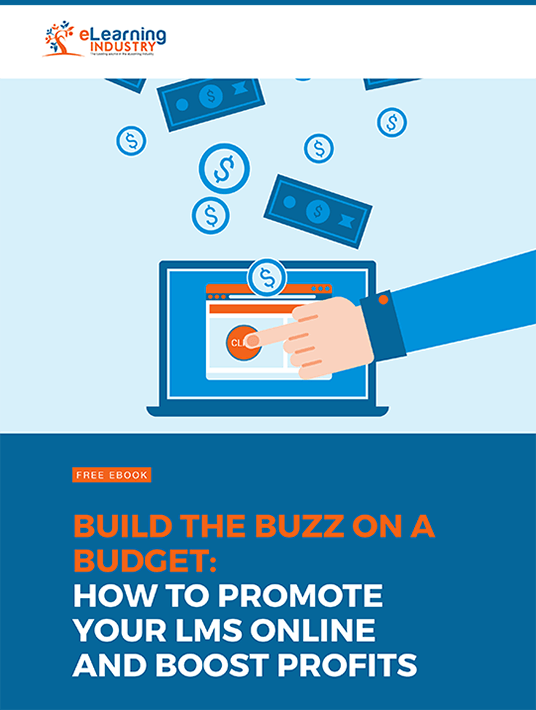 Build The Buzz On A Budget: How To Promote Your LMS Online And Boost Profits
Are you looking for rapid online marketing results that don't cost you a small fortune? Can you sum up the selling points of your LMS and convey how it stands out from the competition? Are you reaching out to your target audience on the most popular online platforms? Is your LMS marketing strategy achieving results or is it proving to be more problematic than expected? Should you enlist the aid of affiliates? Purchase PPC ads to target your niche audience? Or use inbound marketing to build your online presence? Ηow can you ensure your LMS promotional event is a success? Do your current clients feel appreciated? Download our eBook to find the answers to these questions and much more...
Update your details to download a copy of the eBook
Key Chapters
8 Benefits Of Promoting Your LMS On A PPC Software Directory

The competition is already steep. As more and more organizations realize the benefits of digital marketing, reaching your target audience will become even more challenging.

8 Tips To Identify Your LMS Niche

The Internet is already saturated with eLearning companies promoting their LMS products and services. Is there really any use in trying your hand at online marketing?

8 Tips To Identify LMS Selling Points

Why should prospective buyers choose your software over others on the market? Answering this seemingly simple question involves a great deal of research and reflection.

8 Tips To Craft The Perfect LMS Sales Pitch

People are busy nowadays. Not only do they have to deal with heavy workloads and personal obligations, but also technology intrusions that vie for their attention.

How To Create An Accurate LMS Marketing Budget

One of the golden rules of business economics is that you have to earn more than you spend. In the case of marketing, the resources you allocate to bring in new business should be just a small fraction of your annual profits.

7 Top Tips For LMS Promotion On Social Media

Your target audience already uses social media daily to read the latest news and promote their own products and services. Thus, it's only natural that your LMS company follows suit and connects with clients on a more personal level.

How To Use Content Marketing To Boost LMS Sales

Content marketing builds awareness of your brand while offering readers helpful insights they can use in their everyday lives.

6 Innovative LMS Marketing Techniques To Build The Buzz For Your LMS Platform

Developing a top-notch Learning Management System can be a lucrative venture, but only if consumers know about it.

6 Ways SEO Marketing Can Bring New Business To Your LMS Company

The benefits of Search Engine Optimization (SEO) have been clearly proven over the years. But can it really work for educational platforms and Learning Management Systems?

7 LMS Marketing Pitfalls And Tips To Avoid Them

Promoting your LMS can be resource-draining and time-consuming. There are so many factors to think about, from creating an accurate LMS marketing budget to researching your audience.

Affiliates, PPC, And Inbound Marketing: Which LMS Marketing Strategy Is Best For Your LMS?

Trial-and-error isn't an option when you're working on a tight LMS marketing budget. This means that you need to do your homework to find an LMS marketing strategy that stretches your resources.

5 Tips To Host Live Promotional Events For Your LMS

Live events are a good way to connect with customers, develop leads, and road test your Learning Management System.

5 Tips To Market Your LMS With A Polished Press Release

The press release has always been a quick and easy way to launch a new product. How can you revamp this typical medium to really push your Learning Management System?

7 Creative Ways To Retain LMS Clients

Do your current clients feel appreciated? Are they satisfied with your support services and product features? Or are they in the market for a new LMS platform to achieve their objectives?

4 Tips On Using Big Data To Improve Your LMS Marketing Strategy

The term Big Data gets thrown around a lot, and we all have some idea of what it represents. But where and how does it apply to your LMS marketing campaign?
This eBook can help to take full advantage of promoting your LMS Online. You'll discover the benefits of promoting your LMS on a PPC Software Directory, how to identify your LMS niche and your LMS selling points, how to craft the perfect LMS sales pitch, and how to create an accurate LMS marketing budget. You will also learn how to promote your LMS on social media, how to use content marketing to boost your LMS sales, as well as how you can use SEO marketing to bring more business to your company. Finally, you'll discover how to use Big Data to improve your LMS Marketing strategy, how to host Live promotional events for your LMS, as well as creative ways to retain LMS clients. Download our eBook "Build the Buzz on a Budget: How To Promote Your LMS Online and Boost Profits". A useful tool for Marketing professionals in the Learning Tech industry who want to make an impact.
Getting your LMS platform in front of the right audience is the only way you're going to make any sales. If the wrong people see it, the right ones won't buy it. Innovative LMS marketing not only saves you money, it makes you money too.